384 Hour Journey into the Spiritual and Physical World of the Maronites
Part I
By Sri Kuhns*
In this section of the Journal of Maronite Studies (JMS), we bring you travel accounts of past and current travelers who have written about the Maronites and their environments. These accounts are unedited and represent the views of their author(s).
In mid-February 1997, when the northern half of the hemisphere was basically hibernating, the plains and terraces of the verdant rocky cliffs of Lebanon put on a grand show: plum and almond blossoms were shimmering in the warm Mediterranean sun by the gentle breeze, pink and fragile. The travel ban to Lebanon did not do justice to the abundant wild flowers in red, white, yellow, purple and pale pink. They were bursting out of ridges, banks, hills, even near the steps of ancient, eleventh century St. Ilige Church. The living multicolored mosaic which blanketed the landscape was both beautiful much like the Lebanese people.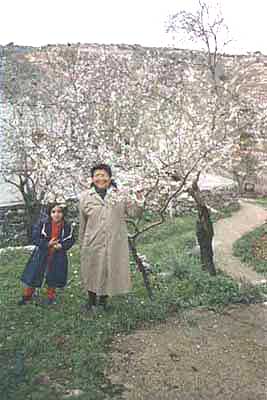 The writer and Rachel Jack Srour under an almond blooming tree in Jrabta.
Photo courtesy of Ms. Sri Kuhns (Lebanon, 1997)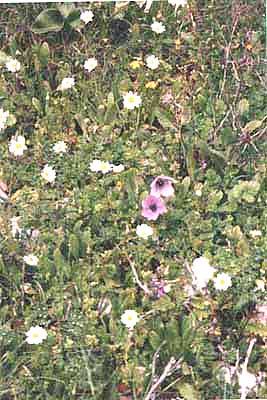 Wild flowers in Jarbta.
Photo courtesy of Ms. Sri Kuhns (Lebanon, 1997)
February 1997 turned out to be the time I took my first pilgrimage ever to Lebanon, to see for myself the meaning of Christ. I was very fortunate to be able to observe the devout Maronite Christians in their daily lives. I never heard of the Maronite Christians until Spring of 1996 when I met Guita Georges Hourani, president of the Maronite American Research Institute (MARI). I met her through a mutual friend, Jumana Farah, a consultant at the World Bank.
After several visits to Our Lady of Lebanon Maronite Catholic Church located at 7164 Alaska Avenue North West, in Washington, D.C. and frequently comparing the Maronite way of thinking to the Javanese philosophy of life, I became more intrigued by their existence and perseverance.
When Guita invited me to visit Lebanon this past March, as she had to do some research in her homeland, I accepted the invitation readily. After reading The Maronites, a book written by Bishop Peter Tayyah, I was very eager to meet this very special group of people. Most important, I wanted to find out, how could it be humanly possible, to be so devout and strong in their belief even though these Eastern Christians have been persecuted from earlier times to this day.
These people have endured sixteen centuries of struggle for their belief and identity. They must have an unusual character. What is it that makes them devout? Who are these special people? I intended to find out. I have been known in my family to be the most stubborn. It intrigues me to know that there are a group of people out there who are more stubborn and persistent than I.
In my job as an international radio broadcaster in Washington, D.C., I tried hard to perfect my trade, by taking courses in radio program preparation. I continued to study, this time with the National Public Radio in New York. I learned a great deal from the course. During the Christmas season of 1996, I decided to produce sounds of Christmas from the capital of the United States of America by attending different churches in Washington for broadcast to Indonesia, a country in Southeast Asia with a population of 162 million of which 17 percent are Christians. The program resulted in an award for its timeliness. Ironically, the broadcast of the Christmas program coincided with aggressions instigated by fanatic Islamic groups against local Christians in small communities in Indonesia. The Christmas programs also coincided with the 1996 Nobel Peace prize being awarded to the Roman Catholic Bishop Carlos Philipe Belo from East Timor, Indonesia, for "his work towards a just and peaceful solution to the conflict in East Timor." East Timor, located on Timor island, was a Portuguese colony which was invaded by Indonesia in 1975, and annexed in 1976. Since then, the largely Catholic population has systematically been oppressed. The annexation of East Timor by Indonesia has never been recognized by the United Nations.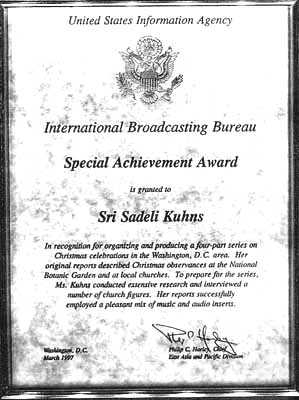 Ms. Kuhns' Special Achievement Award for the Christmas program.
Photo courtesy of Ms. Sri Kuhns (Washington, D.C., 1997)
On Wednesday February 12, 1997, I was ready for the discovery. My trip costs were as follows: $20 for visa, $1068 for a round trip ticket to Lebanon via Paris on Air France during off-season, $1000 in traveler's checks for expenses which could not be cashed anywhere except in certain banks, and $600.00 in cash. My light suitcase for the journey to the yet unknown held an assortment of gifts for my host family and friends. In my carry-on luggage, I carried my pens and diary for easy access. I also brought 18 rolls of film and an old camera my daughter gave me long ago.
A taxi cab took Guita and me to the Dulles International Airport for a real bargain at $45, from the bus terminal on 5th and K Streets in Washington, D.C. By that time, I still could not believe that I was actually going to Lebanon! As I stood in the line of passengers waiting to board the Air France flight #29 bound for Paris that afternoon, my enthusiasm and curiosity knew no bounds. My feet felt like they barely touched the ground.
Traveling has always been my fascination. Delicate perfume from the ticket personnel carried me to different dimensions. I followed her instructions willy-nilly as she gave them to me in English with a French lilt. By the time she tore my ticket and gave me the boarding stub, I could only say "Merci." "Bon Voyage", she said. As I walked on the ramp to board the plane, I never felt lonelier. I was a six-year-old boy who must leave everybody special behind to go off somewhere to satisfy his curiosity. The take-off was smooth and on time for the eight-hour flight. Thus began my 384-hour journey into the spiritual and physical world of the Maronites.
It had been 23 years since I saw Paris last. On the plane, champagne and wine were offered, the video was showing our altitude and location on the route map, and French conversations filled the air. I dozed off between video movies and snacks, my mind wandered to distant places. I was thinking about my birth place, Indonesia, and about my journey in life and my quest to learn more about Jesus.
Like Lebanon, Indonesia consists of many ethnic groups, the largest group or majority are the Javanese. Javanese culture is rich in tradition and custom. In the early 1500's, Islamic traditions wove themselves into Javanese lives. My immediate family, however, gave me freedom to follow the ancient philosophy of life. It is basically a constant quest to attain the perfect Life, and to have a noble and generous mind, originating from at least 13 known sources. These sources include: ancestral teachings, Serat Centini, Cipto Hening, Dewaruci, Ronggowarsito, Jakalodang, Kalatida, Jayabaya, Nitisastro, Suluk Selo, the Tri Dharma of Pangeran Samber Nyawa, Wedatama and Wulangreh. Traditional, conservative Javanese people, like myself, are always searching the essence of goodness in everything they do. I found this to be parallel to the Maronite traditions and Christianity in general.
The Maronites and the Javanese, I contemplated, are both ancient people. My grandfather Ki Diroatmodjo, was an elementary school superintendent. His wisdom and his knowledge of Javanese philosophy went into many manuscripts. He wrote on the edges of brittle newspapers. My grandfather was active in philosophical meetings. He discussed philosophical issues with many great Javanese philosophers. At 10, I was always chosen to serve the coffee in tall glasses for those meetings. At one such meeting, there were about 15 elderly men sitting on the floor in a semi circle, discussing issues in my language. But, I could not comprehend.
I became aware of the necessity to search for Truth and the meanings of everything. So I dug deeper into the Javanese philosophy throughout my adolescent years. By then I was studying Buddhism in school. By the time I was 25, a family emergency happened. My mother was seriously ill, and I needed a place to pray in my own language. I went to a local church which became my church. A couple of years later, I decided to accept Christ. I became a Christian Baptist by immersion in water on Easter Sunday in 1963, the same year President John F. Kennedy of the United States of America was assassinated. The baptism took place in Sion Baptist Church in my hometown, Semarang, Indonesia. It was officiated by Rev. Frank L. Lewis from Oklahoma, the United States of America.
We are almost ready to land in Paris. I took a moment to thank the Lord for making it possible for me to travel and discover new things. By a combination of prayer, and careful planning and budgeting, the pilgrimage to the Sacred Land of Lebanon is now a reality, an invaluable experience to me on my journey to seek God and feel His presence in my life.
Upon landing at the Charles de Gaulle International Airport in Paris, we retrieved our baggage, a gentleman gave us a pushcart and paid for it with a French coin while we were still searching in our pockets for change. "Don't worry about it" he said in French, "Merci", we said.
We pushed the now very heavy pushcart outside to the curb, into the bright winter afternoon of Paris. Afterwards, Guita called her sister to tell her that we had arrived. A taxi took us to 15 Bis Rue Danton in Kremlin Bicetre, an area in Paris which was going to be my home for four days. Paris was bathing in sunshine that afternoon. Street signs, buildings, forsythia bushes and the still barren trees were clearer and more colorful as if an extra brush of paint was added on to every detail.
When we arrived at the apartment, we were greeted joyously by Guita's sister Madonna and Daniele their sister-in-law. Happy conversation in Arabic and French ensued. For reasons unknown, I understood every word. I felt immediately at home. Madonna is a gorgeous petite woman with large green-hazel eyes and jet black hair. Daniele is a tall and slender Lebanese-French young woman living in Guadeloupe with her husband Rodrigue, the fourth member of the Hourani siblings. When she told me she needed to see a dentist in Paris, I could not comprehend her. She has a set of perfect teeth and a quick smile like the people in the colorful pictures I often see in travel brochures of the Caribbean islands.
Once again I was in Paris, the city of love. The living room window at the apartment overlooked Paris, and its buildings were shining bright in the late February afternoon sun. There was also a beautiful park nearby. While unpacking gifts for Madonna and Daniele, I scanned the living room. On the bookshelf, I saw a small black and white photo of two beautiful young girls about 2 and 1 year of age. The photo of Madonna and Guita as children perhaps from a photo shop in Zahle, a city next to their village-- Taalabaya in the Bekaa Valley. No one is a carbon copy of another. God creates individuality in everyone and everything. Another photo is of their brother Mashhour who lives in Belgium with his wife Zeina and son Georges Junior.
My real journey had not even started, but I felt that I had arrived. I was already among the Maronite Christians, paramount in Madonna's hospitality. After a quick trip to the busy corner souk, Madonna whipped up a gorgeous plate of tabouleh, a freshly made salad consisting of diced tomatoes and onions, shopped crisp parsley and mint, sprinkled with cracked wheat, then tossed with olive oil, freshly squeezed lemon juice, salt and pepper. It was the best salad I ever tasted. Her freshly prepared fried sardines were delicious. Guita and I could not stop eating them.
Very soon after that, the aroma of freshly brewed coffee wafted in the air, and Madonna served my very first Turkish coffee in a small cup. It could be taken with a little sugar or black. That was the beginning of a voyage into the culinary and hospitality world of the Lebanese. I was amazed at the power of one such small cup of coffee when sipped in the right ambiance, it gave you a rousing welcome.
At bed time, since I was now on my pilgrimage of faith, I asked to sleep on the floor, not on the nice bed prepared for me on the couch. Madonna's big eyes became larger as she looked at Guita with questions. In Arabic, Guita told her to do what I wanted, in order to allow me to feel at ease. Madonna obliged. That night, as I lay down on the nice sheet over a mattress on the floor at peace with myself and the world I studied the designs on the sheet before I fell asleep: they were white daisies with brown leaves. The next morning I woke up and stood by the window to greet Paris and asked Madonna if I could take the sheet with me to Lebanon. "Sure" she said, by now getting used to my spontaneity. I have never felt more at home in someone else's house than at 15 Bis Rue Danton-- Madonna's apartment. The Hourani's background must be quite similar to mine to allow that to happen. I did not find any language barrier to be a problem. I used the sheet in Lebanon for 10 days, and again, as in Paris, it comforted me. Now the sheet is gracing my bed in Maryland, serving the same purpose.
The next several days Madonna took us to tour Paris. At night we met her cousin Pierre. Within minutes I told him in secrecy, to get a nice bouquet for Madonna since the next day was Valentine's Day. The next day, bright and early, he delivered a nice potted plant and colorful wooden fruits for Madonna to give her a little cheer. She was pleasantly surprised and, as she put it, really honored. I was surprised myself to see that, since I had forgotten that I had asked him to do the favor.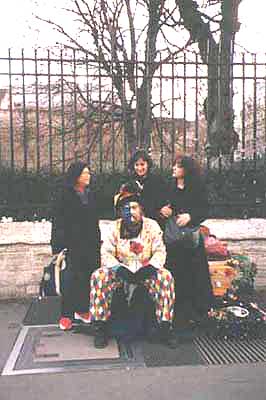 Sri Kuhns (left), Daniele (center) and Madonna Hourani with a clown in Saint Michel, Paris, France.
Photo courtesy of Ms. Sri Kuhns (France, 1997)
We went to Champs Elysées, l'Arc de Triomphe, Saint Michel, Trocadero, the Eiffel Tower to name a few. She also invited Guita, me, and two of Guita's American friends, the Rushins, who were visiting Paris, to a guided tour at night on the 'Bateau Mouche' on the Seine, and later to a brasserie for a light dinner. I was astonished at Madonna's abundance of energy and generosity, and was thankful for her ennabling me to see the beautiful sights of Paris at night.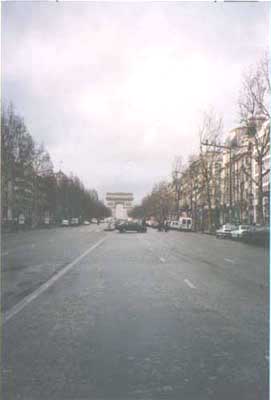 L'Arc de Triomphe and les Champs Elysées, Paris, France.
Photo courtesy of Ms. Sri Kuhns (France, 1997)
On Sunday, February 16th, at 2:00 p.m., Guita and I left for Beirut, Lebanon, and later the same day Daniele left for Guadalupe. We landed at Beirut International Airport after a four-hour flight. We left the plane and boarded shuttle buses which took us to the General Security building where the officials stamped the passports. By now, Guita had warned me more than a few times to make sure that my passport is not stamped and that my visa, which was on a separate piece of paper, was returned to me. We walked into the sparsely furnished building only to be greeted by large poster pictures of Hafez Assad, the Syrian President, and his late son Bassel. I was truly shocked. I wondered if I were on Lebanese soil.
We stood in separate lines. Guita in the citizens' line; and I in the line marked "foreigners" where I saw many blond people standing. I felt strange to be standing in the line for foreigners. After four days with Madonna, Guita, and Daniele, my Maronite friends, I felt definitely, most positively Lebanese.
"Guita Hourani," a male voice called out. "Guita Hourani", the man repeated. Guita left the line where she stood, and motioned me to do the same. I was glad and quickly did just that. Just like Indonesia, I thought. I am quite familiar with special treatment like that. I was very often spoiled in Indonesia just because I knew someone. The gentleman guided us to a separate table where another officer sat. Several officers looked on as they took care of our passports and papers. It was only a few minutes. We thanked the friendly Lebanese officers, and we pushed our luggage outside where Guita's family waited for us. I found out later that Guita had requested a favor from one of her cousins to make sure that arrival will be smooth at the airport.
Since it was in the dead of winter, there was a promotion for the Month of Shopping from various local merchants. I saw piles of many kinds of mouth-watering baklava and fresh coffee given out free in small paper cups. As I walked towards the exit door, I was offered and accepted a small paper cup of fresh coffee and a piece of baklava and I thought about Madonna's coffee and desserts. Scarcely half a day passed when I was missing her. I am sure she would have loved to come home with us to see her relatives and friends.
Soon we were being greeted and embraced by Papa Georges Hourani and Mama Thérèse and Guita's cousins, Jocelyne and Marwan, Uncle Samir's children, then Guita's friends Jack and Claudia Srour and their 5-year-old Rachel. I had actually met the real Maronite people in Beirut who welcomed me. I was part of their family the instant we met. I felt like I was being greeted by my own relatives back in Jakarta or Yogyakarta. We went into Papa Hourani's car and drove to Jal-el-Dib in Greater Beirut. In the Hourani's apartment in Kittani building, the large dining table was laid with fabulous food-- salads, fresh vegetables, pies, meats, breads, sauces, mixed nuts, olives and platters of finger foods-- Mama Thérèse is really a great cook and a lovely hostess. We all sat for dinner and ate to our hearts content. I helped myself to second helpings of everything. I dug into the artichokes. Madonna's cooking had prepared me for the real thing. Arak made out of anise and grapes, seven up, coke, spring water and Scotch as well as fruit juices were passed around.
I was pleased to learn that Papa Georges is a poet. Guita asked her father if he would recite in sung poetry. He obliged gracefully with a beautiful love poem which he had composed for Thérèse-- they have been husband and wife for almost 40 years. The traditional Lebanese poem is called Zajal. Guita was a courteous translator and interpreter for me through out my visit-- quite a task, because I asked many questions constantly as I relished every moment among my beloved Maronite People. Here, in Lebanon, the customs and traditions of family and friends, truly touched me and claimed me as one of their own. The journey to the unknown had become a unforgettable experience-- truly a voyage home.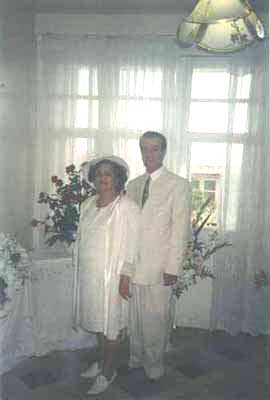 Mr. and Mrs. Georges and Thérèse Hourani in the Caribbean Islands.
Photo courtesy of the Hourani family (Guadeloupe, 1995)
Soon after dinner, Papa Hourani again welcomed me to his house, and prepared the argillé. He burned a couple pieces of charcoal briquettes on the stove, then he put them on the top of the honey-drenched tobacco with apple aroma. This will be smoked through a long inhaler, which caused the water to gurgle and the tobacco aroma to fill the room. The water pipe was beautiful, the sound of the water was soothing, and the tobacco aroma was very pleasant. To my delight and surprise Papa Hourani as my host, offered me the argillé. I was very curious so after a couple of trials and some valuable instructions, I made a decent six-seconds gurgle which made me triumphant. Papa Georges could easily do 15 or more seconds gurgle. I felt like a real poet to be smoking the argillé with another poet in the home of my newly found Maronite family. I will never forget that experience.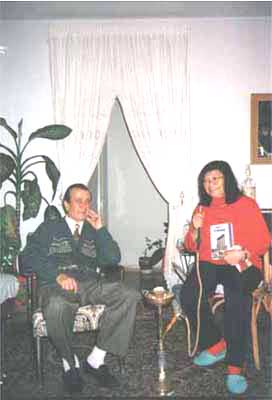 The writer (right) smoking the water-pipe with her host in Jal-Dib.
Photo courtesy of Ms. Sri Kuhns (Lebanon, 1997)
That night, I did not sleep right away. I stood by the window for hours staring at the Mediterranean sea from the 6th-floor bedroom window of the building which is on a small rocky hill. The evening was quite lovely. Buildings were brightly lit, neon lights in different colors were blinking everywhere. Beirut is overcrowded with buildings. I stared and stared at the city, enjoying the evening view from my window. The house is full of pictures of the Blessed Virgin Mary, Jesus, Saint Sharbel, Saint Rita, and of course the Blessed Rafqa. Mama Thérèse always lit a candle for Blessed Mary. Papa Georges burned bakhour (incense) and took the special container from room to room, and wafted it over my head also.
When I returned to my bedroom, I stared some more hours at the Mediterranean Sea and Beirut at night through the six floor window. I then would lay down to sleep on the floor on my sheet from Madonna, but from time to time, I would stand up and go to the window to see if my Beirut was still there. At about 3 a.m., I stood up and watched again. Traffic had stopped, and I could hear the waves of the Mediterranean Sea against the ancient shores of Beirut. From that time on, I will never see a tree, nor listen to the waves or look at the moon and feel the same ever again.
The waning moon was slanted to the left as I lay back down to await morning. The acceptance of myself as I was by the Maronite people had impressed me a great deal. Although their culture is different than mine, I felt that many things were exactly like my own. It is fun to drink coffee differently. Though with the same spirit, yet differently. The Hourani family is just as generous as if I were one of their own. How could they have understood and accepted me as I was, when my own aunt who had adopted me-- a kindergarten teacher-- could not see eye to eye with me over a cookie even when I was a three-year-old?
When seeking something, you become very sensitive and you can see more details. I was able to see and feel the spirit of Christianity almost from the very beginning. I prayed for peace and for spiritual understanding of life and went to sleep.
To be continued ...
In the next issue.
*Sri Sadeli Kuhns is a writer and culture observer living in Maryland, the United States of America.