"Listen to the Voice of the Water"
By Robert E. Harris
A financial advisor with a major brokerage firm.
In this section of the Journal of Maronite Studies (JMS), we bring you travel accounts of past and current travelers who have written about the Maronites and their environments. These accounts represent the views of their author(s). They may be edited for clarity and style.
An American of Lebanese descent finds his way to Lebanon after many years of longing to see his grandparents'homeland.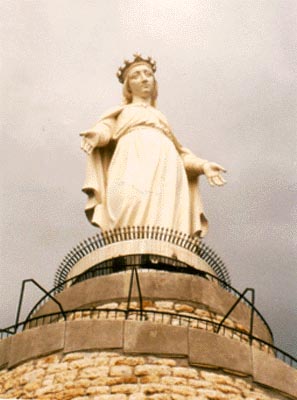 The Maronites in Lebanon should take heart and know that they are remembered and thought of often by others here. Not just by recent Lebanese emigrants to the United States, but also by descendants of those who left Lebanon long ago. May they forever remember that their lives will impact future generations, just as the Maronites of Lebanon before them impacted on every generation of my family in immeasurable ways. This article is a tribute to the Maronites in Lebanon. It is an honor for me to share part of my journey.
If my grandfather, Sarkis Bris al-Shidyaq, were here today, this is what I imagine he would think at this point and the power of suggestion would capture his audience until he was finished. "See the fire in my eyes, erase all distractions, listen to my voice, and pay attention for I am about to tell you a story."
Where Are You From?
When I was 21 years old and just out of college, I found my way to New York City and went to work for Citibank. When I went to look for an apartment, the owner of a brownstone apartment building, an energetic Greek man, asked me where I was from. I replied, "From Wellsburg, a small town in West Virginia -- near Wheeling."
He looked at his wife with disappointment in this young American's lack of history and true identity and asked me once again. But, this time he said, "No, where are you really from?" Not being truly gentrified yet, I answered the only way that I knew how, honestly, and said, "That is truly where I'm from." At this point, the poor fellow was at a loss for words. Then, he asked me directly what he really wanted to know. "Where are your grandparents from? Are you Greek?" "No," I instantly replied, "I'm Lebanese." And that was that. He looked at his wife and said, "Close enough!" He then said that since I was Mediterranean, I could have the apartment if I wanted it. I passed on the apartment, but I kept the lesson.
Now, after all these years, I must confess to that unknown man from Astoria, Queens, New York, that I'm only half Lebanese, from my mother's side. My father gave me British and Germanic heritage. However, as I explained to my cousins and friends in Lebanon, that makes me 95 percent Lebanese. If there is one drop of Lebanese blood in you, then the smile on your face as you read this confirms that we understand each other. Maybe there are some Lebanese descendants who do not feel this way, but I haven't met them.
I have recently returned from my first trip to Lebanon, and now I really know the answer to the question -- "Where Are You From?" Beit Menzer and Qnat are the villages of my grandfather, Sarkis Bris al Shidyaq, and my grandmother, Anna Bou-Ghamroun. Tourza is the village of my grandfather's mother, 'Aqlah Bou-Saad, who moved to Beit Menzer when she married my great-grandfather, Hanna (John) Bris al-Shidyaq. My great-grandmother came to the United States in 1894, and my grandparents, in 1911.
Unfortunately, all of these wonderful people were gone before my time. My grandfather and I just missed each other by a few short months in 1959. If they could only have imagined how many lives would be influenced by their decision to come to America, they would have been amazed. I'm glad that they came, but I'm sad that Lebanon lost some of its best. Someday I will try to repay a small part of what Lebanon has given to my family and me.
Before I left to go to Lebanon, one of my Lebanese friends, who was visiting in the United States, told me. "We are very simple people in Lebanon, but life is very complicated." And so it was at the time when my grandparents left, at the end of the Ottoman Empire's 400-year rule of the territory.
Sometimes, the obvious need not be stated, but I am struck by the fact that the Lebanon of the 1990s still faces so many of the same problems as in centuries gone by. The Lebanese people, with their everlasting desire for peace, are still struggling to achieve peace against tremendous odds. Perhaps, as in the past, outside interests play the strongest hand of all.
Seeking My Roots
People don't just wake up one day and decide to trace their roots. Usually there are a series of events that lead to the decision to do such a thing. In 1983, I ran the Marine Corps Marathon in Washington, D.C., and had one of many experiences that have caused me to never forget my Lebanese heritage. The marathon, while a great personal achievement, was punctuated by a visit to Arlington National Cemetery after the race. I was with one of my running buddies who is a Marine. He wanted to visit the grave sites of some of his fellow Marines.
What we saw will never leave my mind. We were at the far end of the cemetery when a funeral began. Out of respect we stayed where we were rather than interrupt the funeral. After every last person left, including the deceased Marine's wife and young daughter, we went over to look at the marker. Lieutenant Maurice Huckle Jr., Lebanon, October 23, 1983. Many of you may remember the dreadful bombing of the Marine barracks in Beirut that fall. I will never forget it. I still pray for Lieutenant Huckle's family. There was a purpose for the United Nations forces being in Lebanon. It was one step along the way to creating lasting peace in my grandparents' homeland, which we hope that Lebanon's people will soon enjoy.
A few years later, back in New York City, I was walking through the promenade at Rockefeller Center and saw a title on a window display. It read: "Lebanon -- A Photo Essay." I was excited and hurried over to see what would hopefully be picturesque photos of the land nearer to God. I was heartbroken to see the sad reality of the ravages of war. The photos were of the children of Lebanon. I must have stood there for at least an hour, holding back the tears as I saw photo after photo of poor, helpless victims of war. God carries them home without pain and suffering, but I fear for those who could have helped end these tragic events and did not.
The Land Of My Ancestors
I had always wanted to go to Lebanon from the time I was a small child. I remember my cousin Eddie coming to our house and telling stories of how the fruit in Lebanon was so sweet. Later I discovered that the people who lived there were like the fruit of Lebanon. Through the years when my cousin spoke of Lebanon, I could see his overwhelming love for the people and the country, both of which have struggled through the centuries.
This past November, I had my passport renewed and had just gotten a visa to go to Lebanon. Then the most amazing thing happened. My cousin, Sister Thomas Marie, had telephoned me and asked if I would be able to go to the airport to meet my friend Guita, the editor of this journal. Naturally I agreed to do this even though it meant delaying a trip to New York City. I was just so happy that I would see my Lebanese friend.
However, before I left for the airport on Friday, Sister called me again to tell me that I would not be meeting Guita but rather a physician named Laure. She was coming here for one week for a medical conference and then returning to Lebanon. Although I was sad that Guita was not coming, I was more than happy to help someone from Lebanon. This I knew. What I did not know was that Laure would turn out to be captivating in speaking of Lebanon and that she would be instrumental in making my dream of going to Lebanon a reality.
Here in the United States, when Laure was not at the medical conference we used her free time to see some of the sights of Washington D.C. We even made it to Richmond, Virginia, one evening to visit my brother Paul, his wife Judy and their two year old daughter, Morgan Elizabeth. We had the good fortune of seeing little Morgan Elizabeth's godmother, my sister Veronica, who just happened to have arrived from Florida for a visit.
Earlier, I had told Laure of my plans to go to Lebanon and how they would have to be delayed somewhat, since my trip money had just been used up on an unexpected $3,400 car repair. She was disinterested in the cost of repairing cars and emphatically said, "You must come to Lebanon soon. In fact, you should travel back with me and I will take you to see your relatives." Next thing I knew I was landing in Beirut.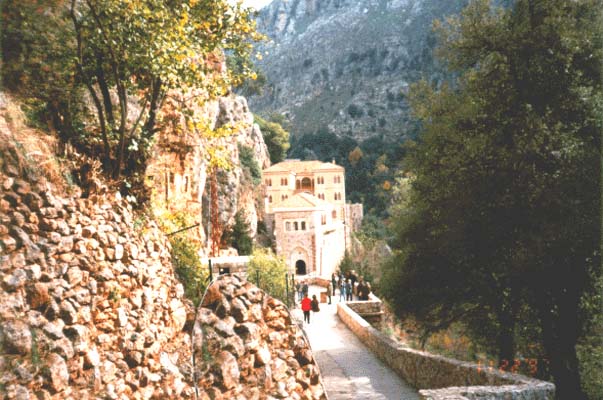 The Monasery of Saint Anthony Kozhaya.
The site of inspiration for the poem:
"Listen to the Voice of the Water"
Photo courtesy of Robert E. Harris (Lebanon, 1997)
Later, in Lebanon as we stood quietly at Saint Anthony of Kozhaya's monastery, Laure said to me: "Listen to the voice of the water." And so I listened to the voice of the water making its way to the Mediterranean from the mountain peaks of the Qadisha valley, and I thought, this is truly a holy place. And then these words came to my mind -- the inspiration that I came to find:
Listen to the voice of the water -- it is calling your name.
Listen to the voice of the water -- it is calling you home.
In Qadisha, all your prayers will be answered.
In Qadisha, all your dreams will come true.
In Qadisha, the question need not be asked;
It is already known.
In Qadisha the answer will not be spoken;
It is in the voice of the water.
This is the land my ancestors left not so very long ago.
I came to pay them homage and now they are calling me home.
I hear the voice of the water -- it is calling my name.
I hear the voice of the water -- it is calling me home.
It is said this holy valley was formed by the hand of God.
And it is true that here -- you are closer to our Lord.
This valley is near to Him for those who would do His work.
Come to the valley -- it is calling you home.
In Qadisha, all your prayers will be answered.
In Qadisha, all your dreams will come true.
I spent two days of my visit in Qadisha, this wonderful "Valley of the Saints," as they call it. I must say that I forgot all my troubles and cares and was at peace. I look forward to returning.
From Wheeling To Beirut
On one evening early in the second week of my visit, Laure took me to Mass at the Congregation Pour Le Combat De Mary in the Achrafieh section of Beirut, where her friend is a priest. Not only did I have the honor of attending Mass but was amazed when the priest explained first in Arabic and then in English that the Gospel reading was to be read in English as a courtesy to a guest in the church who was from America. Everyone looked around. Then the priest said, "Our guest's name is Bob." I smiled. After Mass we stopped by the priest's house to visit. I thanked him profusely since, although I probably set a personal record for the number of Masses attended in two weeks, this was the first reading that I understood during my stay. We talked of Lebanon and of America briefly and then parted. Although we hoped to get together again before I left, time did not permit it.
On this evening, the most interesting thing that happened, besides the wonderful gesture that was made to make me feel welcome, was our discussion about the painting of Our Lady of Lebanon in Wheeling, West Virginia. Wheeling is where my grandparents settled after coming to America. On December 19, 1932, Our Lady of Lebanon Church, the Maronite church in Wheeling, was destroyed by fire. The portrait of Our Lady of Lebanon, however, was miraculously untouched by the fire or the water from the fire hoses. This miracle was witnessed by many people and reported in the newspapers at that time. Father took this all in stride and quickly responded to my story. "The Virgin Mary was pure and untouched. That is why her portrait remained undamaged." The portrait was given a new place of prominence in the rebuilt church, directly above the altar, and the two angels on either side were added as shown in this recent photograph.

The Miraculous Portrait of Our Lady of Lebanon.
Photo courtesy of Robert E. Harris (Wheeling, West Virginia, 1996)
My Grandparents
I have heard many stories of my grandparents and as you might be able to appreciate, some of them I have heard more than once, in true Lebanese tradition. One of the stories that I enjoy the most is the one about my grandfather's recollection of his fictitious visit to Siam which he told to the believing children back in the 1920s and 30s. My cousin Manell's energy in her face lifts you away as she recounts his tall tale, almost to the point where you could see the elephants of Siam. What can I say!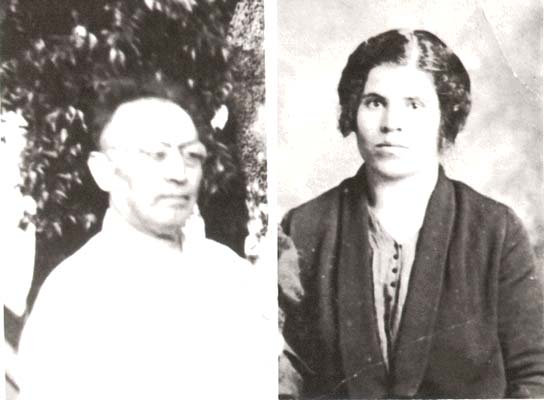 Sarkis Bris al-Shidyaq and Anna Bou-Ghamroun Bris.
Photo courtesy of Robert E. Harris (Wheeling, West Virginia, 1951 and 1918)
My grandfather, while always kind to others, was a heartbroken man. My grandmother was killed tragically in 1936 by burglars. This happened just two days before Christmas, and for many years I never understood my mother's sadness around such a joyful time of year. When I was a teenager, I learned more about what had happened and from that point onward I shared in her sadness, as do all of my brothers and sisters. My grandparents would be happy to know that my mother, Marian, in spite of the sadness of this tragedy has raised eight children. She has ten grandchildren and nine great-grandchildren.
The Keys To The Kingdom
The only real request that I made while in Lebanon was that we return to Qadisha. On this visit to Qadisha, the first place that we went was the school where my cousin Antoine teaches. He was finishing his classes early that day, then he was going to take us to my grandfather's village. We were early so we figured we would go into the church while we waited. We were outside in the courtyard area between the school and the church when the bell rang and the children came out for recess. Guita asked the children where the key was for the church since, unlike most of the churches that we visited, the door was locked.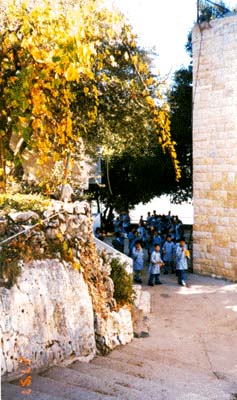 The keys to the kingdom
Photo courtesy of Robert E. Harris (Lebanon, 1997)
All of these little children dressed in blue smocks started laughing and sounded like a chorus of little munchkins from "The Wizard of Oz." Since Guita asked the question in Arabic, I looked at her and said, "What did you say to them?" She said, "I just asked them if they could get a key for the church because we want to go in." Then, the shortest and perhaps the cutest, little girl in the group stepped on a large rock by the church door and pulled a skeleton key out of a small hole which was cut in the stone next to the door. She then opened the door for us.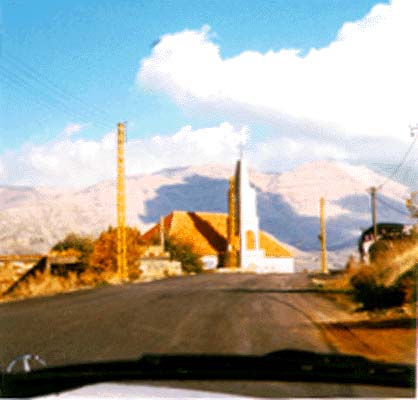 Church in Becharre.
Photo courtesy of Robert E. Harris (Lebanon, 1997)
If the key had been any closer to the keyhole it could have jumped from its resting place and unlocked the door itself. Sometimes it's easier for children to find their way into God's house than for adults. Every once in a while it's good to be laughed at and not know the reason why. Sometimes the keys are right in front of us, but we must rely on children to show us what we should easily see. This set the stage for a great day.
Beit Menzer
When I saw the sign for grandfather's home village of Beit Menzer, I was again filled with a high level of emotion and was anxious to see his old house. I was delighted to have the chance to be there. We went to the church first. My cousin Antoine told me that the bell tower was a relatively recent addition. Other than that, I imagine it was close to the way it was when my grandparents left.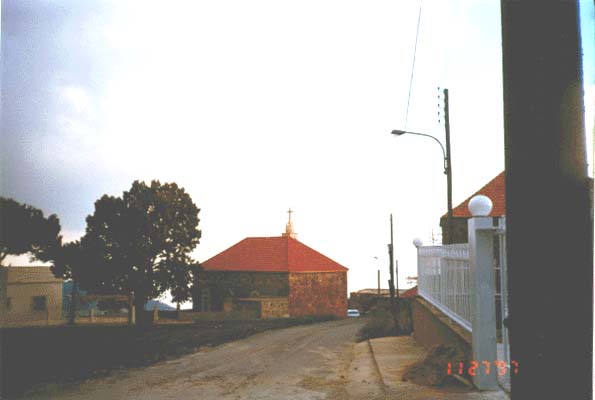 The Church in Beit Menzer.
Photo courtesy of Robert E. Harris (Lebanon, 1997)
The Bris House
Now we see part of what helps me answer the question: Where are you really from? This was one of the treasures that I came to see. Not much by western standards, but this was and still is the Bris house. Even without its second story, the villagers continue to call this abandoned property the Bris house. When the neighbor saw all of the commotion that Guita and I were making, he asked in Arabic what was going on. In fact I think he asked, with concern "What is it?" My mother always asks in English "What is it?" in a similar style, combining concern and demanding an immediate explanation all with three little words. Guita, again acting as one of my many interpreters, explained that I was a grandson of one of the Bris brothers.
He exclaimed in a loud thundering voice, "Come take your house!" Guita told me what he said and I could see that she was touched -- we both were. My cousin Antoine was patiently waiting for us in the car. I have the feeling that he has seen such displays of Lebanese warmth often. The translation that Guita gave to me, as the man opened his arms and gestured toward the house while he was speaking in Arabic, was exactly what I thought he was saying. I have to admit that for a moment I was tempted to do just that. Take the Bris house.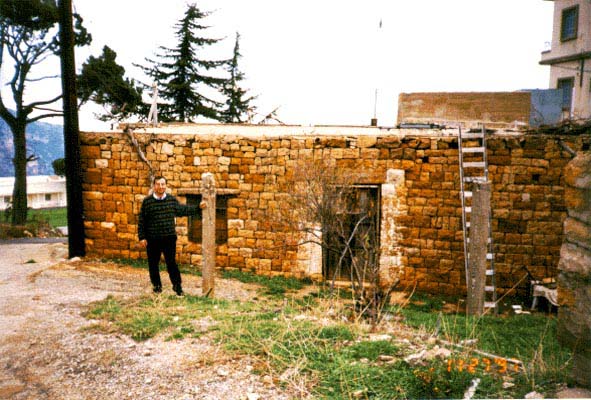 The Bris House.
Photo courtesy of Robert E. Harris (Lebanon, 1997)
What he did next was wonderful. He had been working in the orchard next to the Bris house. After our little introduction of sorts, he picked some apples for us. Then he went to another area of his property and cut grapes for us. He gave us so much that I started feeling guilty that we were taking all of his harvest. He said, "These are not jewels! They are just grapes, I want you to take all that you can." In an effort to dispel my awkward feeling Guita told me to accept this kindness graciously and simply enjoy the unexpected gifts. On our way back to Tourza, there sat Antoine, Guita, me and the grapes.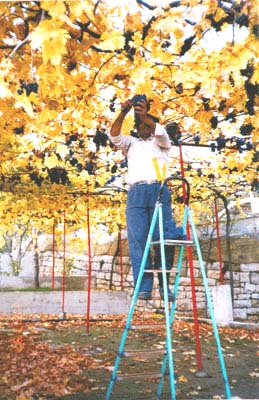 The neighbor and the grapes.
Photo courtesy of Robert E. Harris (Lebanon, 1997)
Later we spoke with some other neighbors who were approaching one hundred years old and actually remembered the Bris al-Shidyaq family. They also believed that it was a good idea for me to take the Bris house.
Discovering A Saint
When I was living in New York, I didn't concern myself with Tourza or Beit Menzer or Qnat. Although, on one trip back home to West Virginia to visit my mother, I saw a relic of a new Saint. This Saint was from Lebanon, so I was intrigued to say the least. My cousins from my mother's generation, especially those who live here in Washington D.C., always told me never to forget my Lebanese heritage. I soon discovered that Sharbel, this new Lebanese Saint, is a cousin of my grandfather. In fact he grew up in Bqaa' Kafra, a village near my grandfather's village in the north of Lebanon. So, when I went to his monastery in Annaya, I thought of our rich heritage and I thought of how close Sharbel is to God, and I came to appreciate the expression, "From your lips to God's ears." It was then that I realized that with the connections that the Lebanese people have, all things are possible and true peace and a bright future are within the reach of those who want it badly enough. Pray for us, Saint Sharbel, the weary and the weak, for truly your lips are closer to God's ear. In the fall of 1977 my cousin, Sister Thomas Marie went to Rome for Sharbel's Canonization. This is something that I only recently discovered.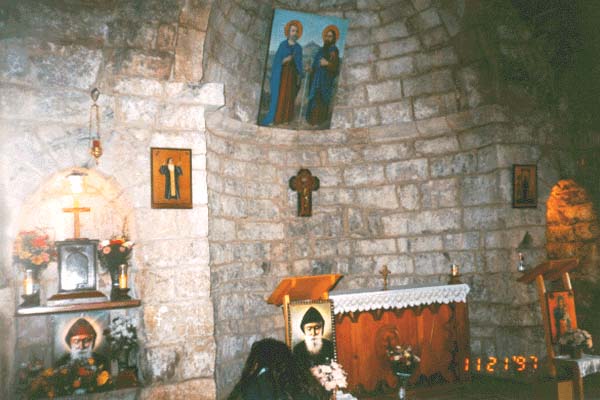 St. Sharbel's Chapel at Annaya.
Photo courtesy of Robert E. Harris (Lebanon, 1997)
Stories Untold
When I was growing up, my mother, Marian, did not speak of her personal tragedies. She protected her children from the sadness of those tragedies in our youth, but we all eventually discovered our family history including happy and sad stories. My mother's parents came directly from Lebanon and I believe passed this trait of protecting the children on to my mother. Maybe that is why I recognized much of this same sensitivity in many of the Lebanese people during my visit. In Lebanon, however, after two weeks it was no longer necessary to spoon feed me the truth, no matter how sad. I had heard and seen a lot.
On the last full day of my visit, Laure's father, Louis, took me on a driving tour close to Aleyh through an area where many small villages once stood. I could see the foundation stones of a few of the demolished houses but absolutely nothing else. Someone destroyed these villages perhaps because of some ancient disputes that are far removed from the world as we know it today but close enough in the minds of those who did these things for them to justify causing pain and even death to innocent families. How long must we pay for something that happened lifetimes ago? I say we, because as I write this I am overcome with a deep sadness for the Christians of these villages who were trying to remain peaceful and who were defenseless against the armed aggressors who destroyed their villages with bulldozers. Unfortunately, when anger and rage are present there is little room for reason or understanding. Now I pray that the cycle of senseless bloodshed ends and the scales of justice be balanced by God.
As we drove through this area I could see a few workers rebuilding at a slow pace. Somehow I knew that Louis had waited until the last day to show me this sad reality. It was painful for him to show me this and I feel that he was almost ashamed that these things were done by other Lebanese people. Somehow, it was as if it were his duty to show me this. There was a discernable sadness in him because mankind had stooped so low. Now it is my duty to tell this story and so I write these few words in the hopes that some good will come from a memory that most people would prefer to just forget.
In the middle of our tour of what once was, Louis told me a story at a small bridge. The local folklore has it that the men who lived in the village on one side of the river, built the bridge for the beautiful maiden who lived on the other side. With the bridge over the river, she would not have to get her feet wet while crossing to their side. In the midst of all this sadness was a welcomed reason to laugh a little. And then another reason. After we crossed the bridge in this lonely area, we visited with some soldiers who were taking a break and drinking Pepsi from the kind of 12-ounce glass bottles that were once popular in the United States.
Louis introduced me and told of my reason for being in Lebanon. Some of these soldiers were young enough that I could have been the first American that they had ever met. They asked me how I liked Lebanon. I told them that I had been overwhelmed by the kindness and hospitality but that I was sad to see all of the destruction, especially the devastation in Beirut. I said that my favorite area of the country is where my grandparents were from, the north of Lebanon. Louis was translating for me and next I told them that, "I can not find the words to tell you why, but the Qadisha valley is an especially beautiful and peaceful area. Perhaps it's because it was the land of my ancestors." One of the soldiers lost his serious demeanor and smiled uncontrollably. One of the other soldiers said in broken English, "He smiled because he liked what you said, he too is from the north of Lebanon."
Some of the soldiers were Christians and some were Muslim. We had a good little visit. I never imagined two weeks earlier that I would be telling stories to soldiers in Lebanon. I also told them that the fruit was sweeter in Lebanon than in America and then they all smiled. I suppose that they never expected to hear an American admit that anything in the United States was inferior. They invited me to return and I naturally invited them to come to America. I saw hope in their faces. These young soldiers are not the products of war but rather, they too are simply victims hoping for peace.
Building Bridges
If I could build a bridge across an ocean and over a sea, it would be from the people of America to the people of Lebanon. It is only by the grace of God that true peace will come to Lebanon. That, however, does not free any of us from doing our part, no matter how seemingly small, in helping to bring about a resolution to the turmoil surrounding such brave people.
Make no mistake, the Lebanese people are not weak. Many other nations crumbled centuries ago but the inhabitants of Lebanon, as we know it today, have endured much. Some relief is due. If you are like me, an American of Lebanese descent, then you too are very fortunate because we can enjoy the comforts of modern day America in peace but also claim some stake in the ancient history of the land of the cedars. In making that claim comes a responsibility to help preserve our rich heritage.
Nothing has ever stirred the emotions within me like my recent trip to Lebanon. If you have not been there, you must go. It will change your life.
Conclusion
The land of the cedars has been influenced by many civilizations. The Crusaders, among many others, left their mark on Lebanon. Eventually they were driven out of the area but before they left they built two impressive sea castles that remind us that they were there. I visited both of these sites and felt that this photograph at Byblos captured an important message. In the area that we now call Lebanon, many civilizations have come and gone. For periods of time they either conquered or peacefully coexisted with the local inhabitants. These outside civilizations have all eventually gone away. The Lebanese people have remained. The Maronites of Lebanon clearly are a dedicated people to have survived the test of time and to have kept the faith alive through all these centuries.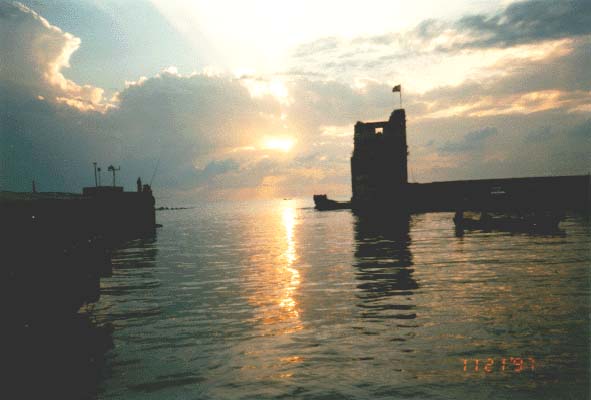 Byblos.
Photo courtesy of Robert E. Harris (Lebanon, 1997)
"This is the land my ancestors left not so very long ago.
I came to pay them homage and now they are calling me home.
I hear the voice of the water -- it is calling my name.
I hear the voice of the water -- it is calling me home."