LEBANON, A 10-DAY FAMILY VISIT

By Eddie Daniel.
He was born and raised in Mannington, West Virginia, the youngest child of Pete and Hasiba (née Raad) Daniel, and is now retired.
In this section of the Journal of Maronite Studies (JMS), we bring you travel accounts of past or current travelers who have written about the Maronites and Lebanon. These accounts are unedited and represent the views of their author(s).

In 1904, a 14 year-old Lebanese boy named Peter Daniel, left his mountain village of Beit Meri and made his way down the steep, winding road to the seaport of Beirut. From there, he departed on a long journey that eventually brought him to the shores of the United States. From there he followed the route taken by earlier Lebanese immigrants to reach the oil-boom town of Mannington, West Virginia, located in the foothills of the Allegheny Mountains. To this day, a large part of his descendants still live there.
He made the journey alone, leaving behind his mother, father, three brothers and two sisters. A journey, which took him weeks to complete in 1904, was made in a matter of hours by his youngest son, Eddie, and his oldest son, Donald, in September 2000. They traveled back to the land of their ancestry -- 96 years later! And what a trip it was. It was the trip of a lifetime!
It had been almost 20 years since I last had contact with any of my relatives in Lebanon. By learning how to access the Internet and locating a program called the "Lebanese White Pages", I eventually was able to make contact with Tony Daniel, a son of my first cousin, Ramez Daniel. Through almost daily e-mail contact and a couple of telephone calls back and forth, Donald and I were invited to visit our cousin Ramez and his family. Thus began our 10-day adventure in the land of our ancestry -- Lebanon.
While Ramez's apartment was to be our home for the next 10 days, Farouk, the owner of a taxi service in Beit Meri, was to be our chauffeur and guide during our stay. If you have never been to Lebanon, you cannot imagine the crazy driving and drivers that haunt the highways, byways and downtown areas of the cities and villages. They are reckless to say the least. and the most reckless and fearless is my cousin Farouk. I shall forever call him "Fearless Farouk". He fears no man, no car, no truck, no soldier, no police officer, no road! And his skills as a driver cannot be disputed. He makes his living by driving and he does it well, even though reckless!
We arrived at Beirut Airport on September 14 and were met by the entire families of Ramez and his brother, Farouk, all ten of them. They included Ramez's wife Mary, sons Tony and Dany and daughter, Desiree, along with Farouk's wife, Violet, and daughters Sabine and Nicole and son, Mario. We were whisked to the apartment of Ramez in Mansorieh El Matn, just north of Beirut on the mountain road to Beit Meri. There we feasted on traditional Lebanese foods and the national drink called Arak – a drink made from fermented grapes and anise. It is one of my favorite alcoholic drinks, one we were to indulge in at almost each meal. If you don't drink Arak , you're not a true Lebanese!
Ramez's apartment was to be our home for the entire stay in Lebanon, a home filled with hospitality and warmth. Some of our most memorable moments in Lebanon were spent there. Ramez, his wife and children made us feel very welcome. Better hosts cannot be found anywhere.
While Ramez's apartment was to be our home for the next ten days, Farouk, the owner of a taxi service in Beit Meri, was to be our chauffeur and guide during our stay. If you have never been to Lebanon, you cannot imagine the crazy driving and drivers that haunt the highways, byways and downtown areas of the cities and villages. They are reckless to say the least and the most reckless and fearless is my cousin Farouk. I shall forever call him "Fearless Farouk". He fears no man, no car, no truck, no soldier, no police officer, no road! And his skills as a driver cannot be disputed. He makes his living by driving and he does it well, even though reckless!
On the evening of our first day in Lebanon, September 14, was the celebration of "Eid el Salib" (Feast of the Cross). The next day was the feast day of Saint Sassine, the patron saint of the village of Beit Meri and the saint after whom the church is named. On each day, the streets were filled with throngs of people, all kinds of food, souvenir and gift booths, and craft shops. It was a very festive occasion and reminded me of a state fair in the United States, only with strong religious overtones. The church bells were constantly being rung by the men and boys of the village, each trying to outdo the other. The church itself was constantly filled with worshippers.
There is a plaza behind the church and it was there that we were to meet a first cousin whom we had never met before. His name is Elias Daniel and he is the son of my Aunt Mariam Daniel and Toufic Daniel. Let me explain how a Daniel marrying a Daniel came about. My Uncle Bill Daniel, who lived in Wheeling, West Virginia, related the story to me.
Elias' father, Toufic Daniel, eloped and married his cousin Mariam, who is my aunt. However, my grandmother Yasmine had forbidden her daughter, my aunt Mariam, to marry Toufic because he was her first cousin. Toufic, not one to take "No" for an answer, gathered a group of armed young men, loaded them on a flat-bed wagon, went to my grandmother's house and kidnapped my Aunt Mariam who was in agreement. He, along with the other young men, went to a neighboring village and forced the parish priest to marry them. The marriage proved to be successful since they brought forth six children, all who are normal and healthy. Toufic Daniel and Aunt Mariam lived a happy life together.
Elias still lives in the original Daniel home in Beit Meri. It is the home in which my grandfather, Daniel Daniel, was born and raised. It is built upon the side of the mountain and has terraced vegetable gardens. There is a stone step-way leading down to the house from the upper road and winds all the way down to the next road below. Growing along the steps are prickly pear cacti. They have been there for several years since I can remember my father telling me about them and how good they were. Seeing this home and being able to tour it was one of the highlights of the Lebanon trip.
Early Friday morning, "Fearless Farouk" was at the apartment waiting to take us on a daylong trip of visiting relatives. These were the Raads and the Daniels, who live in Beit Meri. It was to be a whirlwind tour.
The first person we visited was Najem Madi, my first cousin on my mother's side of the family. His mother and my mother were sisters, both from the Raad family. Najem lives in the old Raad home. Upon our arrival, his wife Linda and his niece, Teresa greeted us. Within minutes, the house was filled with relatives, all wanting the chance to meet their American cousins. How they all found out we were there is still a mystery to me. The house is one of the older-style homes we visited. It has a very unique and unusual ceiling which I had never seen before. It is covered with small tree limbs across which are braces of larger logs of tree trunks. To replicate a ceiling like this in the United States would cost several hundreds of dollars.
We spent about an hour visiting with our relatives and taking pictures and being invited to return the next week for a family dinner. We gladly accepted since it would give us the opportunity to spend more time with them and also meet other members of the family. Then, we were on our way to visit more "cousins". Everyone we visited that day, whether Raad or Daniel, insisted on having us for lunch or dinner. This hospitality was to be extended to us each day of our stay in Lebanon and by everyone we visited.
One of the next stops we made that day was at the variety store owned by my cousin, Joseph Raad, who also happens to be the mayor of Beit Meri. Joe had been to Mannington on two or three occasions when he had visited his Aunt Labibe Raad Francis, who lived on the next block from my house. One of the visits was made as part of his honeymoon trip. He and I got to spend quite a bit of time together on his visits to the U.S. and the Daniel family sort of adopted him as one of ours. He invited Donald and me to dinner at a restaurant owned by his brother-in-law. It was quaint and charming with an outdoor dining room and in the distance could be seen the city of Beirut. We were joined by his first cousin, Claude Raad, who is related to me on both sides of the family. It was an evening filled with laughter and joy. Old memories were revived and new memories made.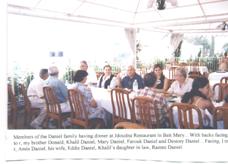 On Saturday, we were invited to have lunch at one of Beit Meri's famous restaurants, I believe the name was "Jdoudna" ("Our Grandparents"). Our host for that day was Khalil Daniel and his wife, Hoda. Kay [Khalil] is a fourth cousin who had made several trips to Mannington in the late 1950's and 1960's, visiting his Aunt Matilda Daniel Simon. Not only did he host Donald and me, but the entire Ramez and Farouk families, his brother, Amin and wife and his daughter-in-law. The food and service, as usual in Lebanese restaurants of this caliber, were excellent and a good time was had by all.
On Sunday we attended Mass at Mar (Saint) Sassine's Church. This is the church where my mother and father were married. It's a typical Lebanese-Maronite style church in structure, with massive stone walls. The interior was not lavish as, for example, in a baroque-style church. It was beautiful in its simplicity of décor. Just to be here took me back in time to when my parents and all of my other ancestors came here to celebrate Mass and all the Holy Days of Obligation, to be baptized, to be married and to be buried. I was overcome with emotions that I trembled. My heart quivered and the hairs on my body stood up. It was an awe-inspiring moment which my body absorbed like a sponge drawing in water.
After Mass, I asked about the location of the Raad and Daniel families' crypts. Outside the church at the end of the plaza, there is a gate which leads down a small flight of steps to the walkway along which the crypts were located. Not being able to read the inscriptions in Arabic, I was told which crypts were for the Raad and Daniel families. I was taken aback when I discovered that, unlike the entrance to the other vaults, the Daniel crypt had a locked, steel gate barring the entrance. I jokingly said this could only have been to make sure the Daniels did not try to leave after being interred.
After taking pictures of the crypts, my cousin "Fearless Farouk" took us to the top of the mountain beyond the church, to see the ruins of a 5th century Byzantine church. Also nearby are the ruins of a Roman temple, which was probably built atop more ancient Phoenician ruins. From this point, one could look across miles and miles of mountains. To get there, one has to pass a Syrian military outpost. This didn't seem to bother my cousin but I felt a little uneasy. When we were walking around the ruins taking pictures, a Syrian soldier came near, probably wanting to see what we were doing there. Instead of showing him fear, I used the old, friendly West Virginia
hillbilly sign of peace, a wave of the hand and he, in turn, placed his hand over his heart and bowed towards me. I was told that this was his way of giving me a peace symbol. All's well that ends well.
Nearing lunchtime, we returned to Farouk's house, where his wife had invited us to eat. Also there, was my cousin Ramez, his wife, Mary and their three children, along with a couple of friends of Violet's. Lunch to the Lebanese is not what lunch is to an American. Arrayed on the table were all the mezze (Lebanese appetizers) dishes one could think of. By the time the main course arrived --kibbie, chicken, stuffed grape leaves, and, believe it or not, pizza and French fries-- we were almost too full to eat. I said almost too full. We went ahead and enjoyed the delicious food anyway and drank our share of Arak, to boot. Violet, who could not speak English, was a good cook. In order to communicate with her, we had to use our broken Arabic. By the end of our stay in Lebanon, we were beginning to speak Arabic quite well. My brother became better than I.
We spent Sunday evening back at Ramez's apartment, our home away from home. Once again we were treated to another delicious meal, this one prepared by Mary. If I remember correctly, I believe that Mary's mother and father, Elias and Loudy Saab, were also there. Even though they were not related to me, they were to become two of my favorite people. I always enjoyed their company. We were guests at their apartment in Beirut one evening the following week. They suffered a great tragedy during the war when their only son, Tony, a member of the Christian Resistance, was shot and killed while defending his homeland. He was one of the true martyrs of Lebanon.
Early Monday morning, "Fearless Farouk" was at the apartment to take us, his own children and Ramez and his entire family -- two carloads -- to Zahle and then to Baalbek. We were invited to the home of Farid Charbel in Zahle. Farid's father and my father were half-brothers. My grandmother Yasmine Daniel was first married to a Charbel from near Zahle. She had one son, George, and a daughter, Philemena, by him.
My grandmother's first husband and his family had been feuding with a Druze family. The Druze and the Maronites have had their share of animosity in the 19th and 20th centuries although they were allies earlier, especially during the Maan and the Chehab Principalities. The disputed ownership of a water well, along with religion, played a role in this feud. There were killings and revenge killings over the years. That part of Lebanon is known for its vendettas. Grandmother's first husband was killed by members of the Druze family while drawing water from his well. My grandmother left the area afterwards, she took the her son and daughter to Zahle to be with their paternal grandparents. She moved back to her native village of Beit Meri where, later on, she met and eventually married my grandfather, Daniel Daniel.
My father and Farid Charbel's father, half-brothers, were very close. My father was the oldest child from the second marriage and close to George in age. When my father was alive, he communicated with the Charbel family on a regular basis. Once they heard we were visiting Lebanon, they phoned and invited us for dinner.
What a trip it was from Beit Meri to Zahle. My cousin the taxi-driver, "Fearless Farouk", wanted to take a short cut. The road was one that wound up and down and around the mountains leading to Zahle. It was mostly a one-way road and not in too good condition. We were at a high altitude, probably around 4,000 to 5,000 feet, and there were no guardrails. I was riding in the front passenger side of the car and could look down over the steep embankment alongside the road. Being afraid of heights, I was scared to death. To make matters worse, my cousin drove at his normal rate of speed, between 70 to 80 miles an hour, or so it seemed. A cement truck was speeding toward us and my heart was going even faster than the vehicles. I could see my final days on earth coming to an end. Do you think my cousin would slow down or yield? Not "Fearless Farouk"! He kept heading toward the truck like a bullet from a rifle barrel, thereby forcing the truck
driver to yield and issue forth profanities I will not repeat in writing. "Fearless Farouk" just grinned. When answering my question as to why he did not slow down or yield to a much larger vehicle, he asked me if I would like to drive instead of him. Thinking it over very quickly, I answered, "No Way"!
The road was worth putting up with because the most splendid sights began to unfurl before our eyes. Looking out over the mountains, one could see the Bekaa Valley far away. It was a little hazy that day, but still clear enough to take some pictures. The scenery in Lebanon is something you have to see to appreciate. It is a little hard to describe. For example, you may be driving along dusty, dirt- and rock-covered mountains one moment and the next you may be entering a fertile, tree-covered valley with apple, fig and pear trees and grape vines loaded to the hilt with their fruits. Beautiful!
On the way were several fruit and vegetable stands near the tops of the mountains, with only a house or two nearby. Beside one stand was an outdoor oven (furn) where they were making the paper-thin, flat Lebanese bread called Markouk . The women would toss the dough in the air, much like a pizza maker, until it became very thin. Then they would place it over the top of the dome of the oven. Within seconds the bread would be done. Delicious, especially when used as a wrap around shish kabobs, kafta, and vegetables. Also, the Markouk is good in it's dried state as an important ingredient in the famous Lebanese fatoosh salad. We bought several loaves and snacked on them on the way.
Coming down the mountain to the city of Zahle was a sight to behold. Suddenly it appears before your eyes with its modern buildings intermingling with its more ancient buildings. Here is a Christian city located, basically, in a majority Moslem area, at the gateway to the Bekaa Valley and en route to Baalbek.
It is a resort city with many fine, open-air restaurants and hotels along the two main streets, Rue Brazil and Rue Saint Barbara. These two streets form a figure 8, much like the 8 formed by ice-skaters. In between are areas I shall call town squares and along them are various shops and commercial enterprises.
Our cousin Farid and his family live in the city in one of the traditional Lebanese-style homes. They are constructed from solid stone on the outside, with steps and floors made of either cut stone or marble. Farid and his wife, Elene, greeted us warmly at the door, and, after several hugs and kisses, we were escorted into one of many living rooms. As is typical, the coffee tables were laid out with packs of cigarettes. Most Lebanese men and women smoke, although I did not notice any of the teenagers smoking.
The daughter, Josephine, was assisting her mother, Elene, prepare the food. We waited for two of Farid's sons, Joseph and Tony, who were to join us for dinner. Later before leaving Zahle, we met another son, Michael, who had been working and unable to be with us earlier.
When we were escorted into the dining room, I couldn't believe my eyes when I saw all the mezze dishes I could imagine. Afterwards while visiting and chatting, nargeles (water pipes) were brought in. Farid is an avid narghele smoker and is shown with one in the picture of him and his wife. Stories were told of the family and how it came to settle in Zahle to escape the feuding that was going on in his birth village.
After the customary Turkish coffee and our final good-byes, we went on to the ancient ruins of the city of Baalbek. The drive from Zahle to Baalbek was like going from the 20th century to ancient times. For an American, it was a little nerve-wracking since we were now entering Hezbollah country. This is the area of Lebanon that was and is still controlled by the Hezbollah forces (a radical Shiite Moslem sect with strong ties to Syria and Iran). Along the road, the Hezbollah flag is
seen flying from telephone poles, rooftops and shops. This is the area of greatest anti-American sentiment, at least in years gone by, and even now, to a lesser extent. However, we entered the area with little fear of being harassed or otherwise bothered. As a matter of fact, tourism is now being sought and westerners are accepted. One can now get alcoholic beverages to drink in some of the restaurants and stores, after having once been prohibited by the Shiites, since it is against their religious beliefs to consume alcohol.
Also heartwarming, was the sight of checkpoints being manned by Lebanese Army units instead of Hezbollah guerrillas. The emblem of the cedar tree on the uniforms made one, especially an American, feel much safer and more at ease.
Before entering the area of the ruins, we stopped at a gift shop. I did have my picture taken in Bedouin garb. I looked authentic.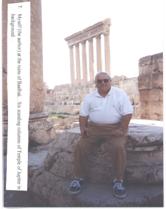 From there we went directly to the entrance to the ruins and what a sight it was. The ruins are the largest to be found in the Middle East and even rival those found in Rome. The temples, columns, arches, and carvings are awesome. Baalbek was originally a Phoenician temple dedicated to the god, Baal, hence its name. It was called Heliopolis (City of the Sun) by the Greek conqueror, Alexander the Great. That name was kept even by the Romans who came later and built their impressive temples atop the more ancient Phoenician ones. Any trip to Lebanon must include a visit to these ruins which, thanks to earlier German and then French archeologists, have been preserved for all to see.
I took more pictures there than at any other tourist site I visited. Photos were taken of the temple of Bacchus, six standing columns from the temple of Jupiter-Baal, the two altars, the great court, and the hexagonal court. Also, I got my first glimpse of a traditionally clothed Baalbakian. He was wearing a white headdress and carrying a walking stick. In fact, he posed and let me photograph him.
Another interesting person I met while at the ruins must have been a guide. Realizing that I was a tourist, he offered to explain the engravings on the columns. He painstakingly translated the meanings to me. He declined to take any money. He even offered to take pictures of me seated on one of the fallen columns. I'm sorry I did not write his name down. His hospitality was not unusual, though. Everywhere I went in Lebanon, the people were very cordial and willing to answer any question and to give whatever assistance they could.
The trip back from Baalbek was by a different route, not the one which we had taken from Zahle. It was beautiful driving through the Bekaa Valley, the breadbasket of ancient Rome and the granary for the Near and Middle East. To this day it is a great agricultural region, producing so many kinds of fruits, nuts and vegetables. The wine from the well-known winery in this region has a reputation far beyond Lebanon. The soil was very unusual, at least to a West Virginian such as myself. It appeared very thick and was of an unusual reddish color. It must have been very fertile because the produce, especially the potatoes, were very large. As a matter of fact, my cousins purchased several bushels of potatoes which may have been the largest I have ever seen --and I grew up in a grocery store and saw a lot of potatoes in my day.
The road from the Bekaa Valley back to Beit Meri brought us around to the southeast of Beirut through the towns of Bhamdoun, Aleyh and Baabda, then to Beirut and up from there to Mansorieh and finally to Beit Meri. Although we did not have the opportunity to visit any of these villages since it was getting quite late, each had it's own special character and each was beautiful in it's own way.
On Tuesday, a distant cousin named Fuad Daniel treated us to lunch. He is a nephew of Sam Daniel, a third cousin of my father's who lived in Shinnston, West Virginia. Fuad's uncle brought his sister and him to the United States to attend high school in about the late sixties. Since he was practically a member of the family during his stay in America, he wanted to extend his hospitality to us. The meal was eaten outside in a dining area under the grape arbor. The kabobs were cooked outside on a charcoal grill and were delicious, as were the other dishes. Old times were relived, stories told and many glasses of Arak consumed. It was a great way to spend an afternoon.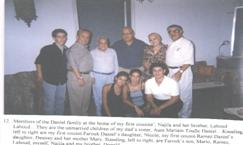 That evening, we were dinner guests at the home of my first cousin, Najila Lahoud and her brother Lahoud. That's right, his name is Lahoud Lahoud. The house they occupied was the one in which my grandmother had lived or spent her last days. From the verandah, one can look down the mountain and see the city of Beirut and the Mediterranean Sea. In the 1930s, my father brought his mother to live with him in America. But she became homesick within one year and wanted to return to Lebanon. The main reason she gave was she wanted to be able to sit on her verandah and look down on the Mediterranean. After seeing the view for myself, I could understand why.
Najila is in her 70's and she did all the cooking herself. She was so happy to have the opportunity to meet her first cousins and felt that having us for dinner was the least she could do. She looked a lot like my late sister, Dorothy -- same build and mannerisms; but then again, many of the cousins I met looked like one or another of us. That's the Daniel genes at work, I guess.
Wednesday was to be another very busy day. That morning, Antoine Abi Ghosn and his wife Jacqueline Massabki took us on a tour which was to include visits to the castle of Moussa, the medieval town of Deir al Qamar and the president's summer palace, Beiteddine. It was to be a day spent enjoying parts of Lebanon we had not yet seen.
We had earlier met Antoine and Jacqueline in Mannington in 1992 when they were visiting some of their relatives here. Although we are not related, Antoine's Uncle Joseph Francis was married to my mother's first cousin, Labibe Raad. One day during their visit to America, they needed transportation to visit one of their relatives in a nearby town and I volunteered to drive them. They never forgot! As soon as they found out I was in Lebanon and where I was staying, they stopped by to visit my brother and me and offered to take us on a tour. Jacqueline is a prominent Lebanese lawyer and author of a novel entitled "Memory of the Cedars."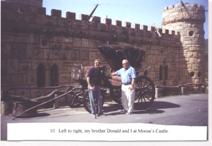 Our first stop was at Moussa's Castle. The castle, itself, is perched upon the side of a mountain and is something to see. Each stone of the castle has a carving on it and inside are replicas of ancient village life and people. I was told that Moussa, who is still alive, was a school dropout. The teachers thought he was not intelligent enough to complete school, so he quit. To prove that he was not lacking talent, he built this castle, including a surrounding moat, with his own hands. One look at it and anyone can see that he was a talented architect and stone mason. Although we did not take the time to tour the inside, we saw brochures that depicted the contents and we marveled at the talent this man displayed to prove a point.
Next, we visited the town of Deir al Qamar. It is probably little changed from the middle ages when it was once the capital of Lebanon. It is the hometown of the famous Chamoun family. One member, Camille, was president of the Republic of Lebanon in the 1950's and head of one of the Christian Resistance during the war in Lebanon. His son is the present mayor of the town and very active in Lebanese politics. The large plaza, which rises a foot or two above the street, is fringed with shops selling all types of merchandise ranging from clothing to souvenirs. Across the street is a Lebanese Army military post. There is an old Moslem Mosque, a leftover from the days of Turkish occupation. It is no longer in use but now serves as a tourist attraction. The Maan family, and its most famous member Emir (Prince) Fakhr ad-Din, ruled Lebanon in the Middle Ages. The Maans made Deir al Qamar famous.
Beiteddine was to be our next and last stop for the day. It seems as if most of the important sites in Lebanon are perched upon or near the top of mountains, and Beiteddine was no exception. We would have liked to meet the President of Lebanon, Emile Lahoud, but we knew he would not be at the palace. There were too many political problems keeping him in Beirut.
Members of the Lebanese Army guarded the entrance to the palace but we had no trouble entering. The palace itself is both Middle Eastern and Italian in architectural style, having been designed by Italian architects. On the outside are many manicured lawns with trees and shrubs and in the center a large courtyard with a beautiful fountain. National and international plays and music festivals are held here in the summer. The stone walls inside the palace are massive. The floors are made of brick or stone. Also, in the rooms that were stables in days of old, are found mosaics that were excavated from the Byzantine Church at Jiyye, the ancient city of Porphyrion among others. The Druze leader, Walid Joumblat, brought these to the palace during the war in Lebanon. Some of the mosaics were on the floor and others were on the walls. In another area of the palace is a replica of a room from the house of Kamal Joumblat, the late Druze leader. Much damage was done to the palace during the war but it is now being restored to its former splendor. Also within the palace are museums and many other attractions. We were running out of time and did not get to see of the rest of the palace, but what we did see was worth the visit.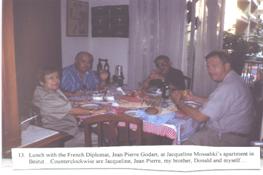 We had lunch at Jacqueline and Antoine's apartment in Beirut and we were to be joined by a French diplomat Mr. Jean Godart. Jacqueline treated us to smoked salmon and assorted side dishes, fruit, French cheese and a wine from the Bekaa Valley.
That evening we were invited to the home of Lodi Madi, wife of my late first cousin, Toufic. As with all the invitations to my brother Donald and me, this included the family of our hosts, Ramez and Mary Daniel and the family. We had already met Lodi's daughter-in-law, Cathia, at Najem Madi's house when we first arrived in Lebanon. We had never met the rest of the family and they were all there, including her niece Teresa, daughter of her late brother-in-law George Madi. Three of the Lodi children and their fiancées were there. There were the delicious mezzes, including the little meat-filled samboosik pastries, and main courses which she chose to please us. This was a chance for us to get acquainted with the family of one of my Aunt Susan's children, Toufic. Aunt Susan's children were my mother's favorites in the old country. My mother worried about them constantly until the day she died. This is the family that my mother turned over all her property rights to so that they would have a home and property of their own. If she is looking down from heaven now, I'm sure she would be pleased at how well this family turned out. They are all such beautiful people. During our visit, we learned that two of the young Lodi adults were going to be married this year.
On Thursday, we visited Antoinette Madi Karam, who is related to our first cousins in Connecticut. Although not related to us, she is a first cousin to the children of my Aunt Catherine Raad Madi. Aunt Catherine was married to Antoinette's uncle, Elias Madi. Simply because she had visited with her cousins in Connecticut and had enjoyed her stay with them, she felt as if she had to reciprocate by showing us a good time while we were in Lebanon. She insisted on taking us on a tour of some of the sights in Lebanon and we accepted her offer.
The tour took us to one of the most famous landmarks in Lebanon, the Shrine of Our Lady of Lebanon at Harissa. I was familiar with the shrine, having seen pictures of it. I also wear a religious medal with Our Lady of Lebanon on one side and the emblem of a cedar on the other which my mother brought me after her visit to Lebanon in 1960. But to actually be there at the site was an experience I will never forget. What a beautiful, well manicured setting it was, situated on the crest of a mountain overlooking the city of Jounieh and the Mediterranean Sea.
There is a spiral stairway encircling the outside of the shrine and leading to the top where one can look out over some of the most beautiful scenery in the world. The view is spectacular! Inside the base of the statue is a chapel. Surrounding the whole area of Harissa and the statue are Christian churches of various denominations, such as Maronite, Orthodox and Roman Catholic. A visit to the shrine and surrounding areas is a must for anyone wanting to see some of the more important areas in Lebanon. From there we visited the church/shrine of Mar (Saint) Elias, where we were given some relics.
Then we went to the Maronite Patriarch's Palace at Bkerke. This See is to the Maronite Church what Saint Peter's Basilica and the Vatican in Rome are to the Latin Rite. The See or the Seat of the Maronite Syriac (Syro-Aramaic) Church of Antioch is located high in the mountains. The view is gorgeous. There is a large square in front of the entrance to the residence grounds where the buildings surround a beautiful plaza. We did not have an audience with the Patriarch because a demonstration was in progress. It seems as if the Patriarch is becoming increasingly assertive in his political rhetoric regarding the country. His predecessors did the same often in the past whenever the country was threatened and the people were suffering. At the demonstration, we observed an outspoken lady who was addressing a statement to the onlookers and the Patriarch. She was protesting against the government, not against the Church. She complained of government interference when her village church celebrated a Mass in honor of former Lebanese President Amin Gemayel and in memory of his late brother Bashir Gemayel, the assassinated president elect, who was assassinated by a bomb blast in 1982.
Before bringing us back to Ramez's apartment, Antoinette treated us to lunch. For a change, we ate at a McDonald's.
Friday was filled with sight seeing and visits with members of the Daniel family. Amin Daniel picked us up at Ramez's apartment early in the morning for our trip to the Jeita Caverns. Amin, accompanied by his sister-in-law Hoda Daniel, invited all the Ramez and Farouk families. There were two full carloads of Daniels.
Because of their natural beauty, the Jeita Caverns could probably be classed as one of the wonders of the world. As with all trips in Lebanon, the drive was one of winding up and down mountains. At Jeita, the scenery was much different than what we had seen in the other parts of Lebanon. The mountains were lush and green with the foliage of a variety of trees. I remarked to my cousins that it looked much like West Virginia. To get to the grotto, one has to take a cable car from the parking lot up the mountain to the entrance. The grotto has two levels. The bottom level is a lake where one can take a boat ride and enjoy all the beautiful formations of stalagmites and stalactites created millions of years ago and new ones being slowly created today. The upper level contained chambers with thousands of beautiful formations. I have been in many caverns in the United States but this one has to be the most beautiful I have ever visited. What a shame we were not allowed to take pictures inside the cavern. The authorities are afraid the flash bulbs will
damage the formations. The grotto was closed to the public during the Lebanese war but is now again open to tourists. A German company renovated the caverns and installed new equipment making the sights more accessible to visitors. A visit here is a must for vacationers to Lebanon.

From here, we went to the ski resort of Faraya. On the way, at a place called Faqra, there are ancient ruins. The ruins lie on the side of the mountain and the view down to the valley is picturesque. Although little is left standing of the ruins, one can still see the remains of a large temple, altars and some rock-cut tombs. Many large rocks lie about, making it a very beautiful setting. On the other side of the road, I observed a shepherd's hut, some goats and a small apple orchard. This is Lebanon. People who are shepherds are going about their business on one side of the road and on the other side, there are ancient ruins, going back thousands of years. On the way, we passed a natural bridge. If any of you are familiar with the Natural Bridge in Virginia, this one is much the same. It is so perfectly designed that for many years it was thought to be man made. But it is entirely a work of nature!
A couple of miles further and we began to thread our way down into the ski resort town of Faraya and to the restaurant for lunch. Near the restaurant was a district water-works plant that furnished water to all the nearby areas. There was a large stream pouring down the mountain and this was the source of water for the plant. The restaurant itself was very picturesque, not only in its setting, but also in its construction. The owner did much of the labor. The name of the roadside eatery was "Nabaa al Assal" (The Spring of Honey), aptly named. It was the most unusual restaurant we were to eat in during our stay in Lebanon, because it had a large fishpond built right into the floor of the outside dining area. The pond was filled with mountain trout and you could select the one you wanted to eat and tell the waiter how you wanted it prepared. They were delicious, especially fried.
Along the road above the restaurant was a little farmhouse where the lady of the house was baking bread on an outside oven (furn). Although my cousin did not buy any of the bread, he did buy a couple bushels of apples that were grown in the nearby orchard. After walking around and sightseeing near the restaurant grounds, we decided it was time to head back to Mansorieh. We were invited to dinner at the home of my late cousin, George Daniel, and his family.
At George's house, his widow, Samia and her three sons, Maroun, Tony, Toufic and their wives warmly greeted us. Also there were my cousins Aziz and his wife, Marie; John and his wife, Leila; Laure and her son, George; Elias; Ramez, his wife, Mary, and their three children, Tony, Desiree and Dany; Farouk and his son Mario and daughter Nicole; and the Mayor of Beit Meri, Joseph Raad. He was the only non-Daniel present. Before dinner, we all toasted Joseph Raad and made him an honorary Daniel.
Of course, the mezzes and dinner were great but what I really enjoyed was the dessert. It was my favorite Lebanese dessert, "Awamat", which my mother used to make on special occasions. If you don't know what they are, I will describe them. They are little, round balls of dough that are deep-fried and then dipped in syrup made of water and sugar and fragranced with orange blossom and rose water. I ate eight of them and I'm diabetic. When I checked my glucose level the next morning, it fell in the normal range, believe it or not. I question whether Lebanese food and Arak are treatments for lowering glucose levels?
When this many Daniels get together and when there is an ample supply of Arak, beer and scotch, the stories begin to flow and the tales begin to be told. It reminded me of days of old when my dad and his brothers and cousins would get together and tell of the old days in Lebanon, especially tales of war between the Moslems and the Christians. One of my favorite tales concerned a great-great uncle of mine on the Daniel side of the family and his wife. It seems they were helping fight off some attacking Moslems, I believe it must have been in the 1860's, probably not the earlier 1840 upheavals, and they had devised an ingenious way of defending themselves. In order to be able to fire on the advancing Moslems, they entered their outhouse,
cut holes in the bottom of the walls, stood in the "foul" trench, and fired "invisibly" in self-defense upon the enemy attackers. This tactic proved quite successful since the enemy could not figure out where the shots were coming from and were forced to retreat.
Our last day in Lebanon, Saturday, "Fearless Farouk" and Ramez took Donald and me to the section of Beirut where the goldsmith shops are located. I have forgotten the name of the area but it is in one of the older neighborhoods. There are many jewelry stores located here, many of which are owned and operated by Lebanese of Armenian descent. Years back, when the Armenians were suffering from religious persecution at the hands of the Turks, many fled to Lebanon where now they form an integral part of the community. Many of them are goldsmiths and it is to one of their shops that my cousins took us to find jewelry to bring back to our friends and relatives. My brother Donald was more interested in purchasing items than I was and while they were haggling with the goldsmith over prices, I walked outside to observe the happenings going on in the street.
As I mentioned, it seems that there are no traffic laws in Lebanon; and if there were any, no one pays them much heed. It was comical watching all the cars trying to go to the same place at the same time. I saw two police officers standing on an elevated pedestal in the center of the streets doing what I was doing, namely, watching the comical display of crazy drivers trying to all go to the same spot at the same time.
When we were driving away to come back to Mansorieh, one of the officers did blow his whistle at "Fearless Farouk", who stopped. The officer, a very tall man, came up to the rolled-down window, placed his hand at the back of "Fearless Farouk's" neck and very politely said: "'Amo (son), this is a dead-end street. You will have to go another way," to which Farouk said "Okay." After turning around and heading out on another street, I asked Farouk if the policeman was a personal friend of his, since he seemed so friendly. Farouk told me he had never seen him before. This is Lebanon!
Later Saturday night, "Fearless Farouk" and his family, Ramez and his family, and my brother Donald and I filled the two cars and went back down to Beirut. It was late, about 11 p.m., the best time to drive there because there is little traffic. We walked around the center of the city, looking at some of the buildings that had been restored since the war. We took many pictures but, unfortunately, the flash on our camera was not working and very few of the pictures came out. We felt perfectly safe in this area of Beirut. As a matter of fact, I felt safer here than I would walking around in the center of Washington, DC, probably. I'm sure there are areas of Beirut where it would be dangerous to wander around, but the same could be said of any city in any part of the world. We walked to Saint George's Maronite Cathedral, which is being restored after the ravages of the war. Nearby, we saw the excavations of Roman ruins, which will be fully unearthed and kept in their original state as tourist attractions. We also toured the Place des Martyrs, which was named for the Lebanese nationalists who were executed by the Ottoman Turks early in the twentieth century. From here, we got back into our cars and went to the Corniche [coastal promenade] walkway which runs along the shoreline of the Mediterranean and from where we could see the famed Pigeon Rocks which lie offshore. Even at night this was a sight to see!
The entire downtown area and the areas along the seashore were humming with activity, especially the nightclubs and outdoor cafes. There were vendors with carts and coffee brewers selling their products along the Corniche. I only wish we could have spent more time seeing the rest of the city. It was late and we needed to get ready for our return trip home early Sunday morning.
I will not dwell on the departure because it was too sad an ending to a glorious ten days in beautiful Lebanon. It is the memory of arriving in Lebanon that I want to keep in my heart for as long as I live.
I will always remember the quiet mornings at breakfast on the verandah of Ramez's and Mary's apartment; the reawakening of fond, family memories. I cannot forget gazing up toward the mountain to Beit Meri, the hometown of my ancestors, as the village in all it's beauty and splendor, stretches along the cliffs like some magical, fairy-tale city.
Farewell, Lebanon. Until we meet again!

EPILOGUE
Lebanon has many beautiful ancient ruins, shrines and scenery but the most beautiful asset it has can be summed up in one word -- it's people. They are known around the world for their hospitality, and where there may be some other areas around the globe where the people are as hospitable, nowhere will you find them more so. I have found that the Maronite Lebanese feel obligated to extend hospitality to the guest, and they expect hospitality in to be extended to them as guests. It's a matter of pride and is part of their character. It's instilled in them from the day they are born. It was instilled in me by my parents. It's part of our Maronite-Lebanese heritage.
The invitations to dinner that were extended to my brother and me were also extended to our host family, my cousin Ramez, his wife Mary and their three children. It would have been unthinkable to have invited one or two members of a family to dinner and not invite the entire family. Since we were staying with my cousin Ramez and his family, we were considered part of his family. Thereby, the invitations were always extended to all of us.
Another character trait I observed is their work ethic. I did not see any "bums" among my relatives in Lebanon. They all had jobs and took pride in their work. Many were in the skilled trades, such as carpenters, stonemasons, electricians, building contractors; some were in white collar jobs, such as sales representatives, accountants, office workers; others were in the professions, such as doctors, lawyers, pharmacists, school teachers, nurses; while others where involved in business ventures. All were working. All seemed successful. All had decent homes. And all were always striving to better themselves.
I did not notice any significant anti-American feelings among my people. There were a couple of instances when some individuals said that they felt the United States was always being too one-sided in favor of Israel to the disadvantage of its neighbors. I would have to agree with them. I am no great fan of Yasser Arafat, but I do feel the Palestinians have legitimate complaints and that the United States should be more willing to listen to them and help them form an independent nation of their own -- even if at times, it puts us at odds with Israel. Only then can we, as Americans, be considered fair and just in our relationships with the peoples of the Middle East.
Also, I felt there were some, though few in number, who wanted to blame the United States for all their current problems. These, I feel, are people who are burying their heads in the sand and refusing, for whatever reason, to look at the real causes of their problems. I think that the blame should be laid at the feet of some of their elected officials who have been bought and paid for by Syria.
There are still around 30,000 Syrian troops in Lebanon and the majority of the Lebanese, both Christian and Druze, as well as the more moderate Moslems, want them out. It's not that the Lebanese people want to sever their relations with Syria. They don't. They want to be considered a sovereign nation independent of Syria. They want good relations with Syria but as equals and not on a subservient level. This desire has been publicly expressed not only by the Patriarch of the Maronite Church, His Beatitude Mar Nasrallah Boutros Sfeir, but by the leader of the Druze sect, Walid Jumblatt, not usually one to side with the Maronites. Their statements have ruffled
some feathers, not only among some Moslems but also among some of the Maronite politicians who see the Patriarch's interventions as diminishing some of their political authority. In the past, the Maronites looked more to their Patriarch for guidance than they did to politicians. I think some of the Maronite politicians fear this is happening again.
The presence of Syrian troops is one point of contention among most of the Lebanese. Another is the economic control over Lebanon by unrestricted importation of Syrian agricultural and manufactured products. This harms the Lebanese farmer and factory worker and costs jobs and a loss of revenue.
Another problem is a government policy which allows Syrian students to enter Lebanese colleges and universities without taking the college entrance exams and without holding academic qualifications required of Lebanese students. In some fields of study, like law and medicine, there are a limited number of classroom openings. Qualified Lebanese students are denied entry in order to accommodate the less qualified Syrian students. Students have demonstrated against this policy in recent weeks.
I personally believe too many politicians, including the president, Emile Lahoud, and other Maronite members of parliament; owe too much allegiance to Syria and the Hafez family. Whether it's because they fear that the withdrawal of Syrian troops for one reason or another, I'm not expert enough to say. But I think the time has come for Syria to leave and, then, to become a good neighbor. The Syrians were invited for breakfast; they stayed for lunch; now they want to stay for dinner and the answer should be "No"!
But if Lebanon is to regain any of it's former glory and respect from the other nations in the world, Lebanese Army troops must be the ones responsible for and in control of the country's security -- not some independent faction like Hezbollah, whose allegiance is to Iran and Syria and not to Lebanon. The Lebanese Army must be moved to the southern border, where it should take and keep control. There are 50,000 army troops, I was told, so this shouldn't be a problem. The problem is in the reluctance of certain politicians to do so for fear of Syria's reaction.
At the present time, there is no love expressed for Israel by anyone I came in contact with. Where there was a time during the war when that may not have been the case, especially the time when Israel did come into Lebanon and help the Christian Forces defeat the Palestinians who were trying to take over the country, it is not the case now. I think they, the Christians, feel Israel betrayed them and that they were only interested in crushing the Palestinians in Lebanon, thereby helping the Israeli cause, and not in helping the Lebanese Christians. Once the Israelis destroyed the power of the Palestinians in Lebanon and forced Arafat to leave Lebanon, the Israelis withdrew, leaving the Christian Forces alone to battle the Moslem & Druze militants who were being supported by foreign volunteers from neighboring states. Also, in more recent times, Israeli bombs dropping on Beirut and damaging much of the infrastructure of the country, does not help them gain friendship among the Lebanese -- Christian or Moslem. I'm sure that everyday there is great resentment of Israel whenever the power goes off for four hours at a time because the power plant still has not fully been repaired since the Israeli bombing. I know for a fact whenever there was a power failure when I was in Lebanon and trying to take a shower or shave, I used profanity against Israel and the Israelis. It's understandable.
The Maronites, these sturdy and energetic people of Aramaic/Syriac stock, remain steadfast in their beliefs and have never lost their identity as a people or a nation. They are the oldest group in Lebanon, predating the Arab Moslems and the Druzes. The Maronites opened relations with the rest of the world and this benefited Lebanon and its various communities, both culturally and economically.
I found the Maronite Lebanese to be concerned about their government and the problems it now faces as it desperately tries to recover from the 15 years of war and a 10 years of post war period of turbulence. There are no easy answers to the complexity of problems facing this nation and it's people. However, I found the people confident that they can and will find the right solutions. This ability to recover from tragedies is characteristic of the Maronite-Lebanese nation. Over the centuries, it has withstood the onslaughts of the conquerors from ancient times to the present and has always had the ability to recover, rebuild and renew itself as a nation. It can and will do so now! This I do believe.