The Shediack Migration:
A Saga Sustained by Faith and Love
By George Shediack
Retired teacher
In this section of the Journal of Maronite Studies (JMS), a Maronite-American family presents its own history of migration to the United States of America. The Maronites in America have a rich history preserved through oral narratives. Valuable historical and cultural details such as reasons for emigrating, means of transport, adjustments in the new country, customs, music, food, etc., are worth recording. These stories represent the views of the author(s). They may be edited for clarity and style.
Six months after my father's final illness and death, I sat in his home writing an account of our family's migration from Lebanon to the United States. Retelling these events, especially those most recent, was highly emotional for me. I persevered in telling about my Shediack family and the Maronite faith which strengthened them.
This account is dedicated with loving pride to Joseph and Ida Shediack, my beloved parents.
My great grandfather Abraham Shediack married my great grandmother Jameely in the coastal town of Zouk near the Bay of Jouniyeh in 1865. Lebanon was recovering from the massacres of 1860 directed against the Christians there as well as the Christians in Turkish-ruled Syria and Armenia. Lebanon, under the rule of the Ottoman Empire since 1516 A.D., was governed then by a special administrative law which provided limited self-rule. Nevertheless, its Christian population suffered under Turkish oppression and heartless treatment.
Abraham's maternal grandparents were among those who were murdered in Deir-el-Kamar during the massacre. Abraham's father Yussef, a peddler and a weaver, had met his wife in Deir-el-Kamar in the course of his travel and her family had also been annihilated in the 1860 massacre. She asked Abraham to move to Egypt where they could make a fresh start. As far as we know, the origin of our Shediack family is the village of 'Ashkout in the Kisserwan area of Lebanon.
Antoun, Youssef's father, was the first to move to Zouk. Antoun had three more brothers, one of whom moved to Hadath in the suburbs of Beirut. Nothing further is known about the family's roots or Antoun's brothers.
Yussef and his family moved to Egypt and settled in the Delta town of Tanta, a largely Christian enclave then. Their daughter Saada agreed to go with them but their son Abraham remained in Zouk as a weaver. Yussef worked and prospered as a tobacco processor, while his wife continued her profession as a midwife. Saada became a midwife like her mother, married an Egyptian and had two children. Saada's son became a doctor and her daughter a third generation midwife. Nothing further is known about them.
Abraham was a weaver and a singer. He and his wife, Jameely Nassar, had five children: Khalil, Saada, Habib, George and Layla. As the family grew, the socio-economic situation in Lebanon grew worse. Abraham's work was seasonal. Because there were periods of little or no work but with intermittent rush orders, he joined his father in Egypt and become a tobacco processor.
Abraham's family prospered in Egypt but the climate did not suit Jameely's health so she returned to the Zouk. Both decided it would be best for the family to stay in the Zouk while Abraham continued to work in Egypt. There they planned frequent trips back and forth and hoped that eventually they could reside permanently as a family in one place or the other. Despite the distance and the involuntary separations, the family felt as one and looked forward to being together one day.
As the oldest, Khalil often found himself on his own and he enjoyed his freedom. The young Maronite priest of the village took a liking to him and introduced him to the religious and secular classics. He taught Khalil how to serve, chant and read at Mass. Unfortunately, the young priest was transferred. His replacement catered to the children of the "elite" and neglected Khalil and those who were not.
Fortunately, the local Melkite priest helped Khalil whose grandmother was a Melkite (Greek Catholic). Khalil could serve Mass in both rites. Later, in the United States, there were some who accepted him only when they learned of his Melkite heritage. Absurd but true!
The new Maronite priest introduced Khalil to a relative who had a near monopoly on the passenger-trade business in the coastal area. Carriages were the only means of public transportation for both people and goods. Khalil's goal was to become the best carriage driver in the territory. His eagerness and hard work attracted the attention of two veteran drivers from the Zouk: Antoun and George Ajwee. They taught him the "tricks of the trade" and encouraged people to ride with him and to entrust shipping their goods to him. Soon after, the rich and influential Bowaiz brothers of Zouk gave him the bulk of their business and he was soon known as the best driver on the Beirut-Jouniyeh-Zouk-Sarba-Batroun coastal route. This was quite an achievement for a young man not yet eighteen.
People said you could tell if Khalil was driving; he would be singing and telling stories to his passengers. The songs might be the latest Egyptian hit, learned on a visit to his dad, or an old classic. His stories might be ones handed down through the years, the latest news or descriptions of the sights of Beirut and elsewhere. Quite often his news accounts were more up-to-date than the newspapers or other eyewitness accounts. Once, he told that he had seen a two-wheeled vehicle with a man on it pedaling and a carriage moving without being pulled by horses or any other animal. The story was so unbelievable that he was called "liar", "crazy", and "drunk". When the people of Zouk eventually saw a bicycle and a car, they praised him for his honesty and keen observation.
The younger Shediack children --Saada, Habib, George and Layla-- learned to perform household tasks and some of the manual trades. Although they had not inherited Abraham's singing talent as Khalil had, they were content to dance and accompany Khalil on their musical instruments. They were happy, seemingly close, and looked forward to rejoining their father. Unfortunately, the family was never reunited.
In 1892, word reached Zouk about a world's fair to be held in the United States, a place not many had heard of. The great Lebanese migration was still in the future. The people had heard of and seen pictures from the fairs held in Paris in 1867, 1873 and 1889. Some people had even visited the 1889 fair and brought back accounts and photographs of the great marvel, the Eiffel Tower. The people of North Lebanon had had close cultural ties with France since the twelfth century. These ties were reinforced by the establishing of schools by French missionaries and by the periodic visits back and forth of Lebanese and French nationals.
The fair in the United States had enticed several of the Zouk's "elite" who wanted to visit this far-off "fairyland". Jameely was asked to go as a companion/chaperone to some of the younger ladies and she accepted immediately. It was the chance of a lifetime and she felt flattered to be so recognized and trusted by the prominent residents of Zouk.
She decided that Khalil, 25, and Saada, 23, could take care of their brothers and sister. She asked Khalil to go to Egypt and inform his father. When Abraham heard the news, he was totally opposed to the plan. He thought that it was sheer insanity for Jameely to leave her children without a mother's care for perhaps a year. Her place was with the children, he said. It was harvest time so he could not travel to the Zouk or bring the children to Egypt. Khalil agreed with his father's reasoning and returned to the Zouk and informed his mother.
Jameely was furious at the response. The way she reprimanded her son for agreeing with his father led Khalil to realize that not all of his mother's health problems were physical. Some were undoubtedly nervous. He then recognized that Abraham must have known this and that accounted for his allowing Jameely to be away so often. Khalil turned to older family members and friends for advice. Without exception, they all sided with Jameely. She left Zouk in 1893, not knowing that she would never return.
After his mother left, Khalil returned to the carriage trade. He tried to keep the family together but his siblings were disobedient except when it suited them. Other family members backed them up by pointedly observing that Khalil was their brother, not their parent. Moreover, Khalil had fallen in love and became handicapped in his role as "man of the house."
Khalil had fallen in love with Regina, the only child of the widowed Annie Durgham. Although she was nine years his junior, both always said it was "love at first sight". Khalil found a second and much happier home at the Durgham's. He and Regina began to make wedding plans.
Suddenly, 15-year old George was stricken with a mysterious malady. Khalil notified his father who arrived in time to witness George's death. The whole family was devastated. Abraham wrote and informed Jameely of the tragedy. He left his family in the care of his in-laws and Annie Durgham. Then he went to America to comfort his wife.
The reunion with Jameely was disastrous for Abraham. His wife blamed him for everything, including their son George's death. He could not reason with her and gave up, fearing that more discussion might cause her to be permanently ill --in America and far from home. He returned to Zouk to find that only Khalil took his side. Abraham's other children and the in-laws all blamed him for what had happened. Hurt and discouraged, he returned to Egypt. He advised Khalil to marry as soon as possible and to stand by his wife, even if it meant breaking with his own relatives.
After the fair, most of the party returned home, but Jameely and her friends traveled to New York and other cities. She and a few others ended up in Warren, Rhode Island. What took them there and what kept Jameely there has never been explained. She found the money to open up a combination store-restaurant-boarding house and she prospered in no time. Within two or three years she had enough money to buy passage for her three younger children. Khalil refused his mother's request that he joins her because he was about to be married. She then brought over her sister Miriam (Mary) and family and then her brother George, his three sons, and his wife Madeline. When all the moving had ended, the Shediacks were in three widely separated areas: Khalil in Zouk and about to be married; Abraham in Egypt with his parents; and Jameely with the three children Saada, Habib and Layla in America.
Jameely thrived in America. She often had 12 or more male boarders and 30 or 40 others could be found there almost daily: eating, playing cards, reading Arabic newspapers, etc. Her business place was the hub of the Lebanese community in the Warren area and beyond, as these people formed the labor pool for the Warren Mill. She appeared to be content, communicated haphazardly with her far-off husband and son, and life continued.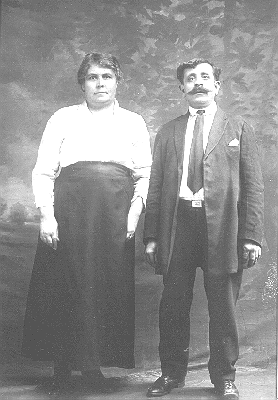 Picture sent to surviving relatives in Zouk, Lebanon.
Photo courtesy of George Chediack (Fall River, MA, 1920)
By 1900, Khalil was happily married and Regina was expecting their first child. By his modest standards, Khalil was prosperous and content. The carriage business took him to Beirut often during the week and he was on the road every day. He knew the commercial area, including the harbor of Beirut as well as anyone. As for the coastal highway, he could drive it even at night with only moonlight to guide him. He had done that one night when a rival had stolen his carriage lamp and he negotiated the sharp curves by moonlight and beat his rivals back and ahead of schedule!
All during 1900 and 1901, Khalil had been hearing rumors that trouble was brewing in Beirut. It seemed that finally the Christians were going to show the Moslems that the old days of religious, social, cultural, and political oppression were over. Khalil wondered how such a struggle would affect him since he had many close friends in the Moslem community (1).
In the spring of 1901, Khalil received a special commission to take passengers and goods to the Jebel, the mountain area northeast of Beirut. It seemed to be a normal request and he was not concerned as he left home, even though the baby was almost due. When he reached the carriage station, he realized this was not going to be an ordinary trip. Two of the men were armed and the other two belonged to a Maronite group determined to break the Moslem grip in the area. He spoke to one of the men he knew, Nasool Abdoo, a relative of his mother-in-law. Nasool assured him that he had nothing to worry about. Knowing Nasool's reputation for honor and bravery, he accepted the assurance and set off.
When they reached the Jebel destination, there were more armed men. They loaded the carriage with guns, ammunition, and black powder. Khalil knew it was illegal to transport such items, but he was told not to worry as they had permission to do this. He was not convinced, but without much choice, he began the return trip to Beirut.
At the outskirts of Beirut, they were stopped at a police checkpoint. As a policeman began to check the carriage, one of the passengers hit him over the head, seized his rifle, and ordered Khalil to whip the carriage away at top speed. A group of men then appeared who unloaded the carriage and directed Khalil to a "safe house" which was owned by a Moslem. They heard the sounds of fighting all night long. It was a terrible scene: dead bodies littered the streets; stores and building were gutted and abandoned. Khalil later said it was the worst sight he had ever seen.
Khalil was worried about his family in Zouk. All those not involved in the fighting sought to flee the city. It was three days before Khalil was able to get out of Beirut with a full load of frightened people, including a priest, who just wanted to get to a safe place. It was a harrowing trip, gunfire was everywhere and no one could be trusted. Three days later, Khalil reached Zouk. The trip was originally intended to be of two days duration, had lasted a week and nearly cost him his life and/or liberty.
Zouk was full of rumors about the terrible events in Beirut. In his home, Khalil found joy and some sadness. A daughter, Eva, had been born in his absence. His grandmother had arrived from Egypt the day he had left. She had brought sad news: his grandfather, Yussef, had died two weeks earlier at the age of 114. Although she was close to 100 years of age, she had assisted the local midwife in the delivery of baby Eva.
Khalil asked his grandmother to stay with them, but she refused. Zouk and Lebanon seemed strange and alien to her after nearly forty years in Egypt. She returned to Egypt and died within the year.
Despite the great upheaval and turmoil, life soon returned to normal outside of Beirut. In 1903, Khalil was back in the carriage business and times were changing. A rival company sought the lucrative trade that was the backbone of the firm Khalil worked for. Business started to fall off as formerly loyal customers took advantage of the rivalry to negotiate favorable terms. Family income was in jeopardy and Khalil was worried about the future inasmuch as Regina was now pregnant again.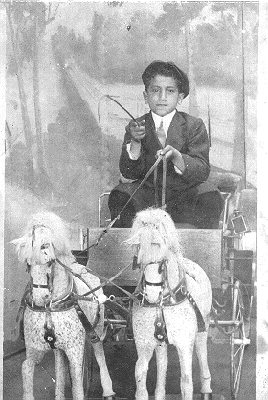 Joseph at Coney Island imitating his father as a carriage driver.
Photo courtesy of George Chediack (Coney Island, 1912)
There was great joy in December 1903, when a boy was born. He was named Joseph (Yussef) after his grandfather. A son meant the family would continue. The baby was christened in Bkerke, the seat of the Maronite Patriarchate.
Then disaster struck. Khalil's favorite two-horse team became lame due to poor care given them at the Batroun Inn. They needed medical treatment and had to be replaced temporarily. Where would he get the needed money at a time when all financial transactions were cash and credit was unknown? He approached one of his oldest friends, but he was also cash poor. He recommended that they approach a man newly returned from America. He might have the money they needed.
This individual had once been a sheepherder and was not held in high esteem. Somehow, he had obtained enough money to sail to America, stayed there more than two years, and came back looking like a man of great wealth. He wore western style clothes, had a tasseled fez on his head, and carried a large walking stick. While he listened to Khalil's request, he smoked English-style cigarettes. He explained that he would like to help, but unfortunately, he had promised a famous Maronite monastery all the funds it would need to renovate its church and other buildings. This would cost over 5,000 English pounds and he'd have nothing for anyone else until he was paid back. He was sure that Khalil would understand and off he went.
Khalil and his friend were stunned. Here was a man, once a shepherd, now a man of means who just told them about all this money he had. He wasn't any better than they were, they thought to themselves. They would go to America and make tens of thousands of dollars.
Khalil promptly went to Beirut to sell his team and carriage to pay for passage. He didn't confide in anyone, not even his family. The first offer was low, so he tried again. It was lower than the first but he accepted it.
Anyway, he returned to Zouk to tell Regina, his wife, and Annie Durgham, his mother-in-law, of his decision. Both women were aghast. Regina was torn between her husband's desire to go and her mother's judgment that this was a rash act. Annie persuaded Khalil to go to Egypt and solicit his father's advice.
Abraham was happy to see his son and to learn that he had a three-month old grandson. He was shocked to learn of Khalil's plans and advised his son not to go to America. He told him he could join him in Egypt, either as a driver or as a tobacco processor. Khalil was adamant. He would go to America, make a fortune and then return to Zouk. Abraham gave him his blessing. Neither father nor son knew this would be the last time they would see each other.
Upon returning to Zouk, Khalil and Regina discovered they were not the only family headed for America. No fewer than twelve other families were migrating (2).
Annie begged them to leave Eva with her. Khalil's response was to gently ask her to join them because he knew Regina could not leave their baby behind. Annie refused, pleading advanced age. Just as with Khalil and Abraham, so it was now to be with them. Never again would they see each other.
Khalil bought tickets and they embarked on their journey to the United States. During their two-day stopover Marseilles, Eva became ill. The ship sailed without them as the doctors sought to save the child's life. Khalil wrote to his widely scattered family informing them of the disheartening developments. Saada, Khalil's sister, wrote back from the United States that she would come to care for the little girl. Sickness prevented Abraham from doing anything beyond praying and Annie urged a return to Zouk.
After several weeks, Eva began to slowly recover. The strange illness left the child blind in her left eye. The parents realized that Eva, afflicted with blindness, would not be admitted into America. Regretfully, they sent Eva back to Zouk with people who were returning to Lebanon.
While in Marseilles, the family took rooms at an inn run by a man named Yussef Shadyac. If the name were true, then he must have been a relative. No enemy could have treated them worse. He consistently charged them high prices for their rooms and food, harassed them over their long stay, and accused Khalil of robbing him. By this last act, he overplayed his hand. Other guests told the police of his actions and he was fined for filing false charges. Finally, Khalil, Regina, their son and Saada, who had spent the past two months with them, sailed on a French ship bound for New York. It traveled via Bordeaux, France, Merida, Mexico, and Havana, Cuba. It was the long way around but they had no choice. Late in the summer of 1904 they sailed to America.
On the twenty-six day Bordeaux-Merida run, there were several Moslem men on board who refused to drink wine or eat any of the meat served at meals. They explained to Saada that these things were against their religion. They would subsist on potatoes. Khalil enjoyed the extra wine while all of them shared the food. After three days, the Moslems asked Saada to have the captain restore their full meals. These were their words: "When we get back home, we'll do as Mohammed said. Here, we'll do what is best for us." They then ate, drank, participated in the events on board ship and sang and danced the songs and dances of the Middle East. They had cast aside their taboos and prejudices and acted like all the other passengers.
In Havana, as in Marseilles, they encountered people from Lebanon; some were familiar, and others were total strangers. However, almost all greeted them warmly and showed them the traditional Lebanese hospitality. In Merida, Khalil met an old friend from Sarba-- Abdoo Bourgi. He was uncle to Madool (Madeline) who had married Khalil's uncle, George Nassar. It was like old home week. Khalil and family were treated like royalty. Nothing was too good for them and Abdoo paid for their stay.
Abdoo had founded a Club whose members were from the Zouk-Sarba-Jouniyeh-Beirut area. He wanted Khalil to settle there in Cuba rather than go on to America. Khalil thanked him but expressed his desire to be with his mother, brother Habib, sister Layla, and his other relatives including Uncle George and Aunt Mariam. After that, he would consider Abdoo's offer. Abdoo also had news for Regina-- her widowed uncle Bishara "Charles" Abdoo and his little girl, Mary, were living in Fall River, Massachusetts. She could visit her uncle there while Khalil went to see his family in Warren, eight miles away.
The family made plans to do just that when both Khalil and Saada came down with fever. Abdoo advised Regina to take little Joseph and go to her uncle in America because it would be healthier for both of them. Although reluctant, Regina followed this advice when Khalil insisted upon it. With a growing fear they might never see one another again, Regina sailed to New York and then on to Fall River.
Regina found America strange in many ways: snow in winter; trolleys for transportation; a bewildering society composed of many ethnic groups; the sight of so many women and children working long hours in mills and shops for a pittance; large buildings, etc. She wrote to Khalil about the new job she had taken as a spinner in a cotton mill. She was truly leading a new life in America. Little Joseph was now 18 months old.
Then, came a comedy of errors. Regina had the opportunity to travel to Merida via Havana with family friends, Yussef Kride from Zouk and his wife and little girl. She wrote to Khalil and set off for Cuba from New York. They reached Merida to find Khalil and Saada gone! Regina had not received the letter in which Khalil informed her that he and Saada were on their way to the United States to visit their sister Layla who was gravely ill and then to be reunited with the family. In fact, Khalil had sailed for New York and planned to travel from there by train to Fall River even though Saada had been held in quarantine in Havana. In Merida, Regina was stunned, hurt, and frightened. She feared she might not see Khalil again. Reality now seemed to be a never-ending nightmare. Both Abdoo Bourgi and Yussef Kride consoled her. In the meantime Regina stayed with Abdoo's family.
It was winter in late 1905 with the weather cold and the ground covered with snow. Khalil was wearing a tropical suit. After all, he had just arrived from Merida where cold weather is unknown. When he could not find his family in Fall River, he took the train to Warren where luck came his way almost immediately. He encountered his own cousin Yehse (Louis) Helou who took him to his mother's place. Great was the family rejoicing to see one another again -- some after many years. Layla seemed somewhat better, but she needed rest.
He asked about Regina about his wife and son and was told they knew nothing. He became frantic as great fear gripped him. What had happened to her and the baby? Had he lost them? His uncle George told him they could do nothing that night.
The next day, the world brightened as if by magic. The telegram from Abdoo was delivered and the weight of the world seemed to be lifted from Khalil's shoulders. He happily downed several glasses of Arak (anisette) in relief. He had Selim, George's son, send a cablegram to Merida to tell that he would sail back as soon as possible and for Regina not to move until he was back. Khalil retraced his journey to Cuba. In Havana, he found Saada fully recovered and placed her on a New York-bound ship and headed for Merida. He had been separated from Regina for over 18 months.
In Merida, Abdoo Bourgi made one more effort to persuade Khalil to settle in Mexico. Khalil said no, that the climate was too tropical for him and that he was going to America where his family was. Young Joseph did not know who this strange man was--after all, he was now almost three years old and had no real memory of his father.
They made arrangements to return to America and Abdoo Bourgi and Yussef Kride, over Khalil's protests, paid all of the expenses.
Upon reaching Warren, the family found that Layla had died! She had never fully recovered from her earlier illness. Khalil also learned that his father had just left after making a long trip from Egypt to see his family after so many years. The two events hurt him deeply and he shared his private thoughts and feelings only with Regina. Khalil rarely ever mentioned Layla again because it was like the loss of his brother George all over again.
The tragedy also left its mark on Jameely. She had lost her two youngest children to strange illnesses. Her husband was now permanently estranged from her and her children were leaving her. Khalil was married and had his boy with him. Saada and Habib moved out of the house, having decided that they needed to move on. It was the final blow. She had a complete nervous breakdown. For the rest of her life, she was under medical care--most often at the Mental Center of Howard in Cranston, Rhode Island. It was a sad ending of a life which had once been so promising and so happy. Jameely died in February 1915.
Khalil and Regina settled in Fall River with Bishara Abdoo. Regina became the "woman of the house" and was mother, big sister, and confidant to Bishara's teenage daughter, Mary. Khalil was like a son to Bishara and life was working out well for them. Khalil worked at the Marshall Hat Factory and received the grand amount of $3-$4 for working 66 hours a week. Regina resumed her spinning work at home, Bishara continued peddling and Mary stayed at home to watch Joseph and to sew.
In 1912, Annie Durgham sent her son-in-law Khalil and her daughter Regina a long, sad letter. Word had reached Lebanon from Egypt telling that Abraham had died. In the same letter Annie told them a secret that she had been keeping since 1906. At that time after that failed attempt to reconcile with his wife Jameely, Abraham had sailed directly from America to Zouk. He sold all his property in Zouk and gave half of the money to Annie to care for Eva. He asked Annie not to tell anyone of his actions and she agreed. She felt free of this promise with his death. She had made wise use of the money from Abraham and that which Khalil had sent every few months for Annie and Eva. In 1910 and again in 1914, Khalil and Regina offered to send money for Annie and Eva to come on a visit to America. Annie felt too old to make this long voyage and World War I ended any such prospect.
In addition to his relations in Fall River, Warren, and Natick , Khalil and Regina had cousin Boulos (Paul) Abdoo in New York. Almost every year from 1910-1923, they'd go see him for a week or two. On one of these trips, Khalil and Joseph visited the great import stores where products from the Middle East could be purchased. One wholesaler, Malko, had just displayed the newest records from Egypt and Syria (the term used to mean Lebanon, Syria, Jordan and Iraq). When Khalil heard one of these songs, he began to sing and he was frequently ahead of the recording. Mr. Malko was amazed and asked Khalil how he knew the song. Khalil replied that he had first heard it on a trip to Egypt in the 1890s, about 20 years earlier. It had taken that song that long to reach America. When Malko played other music, he discovered that Khalil already much of it from early days in Egypt and Lebanon. Over the next 25 years, Malko had a steady customer in Khalil and Joseph. Many of these ancient classical recordings are still kept.
During World War I, there was no contact with Zouk. In a desperate effort to get money to Annie and Eva, Khalil sent money via the Presbyterian Church in Fall River and in turn someone at the American University of Beirut dispensed it to Annie.
Lebanon was devastated during the war. The Turks had imposed a blockade on the Christian areas of Lebanon and half of the Christian population died of starvation. Khalil and Regina were most worried. They and Joseph always believed that the four or five transfers of money helped Annie and Eva survive as long as they did. Then sad news from Lebanese survivors reached Khalil and Regina. Annie had died early September 1918 from starvation and Eva literally cried herself to death within two weeks. Their bodies were buried in a mass grave in which all the dead were indistinguishable from one another. The Allied victory ended the Turkish oppression and other heinous acts against the Christians of the Levant and Armenia.
In America during those war years, Khalil and Regina worked in the cotton mills while Joseph became an assistant in the circulation department of the Fall River Herald News. Dissatisfied with conditions at work, he quit his job in 1919 and obtained a full-time job in the cotton mills. A neighbor who was impressed with Joseph's skill with hand tools tried to convince him to attend Diman Vocational High School to learn to be a carpenter or a cabinet maker. Unfortunately, Khalil and Regina believed that going through four years of trade school were too long and beyond their comprehension.
That same year of 1919, the family moved from the Maplewood section to the main Lebanese area, the Flint. Khalil found himself with people from every section of Lebanon except his own. He was accepted as one of them, "another Lebanese". With his singing ability and vast treasury of stories and sayings, he made friends. By the time he died in 1997, Joseph had made lifelong friendships to the fourth generation of their descendants.
All three were working now in cotton mills and they began to buy property. Khalil once said he'd like to go back to Zouk for a visit but Regina did not want to go back to where her mother and child had died. It was never mentioned again.
Khalil had one superstition: If the threshold did not feel just right under his foot as he first entered, that home was "jinxed". No one could convince him otherwise. He was strengthened in this belief in 1921. Just after they moved into a new home, all three of them lost their jobs. After living in that house for six months, they decided to move. As he crossed the threshold of a new home, Khalil smiled. Sure enough, within a week all three were back at work with better pay. Regina had her own quirk. No matter how late in the day she moved into a home, all of the furniture, curtains, shades, carpeting, and all had to be in place before she'd retire for the night. Even if it did take all night!
Joseph and his parents had often visited his great-uncle George Nassar and his family in Warren, Rhode Island. In 1923, Joseph proposed to Ida, George's oldest daughter. They were married on August 3, 1925. Receptions were held in both Fall River and Warren. The two fathers, Khalil and George, took turns toasting the young couple and singing the songs of Zouk.
After the wedding, Ida and Khalil moved to Fall River. Their first child, Eva, was born in 1928 followed by Joseph Jr. who was born in 1929 and Charles in 1932. Ida and Regina were so close that many people in later years thought that they were daughter and mother.
In the midst of their happiness, the Depression struck and Khalil and Regina lost their jobs in 1929 and were forced into retirement. This allowed them to care for the grandchildren whose parents worked. In 1933, the hardest blow fell when they lost their home due to the dishonest business practices of the bank holding the mortgage and its lawyers.
At various times in the 1920s and 1930s, Joseph encountered prejudice, either subtle or blatant. Even though George was member of the Knights of Columbus, he had to explain to some Latin Catholics that St. Anthony of the Desert Maronite Church was truly a Catholic Church, though not Latin. He patiently explained to the doubtful what a Maronite is and what his church is like. A boss at work greeted him with the words: "Hi, Turk". He answered that he was not a "Turk" but was Lebanese. The man laughed and said he thought all people from the Middle East were Turks and besides no other Syrian objected. Joseph corrected the man again, saying he was neither Turk nor Syrian but Lebanese. A fellow worker asked even Ida if she was "one of those Black Syrians" she'd heard about. Ida replied that that was impossible because she was Lebanese and white. Little did such people realize that Lebanese mountain bread, "markook", might become popular or that the two layered "kamaaj" bread brought from Lebanon would be popularized a few decades later as "Lebanese" or "Pocket" bread or "Pita" bread, loved by both Jew and Gentile.
One of the bosses was shocked when Joseph declined to bribe him as several other Lebanese men had done in order to obtain work. That same boss later gave Joseph a good job. When Joseph asked why, the man replied "I admire your guts". However, another boss prevented Joseph's and Ida's looms from being adjusted on time so their production decreased and they were in trouble. This boss felt that Joseph and Ida would just accept it. The mill owner rectified the matter immediately but the vengeful boss denied Joseph the canteen concession which the company had offered him.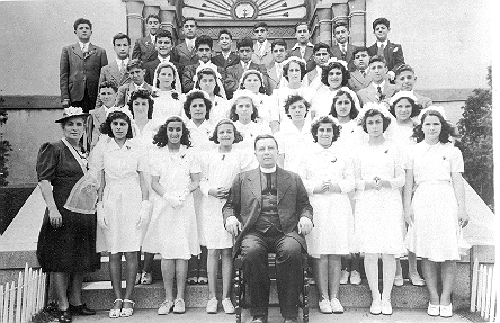 Confirmation class at St. Anthony of Desert Church.
Eva - 3rd person from the left, 1st row.
Joseph - first person from the right, 4th row.
Exhibit courtesy of George Chediack (Fall River, MA, 1942)
However, one bright spot in these economically depressed years came in 1929-1930 when the new pastor, Father Eid, constructed a new Church for the city's Maronites. All the adults in the family were active in the church, the Mount Lebanon Club and the church societies. Regina and Ida were members of the Church's Holy Rosary Sodality; Khalil served faithfully as a combination sexton, server, and general man about the church until he became crippled in 1950. Father Eid and Khalil became a team at Daily Mass and on their visits to the sick and dying. It made Khalil proud to do God's work. Whenever a Melkite priest came to celebrate mass, Khalil would assist at his Mass if no Melkite server was available. He was always in the vicinity of the church from sunrise to well after dark. For about 15 years Joseph took up Sunday collection, went on foot to collect the parish monthly dues, organized bazaars and church outings and was secretary of the 1945 Mortgage Burning Committee. Father Eid once said: "What would I do without my two right-hand men?"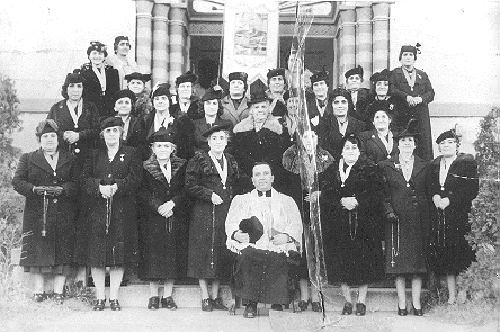 Holy Rosary Sodality of St. Anthony of Desert Church.
Regina, immediately behind Father Eid.
Exhibit courtesy of George Chediack (Fall River, MA, 1943)
In June 1932, the men at the mill where Joseph worked were offered full time work which necessitated their working 29 hours straight from 7:00 A.M. Friday to 12:00 noon on Saturday. Though the men performed the work, they complained that such long hours were impossible and a health risk. After completing the shift, Joseph could barely walk the one and a half miles home, had no strength to undress, and slept for 24 hours straight. When men came to work on Monday, they realized that the cotton mill was closed forever as they read the notice posted at the entrance: "CLOSED UNTIL FURTHER NOTICE".
Ida was pregnant in 1937 with her last child, George, who is the author of these pages. Joseph always told George that he was their $500 baby because that was the total amount of their savings which were used to pay the medical expenses.
In 1939, the workers at the Pilgrim Mill went out on strike to protest the company's decision to increase the number of looms assigned each worker. After 13 weeks, both sides agreed to arbitration, which judged in favor of the workers. Joseph was one of the three labor union representatives and an angered mill boss told Joseph: "You licked me on this, but the day will come when you'll beg me for a job." Joseph replied "I'll cross that bridge when I come to it". The boss persisted saying: "You know we consider you mill workers to be nothing but 'ignorant immigrant mill rats'." Joseph's response was: "I thank you for your compliment" and turned away because that fellow had always seemed like a friend. After relating the events of the day to Ida, they both resolved that they would educate their four children regardless of everything. They were not going to allow them to follow in their footsteps as "mill rats."
In 1942, everybody in the family was thrilled with the purchase of a new home up the street. World War II was now in progress. Joseph was working at the Newport Torpedo Station, Ida and Regina contributed by sewing and the children grew "Victory Gardens", helped in scrap and rubber drives and bought United States Savings Stamps at school.
In 1945, Joseph was elected President of the Mount Lebanon Club, which was to change its name to the Lebanese-American Club to accommodate the American born who were 50 per cent of the membership. Joseph's election was an honor because he was from Kisserwan and not from the Jebel. That year was Ida's and George's 20th wedding anniversary.
In 1946, Eva who was among the Top Ten at Durfee High School, was accepted at Trinity College in Washington, D.C. Most Lebanese were both surprised and amused at the idea of a girl going to college and to one so far away. People said Joseph was crazy to educate a girl; that he should let her work in the mill or a sewing shop. Khalil said that he was proud of his son's decision to have Eva, his granddaughter, graduate from college. In 1947, Joseph Jr. was preparing to go to Holy Cross College. Scholarships and college loans were not commonplace then. Despite the cost, their futures were bright and full of hope.
About this time, Regina took ill and her doctor was baffled. He did not diagnose diabetes. She developed gangrene and died on August 14, 1947, the eve of the Assumption of Our Lady. Regina had an all night wake according to the Lebanese tradition. Usually the women and not the men remain with the deceased but Khalil and Joseph remained near the casket throughout.
The house seemed emptier that fall. Regina was dead, two of the children were away at college, the other children were at school, and Joseph and Ida were at work. Khalil spent even more time than before at the church and this comforted him. He told Joseph he wanted to see his grandchildren graduate from college, get married and have children. Khalil lived to see two grandchildren graduate from college and one married but he died before the birth of a great grandchild. His last years were good ones and still he kept his face turned to the future as his son was to do 30 odd years later.
After suffering a fall, Khalil was crippled for the last 3 years of his life, but he accepted this misfortune as he had all others during his lifetime. Daily he would sit at the edge of his bed waiting for his meals and constantly singing the Mass and the hymns in Arabic and Aramaic as he had learned in Lebanon in his youth. He always greeted his family and friends cheerfully and with a smile. Incapacitated, he was a good example.
By 1953, Ida retired because of arthritis and stayed at home with Khalil. Many a day she and Khalil would be heard singing the Mass or songs from Lebanon. In October, he suffered a massive cerebral hemorrhage. He died the night of All Souls Day, 2-3 November. Khalil had always told Joseph that the church bells would ring the day he died. They did.
For Ida and Joseph, life was really changing. In 1954, it was Charles who graduated from college and he went into the United States army. In 1958, Eva married Harold Greene. After graduating from Boston College and teaching school for two years in Fall River, George changed jobs and worked in Whitman, Massachusetts until he retired in 1990.
The calm sixties were followed by the momentous seventies. A memorable event took place when Ida, Joseph and George embarked on an 11-week trip to Lebanon. It had always been their dream to someday visit Lebanon and with no hesitation they went. It was truly amazing that Ida agreed for only the previous year she had become ill and diagnosed with diabetes. She often refused to make trips to New York to visit Eva and now she agreed to make this 7,000-mile trip.
They visited the historical sites, saw the places they had only heard described, worshipped in the same churches as their ancestors and met relatives they never knew existed. Ida met a 95-year-old uncle, Youssef Bourgi, who told her about her mother and family while Joseph met a cousin living in his grandfather's old home whose family had known Annie and Eva. These meetings were highly emotional and showed the wide extent of family ties. Dozens of relations extended their hospitality and made the visit one for all time. They loved it!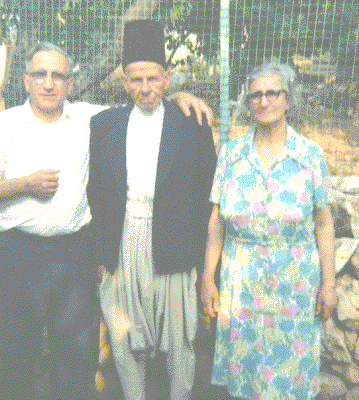 With Ida's uncle in Zouk, Lebanon
From left to right: Joseph, Joseph Borgi, Ida.
Photo courtesy of George Chediack (Lebanon, 1971)
To cross the old bridge at Nahr al-Kalb (Dog River) which Khalil crossed countless times going to and from Beirut was an emotional experience. Just as Khalil and Regina had done, they ate at the outdoor cafes in Hammana, Barouk, Biskinta, Bikfaya, Batroun and more. They were "right at home." From the detailed descriptions of their parents, Joseph and Ida felt that they had been there before. To walk through the streets of Zouk and be where their parents and ancestors had lived made them feel as if they were connecting not only with their heritage but also with their parents.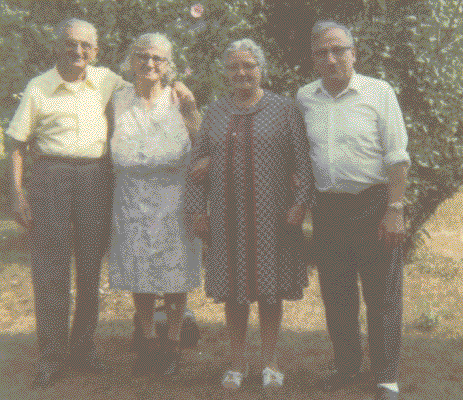 Two very dear friends from Lebanon.
From left to right: Herb Saber, Ida, Mary Saber, Joseph.
Photo courtesy of George Chediack (Fall River, MA, 1973)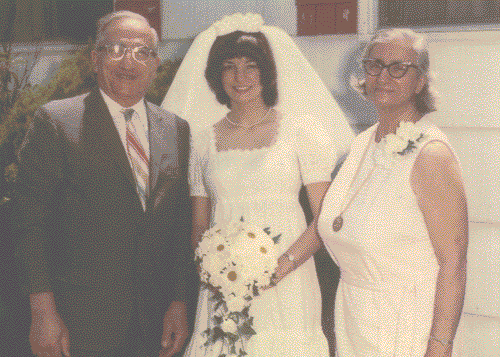 Ida and Joseph with Mary Anne Nassar on herwedding day.
Mary Anne is Ida's youngest niece and their joint Godchild.
Photo courtesy of George Chediack (Fall River, MA, 1974)
Naturally, there were return visits to Fall River by loved ones from Lebanon. Weddings, graduations, and anniversaries took place. In 1975, Joseph and Ida celebrated their golden wedding anniversary and in 1980, they celebrated their 55th anniversary. With great pomp and ceremony , three priests and a deacon concelebrated Mass. That turned out to be the last traditional Maronite Mass ever said in Fall River. Color slides of both anniversary Masses and audio-tapes by Joseph and Ida telling stories and singing were made and are still kept. They wanted these preserved for their children and later generations. They had loved relating all of this to George and that is how he became so familiar with what had gone on long before his time. Often, George was able to finish a story or add details before his parents and once he was gently rebuked by Joseph who said: "I want to finish telling it my way if you don't mind".

Joseph and Ida's 50th wedding anniversary.
Photo courtesy of George Chediack (Fall River, MA, 1975)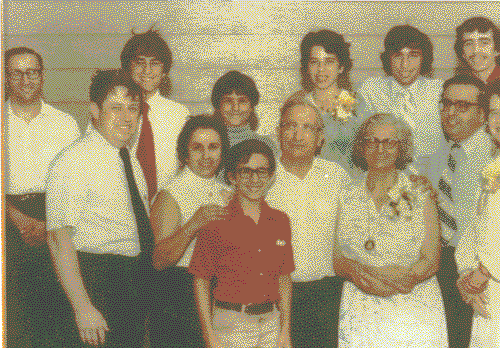 Photo of Ida and Joseph with three children andsix grandchildren.
Ida was buried in this, her favorite dress.
Back row from left to right: George, Steven, Nancy, Pat, Joe III.
Front row from left to right: Harold, Eva, Jonathan, Joseph, Ida, Joe Jr., Myrle.
Photo courtesy of George Chediack (Fall River, MA, 1975)
By the 1980s, the first great-grandchildren were born. Others of the newer generations were attending college and beginning careers. All of this gave great pleasure to Joseph and Ida and vindicated their 1939 decision to educate their children. In the midst of their happiness, Ida was becoming ill. Because she didn't want to become either an object of pity, only the family was aware of her condition. She stayed at home, prayed her favorite rosary, and literally cried when she heard about suffering in the world. Joseph would console her, saying there was little she could do. She would reply that she was going to offer extra prayers hoping this might be of help. Ida always cared about others and was always grateful to God for all He'd given her.
The Sunday after Thanksgiving in 1983, Ida suffered a stroke. Her husband and son took her to the hospital where she remained a week. She seemed to be recovering. On December 5, 1983, which was Joseph's 80th birthday, he brought her home. Aware of her condition, she and looked at the porch and steps as Joseph helped her to go in and then she said: "I'll never do this again." Two days later on the eve of the Feast of the Immaculate Conception, she suffered another attack. On December 7, she had another attack and was taken to the hospital. As Joseph leaned over her bed, she raised her two arms up in the air, imitating the priest when he raises the paten and chalice. Joseph kissed her good night. She gave him a beautiful smile as he left the room.
That night Ida went into a coma from which she did not recovered. She died a week later, two weeks shy of her 82nd birthday. She left a void in the lives of those who loved her.
Ida's death had a profound effect upon Joseph. This was the first time ever he had ever been totally alone. He would have to adjust --and he did! He made audio-tapes of his life and the family history. He would visit his friends and go to the club to play cards or talk with another "old timer" about the "good old days". Despite being diagnosed as diabetic, Joseph remained physically active. He cut the grass, baked, cooked, washed clothes, cleaned and maintained the house, painted as needed, wallpapered various rooms and led a thoroughly active life. He roared with laughter at his son's suggestion that they get either a dishwasher or hire a cleaning lady. "I can wash the few dishes we use and I don't want people talking about a woman coming into this house". He was sharp mentally. He would still recite sayings he had learned decades earlier and tell stories that were 60 to 70 years old.
In 1989, George pleased his father greatly when he told him of his plans to retire. George was able to take early retirement in January 1990 and Joseph was elated. After 6 years of living alone, he didn't hide his joy from his son and he thanked God. Both father and son went out together to restaurants and visited relatives and friends. Joseph was flattered when people asked if he was George's brother and when a girl clerk refused to give him a senior citizen discount because he looked no more than 60. He was then 85 years old. Life was not empty for him. He loved the company that came to the house and regaled them with stories from the past. Often, he'd tell the Lebanese visitors about their ancestors.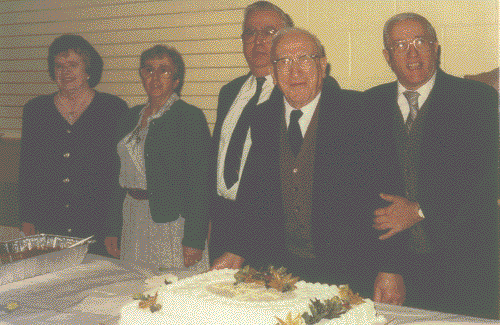 From left to right: Myrle, Eva, Joseph Jr.,Joseph, George.
Photo courtesy of George Chediack (Fall River, MA, 1993)
Joseph was written a surprise party on his 90th birthday. Photographs were taken showing family celebrants, "the four Josephs", and the Papal blessing. More than a hundred family and friends attended the Mass and the dinner held afterwards. He was genuinely moved and near tears. While he was having "the time of his life" he said to George: "I wish your mother was here".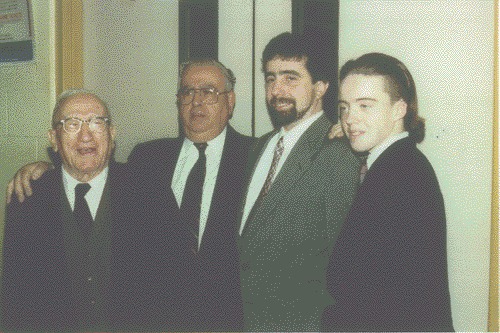 The four Josephs.
Joseph, Joseph Jr., Joseph III, Joseph IV.
Photo courtesy of George Chediack (Fall River, MA, 1993)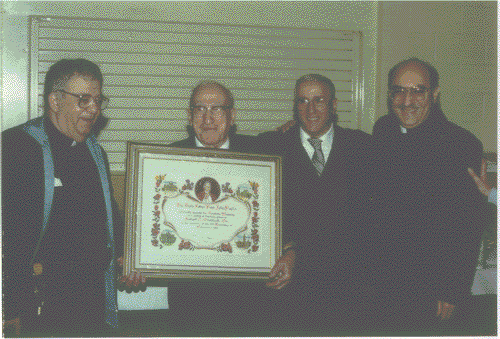 Joseph shown holding the Papal blessing on theoccasion of his 90th birthday.
From left to right: Fr. Ferris, Joseph, George, Deacon Dr. Nassar.
Photo courtesy of George Chediack (Fall River, MA, 1993)
Often after Joseph and George had eaten lunch, Joseph would ask to see a video like "You Can't Take it With You", "Mr. Smith Goes to Washington", "Lost Horizon", "Mr. Deeds Goes to Town", and "High Noon". At other times, he'd watch Arabic movies and music videos, his countless audio-tapes or classical music records. He often played the Lebanese version of Solitaire. He was content with these simple things -- having family or friends over for visits and home cooked meals and good conversation afterwards. It was a rather idyllic life for Joseph. Life was in transit but he was in no hurry. A 1995 photograph shows a smiling Joseph.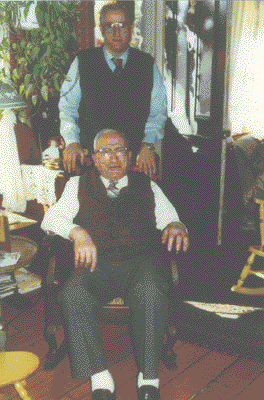 George and Joseph (sitting)
Photo courtesy of George Chediack (Fall River, MA, 1994)
Joseph was diagnosed with prostate cancer in 1996 and surgery and chemotherapy were not options. Joseph accepted the diagnosis with his usual stoicism. He accepted it without complaint and did not bewail his fate. He would say things like "I've lived a long and happy life" and "When God calls me, I'm ready to go, but until then, I'll live life to the fullest." His example of fortitude was truly inspirational.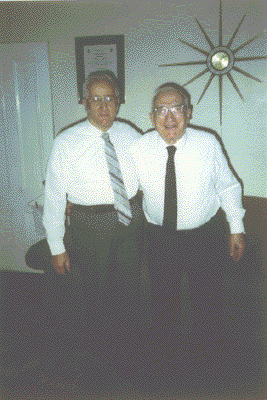 "Welcoming the new year."
Photo courtesy of George Chediack (Fall River, MA, 1995)
He continued to cook and even baked on a limited basis with George's help. He consented to having a dishwasher installed and a cleaning lady come in twice a week. The use of a cane and walker didn't faze him for he wanted to be independent for as long as possible. He resumed going to Holy Mass as soon as his strength permitted. He and George made very elaborate plans for his 95th birthday on December 5, 1998. They also planned to have a grand High Mass followed by lunch in remembrance of Regina's 50th anniversary on August 17, 1997, just as had been done for Khalil and Ida. Joseph's last Christmas season was a happy one.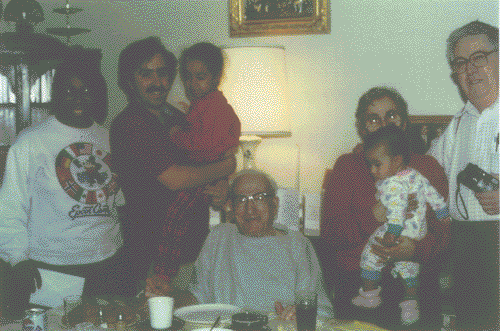 Chsitmas 1996.
From left to right: Jackie, Jonathan, Stephanie, Joseph, Eva, Melanie and Harold.
Photo courtesy of George Chediack (Fall River, MA, 1996)
Joseph's strength began to ebb in 1997 and he fell several times. It was becoming more difficult for him to move, even in bed. After a hospital stay in February confirmed his weakening condition and the serious change in his physical condition, Joseph agreed to going into the Rose Hawthorne Home. Taking Joseph there was the hardest thing George ever had to do. The large house that had once sheltered seven people and seemed crowded now had only one occupant. It was huge and so empty without Joseph.
The staff at Rose Hawthorne, both the religious and the lay people, took Joseph into their hearts and treated him with love, kindness and respect. He reciprocated this affection and was loud in his praise of them. Though he tried, he was unable to stand. He was placed in the center of the ward and commanded a view of the whole floor. He talked to one and all and enthralled them with his vast fund of stories and sayings. George heard him repeat "I'm ready God", whenever he finished his prayers. He was totally at peace. It was Joseph who consoled family members and friends who came to see him. He did the same with patients and their family members. Very often, total strangers would stop by to chat. He loved it whenever the volunteer would play music on Wednesday. Whoever stopped by to chat would get a chat in return --sometimes longer than they gave and surely longer than they thought was possible from him. He never gave up hope of walking one more time and even the last weekend of his life saw him trying his best to move his legs and get them to respond. My father, Joseph, who once had been so independent now did not grumble when he had to have assistance.
It was heartrending, yet beautiful, to watch Joseph. He knew that his time was limited. He made some of the arrangements for his wake and funeral. He wanted the same funeral as he had arranged for Regina, Khalil and Ida. He made his son promise to accept whoever might come, even if they had not been friendly in life. He wanted his grandchildren to be pall-bearers.
In May, Joseph went into a coma. Both Father Ferris, the parish priest, and Father Dennis, the home's chaplain, blessed him. He did recognize George before the coma had become total. He died on May 27, 1997.
(1) During this period, Lebanon was under a special political system known as the Mutasarrifiat which lasted until 1915. This system of government had begun in 1861 after the massacres of 1860 in Mount Lebanon which claimed the lives of many Christians, especially in Dair-El-Kamar. It was established to give security to the Christians. The Western Powers and the Ottoman Empire agreed to appoint as Governor of Lebanon who is Christian, Catholic and of Turkish nationality. Beirut was under a Muslim Turkish governor. The Governors of the Mutasarrifiat abused their powers and made unconstitutional decisions, which victimized the Christians time after time. They also allowed the Muslims to abuse and kill Christians without being tried or punished. Maronites were 58% of the population of the Mutasarrifiat and were pleading for justice. In 1901 the head of Beirut Commission, Hasan Bey, was injured while one of his aids was killed in Mount Lebanon. This led to the killing of Najib Badran, a Christian in Beirut. Several other violent incidents followed. The Ottoman Empire and the Western Powers then decided to change the governor Na'oum Pacha and appoint Muzaffar Pacha in 1903. For further readings, please consult: 'Abdallah al-Mallah, Mutasarrifiat Jabal Lubnan fi 'Ahed Muzaffar Pasha, Beirut (1985); E. Akarli, The Long Peace, Ottoman Lebanon 1861-1920, Los Angeles (1993); K. Rizk, Le Mont-Liban au XIX Siècle de l'Emirat au Mutasarrifiya, Lebanon (1994); and B. Ye'or, The Dhimmi, USA (1985) | Back to text |
(2) Toward the end of the 19th century and beginning of the 20th century, there developed a "migration market" in Lebanon where brokers would arrange for young men or families to migrate. Most of the immigrants were Maronites who were fleeing the social, political, and economic oppression of the Ottoman Empire. It was reported that about 80,000 Lebanese had migrated between 1885 and 1900 of which 55,000 were Maronites. Villages were completely emptied but for their elderly, especially in North Lebanon. In the United States, for example, one can find that there are more people from Blawza or Kfar Sghab or Tourza than in Lebanon. The migration brokers were true sharks and would take advantage of these inexperienced villagers. Moreover, the Ottoman Empire, through its representatives in Beirut, was encouraging the migration of these Lebanese. ('Abdallah al-Mallah, Mutasarrifiat Jabal Lubnan fi 'Ahed Muzaffar Pasha, Beirut (1985). | Back to text |