384 Hour Journey into the Spiritual and Physical World of the Maronites
Part II
By Sri Kuhns*
In this section of the Journal of Maronite Studies (JMS), we bring you travel accounts of past and current travelers who have written about the Maronites and their environments. These accounts are unedited and represent the views of their author(s).
Monday, February 17, 1997, marked my first day in Beirut. It was very calm and relaxing. There was no need for me to hurry to go anywhere. This was quite different from my usual routine in the United States. My work schedule for the past 16 years meant that I was at my desk at four o'clock in the morning. I savored this relaxing morning with the Hourani family and felt like I had never rested so well. The aroma of the coffee welcomed me again to this country which I would soon explore. Strangely, I had this feeling before when I returned home to Java, Indonesia. Now, I was relaxing with family and friends and enjoying the moment. With no rush and no worry, life was unfolding. I was rich with an abundance of time.
The morning began with coffee, then came a delicious breakfast and more coffee. The many relatives and friends of the Hourani family who came to welcome Guita and me provided an excellent opportunity for me to practice Arabic. I was learning to say Sabah el Khair (good morning), Masa el Khair (good evening), Shukran (thank you), Tasharrafna (nice to meet you), etc. and other appropriate greetings in Arabic. I enjoyed the effective hands-on experience.
During the day, I found myself returning to my guest room window to view the splendor of Beirut. It is quite lovely. Every time I looked, it told stories about the war and much more. Some of the stories were sad, some were happy. The story of life unfolded as I looked at each building, doorstep and window. I realized that life and death, a grand dualism, are one progressive event. New hope and enthusiasm were bursting forth from the ruins of broken dreams. From the kitchen window, I enjoyed the view of a rocky hill covered with green vegetation and small trees. I spent a lot of time looking from there at the sky and the rock wall opposite. Even it held a story.
A family friend named Marie Khalife came to visit and brought Guita a bouquet of flowers larger than she was. They were more colorful than any I had ever seen. We arranged them in a vase to place on the dining room table to show our appreciation. Upon receiving a gift, the Lebanese customarily open it in front of the giver and put it in a place of honor. As I admired the flowers, I wondered if they were imported or grown locally because flowers just like them grow in the mountainous regions of Indonesia. Because Lebanon is blessed with fertile soil and eight different weather zones, agriculture suited to the tropics is possible here. Marie was Guita's friend and art teacher. They met during the war while working on exhibits for school children from the ages of six to eighteen. They became friends and corresponded when Guita went to the United States.
Marie wore a beautiful outfit of green and yellow with green shoes. Her hair style was simple yet elegant and she wore little make-up. Marie takes pride in being a poet and a painter. I thought to myself that she is like Gibran Khalil Gibran, her compatriot-- a favorite of mine. Marie looked radiant when she smiled shaking hands. We then exchanged the customary three light kisses near the cheek.
I was transfixed by her beauty and her kind face. Nevertheless, it was strange to meet a white lady who spoke no English. When I asked what the themes of her poetry were, she answered: "I write about love." She avoided themes of hatred, revenge and death in her writings. I was surprised that she still felt love after nearly everything she cherished had been destroyed or snatched away, including her youth. Guita translated her answer to my concerns: "How can I hate and carry Christ in my heart. Both cannot exist in the same place. As for having lost much, the war and those who executed it have not killed my faith, my love for my country or my hope in God's justice." Her answered impressed me--what a faith!
I had no trouble relating to the Hourani family, their friends and relatives. We used the language of the heart. I listened and discovered that by observing and being quiet, I could hear God more intensely for He spoke to me in Lebanon. The knowledge I received was clear and plentiful, with no interference from "self". I will always be grateful to my Lebanese friends who taught me to listen well.
One reason I listened and observed was my unfamiliarity with Arabic and French, the languages most used in Lebanon. I waited until Guita was home to translate for me. I was rewarded with greater understanding by observing the feelings and emotions the family displayed. I observed them when their eyes were bright and happy and when they were clouded with sadness. They expressed their very being in their smiles and their faces, in their hands and their movements. For once in my life, I saw each person as a unique individual, undistorted by prior assumptions. When they spoke Arabic or answered my questions, It was like the vision of a new-born infant unfolding before my eyes.
One day when I was alone with Guita's mother, Thérèse, I watched as she used a wet cloth to wipe up the crumbs from an earlier meal. It was a comforting sight because it reminded me of myself cleaning the table in America in the same way and raising four children alone and caring for two grandsons when they visited. She said aloud, "I never liked the situation." I followed Thérèse into the kitchen but she stopped by the door. She looked at me seriously and said: "Madonna, Guita, Mashhour and Rodrigue ... so far away from each other and from us ... Aiy." With that sigh of sorrow and pain she left her sentence unfinished and raised her arms to heaven. She still held the wet cloth tightly in her right hand and went into the kitchen. I knew she ached deep inside.
It was a great treat when I met Guita's parents, relatives, aunts, uncles, cousins, friends and neighbors of all ages. Their family and friends have close ties and they treated me like one of their own. I do not have the slightest resemblance to them. My features are very Javanese, very much like those of a Cambodian or a Burmese. We communicated so well. Explanations were never necessary.
When I went to bed that night, I prayed longer than usual. My prayers were for every victim of war who is displaced and abandoned and who suffers from prolonged separation and a sense of loss. With less than honorable options, many survivors and witnesses to all that happened are prisoners of the present status quo in Lebanon. The peace-loving people who survived a war forced upon them should now be free from care and worry. They want to live peacefully in their ancient homeland, raise good families, and not be forcibly separated by migration.
I could not sleep peacefully after having thought about those things and I thought up an escape plan in case violence broke out. I imagined going into hiding, fleeing to the nearest embassy or truly resigning myself to Christian martyrdom. Nothing so menacing transpired even though Lebanon is still in a state of war/no war. With the attitude of a penitent, I mortified the flesh by scorning the two beds in my room and sleeping on the hard floor.
Three hours later I returned to my bed. When Guita woke me, I opened my eyes to my second day [Tuesday, February 18] in Lebanon. Along with Thérèse's delicious breakfast on this peaceful morning came the announcement of our itinerary which included a visit to Harissa [The Protectress] or Our Lady of Lebanon Church, the Monastery of Saint Sharbel, and the Phoenician city of Byblos. I forgot all my concerns of the night before. Today, Guita is scheduled to stay at a dormitory in Jounieh for a few days to arrange an open house for the Maronite American Research Institute in Lebanon. My journey to fascinating places was to begin.
At 10:00 a.m., a taxi driver who Thérèse knew came to pick me up. He is a 28 year old Greek Orthodox Christian and his name is Toufik El-Hajal. His wife is named Mirna and their daughters are 5 year old Coline and 3 months old Mia.
That morning we left Jal-el-Dib and headed toward Jounieh. We passed under a bridge at Nahr-el-Kalb where about 19 inscriptions of kings, emperors, and warriors from Nebuchadnezzar II of Assyria in the 7th century B.C. to the French Mandate army which withdrew in the 1947-1948.
The infrastructure of the towns we passed through to reach Jounieh is like that in Indonesia. The area was overbuilt and water ran down the streets in violation of any zoning or environmental regulation. Lebanon is blessed with abundant water resources but they are wasted. Syria and Israel benefit from Lebanon's water resources and exploit them more efficiently while hardworking Lebanese farmers and citizens must buy water from private entrepreneurs. There is no home insurance. Therefore, war damage is not recoverable. This contributes to the current political and economic instability, one of the causes of war.
There is over-parking on the roads and there are no sidewalks. When it rains, piles of sand from construction mix with topsoil and all are flushed down the streets due to an antiquated drainage system. Electric wires and telephone cables dangle overhead and though dangerous, this is a permanent fixture on a once charming street scene. I wish that Germany's engineers could be transplanted here to duplicate their European achievement.
Outside of Jounieh, a small town caught my attention. On another of Lebanon's beautiful promontories overlooking the Mediterranean stands a majestic, renovated Casino du Liban, the famed gambling house. Millions were spent on this project in the name of job creation and economic revitalization. Those worthy goals were never achieved while more urgent problems in this critical post-war era were left overlooked. A stabilizing infrastructure must be created again.
After crossing the bridge, we saw a welcome sight on the top of the hill, the statue of Christ the King. We drove to Bkerke [also spelled Bkirki ], the seat of the Maronite Patriarch. The winding road up the hill gave a breathtaking view of the Mediterranean. Toufik, my driver, said that His Holiness Pope John Paul II is coming May 10 for a visit to Lebanon as the guest of His Beatitude Mar Nessrallah Peter Sfeir, the Maronite Patriarch of Antioch, and will stay in the Nuncio's house in Harissa next to the Church of Our Lady of Lebanon. We visited the Patriarchal seat and its main church and courtyard. The large house with its red roof is simple and the atmosphere is calm and peaceful. It is constructed of cut stone and is probably less than three hundred years old, which is recent in the history of the Patriarchal seat. We did not see the Patriarch because he was on his way to Brazil to visit the eight million Maronites, most of whose families migrated from Lebanon after 1860, 1914, and 1975-1990, mostly due to religious persecution and imposed economic hardships.
Next we drove to Harissa where we saw the original, humble church and the newer church made of concrete and resembling a Phoenician ship. I prayed with a full heart in the old church which was more appealing to me. Signs posted on the large patio in front of the old church requested silence because it is a place of meditation. The patio overlooked the Harissa Hill with its pine trees and the bay of Jounieh spread below. I enjoyed the view for nearly an hour on that beautiful and peaceful morning. I did not accept Toufik's suggestion that I ride the cable car from the aquarium up to the statue. I was scared.
Then we proceeded to Annaya to visit the shrine of Saint Sharbel, the Lebanese monk who died a century ago. As we drove north, Toufik told me that we were entering the heart of the Christian region of the country. I could smell bakhour (incense) which filled the air near the endearing roadside shrines where incense burned before statues of the Blessed Mother, St. Sharbel, St. Elie, St. Rita and other patrons and protectors. The scent of bakhour and the splendid view of the Mediterranean carried me off to a world of the spirit-- so far away, yet so near!
St. Sharbel performed many miracles, most of which were the curing of the sick. In his shrine, I felt the presence of the Lord himself as I stood in a corner reading a tablet about the Saint. When I realized that I was trembling, I hurried out to the courtyard to pray in thanksgiving and atonement. After calming down, I strolled through many small rooms and found the area where testimonials to miracles are kept. People from all over the world have written letters of thanks for miracles wrought in the Saint's name. In one of the many small rooms are kept letters of thanks from recipients of divine intervention or miracles. One section held letters from Indonesia. I would like to translate into English the letters which were written in Dutch or in Indonesian (Indonesia was a colony of The Netherlands for 350 years). These letters helped in his beatification as Blessed and his canonization as a Saint. I had strange but warm feeling that some of my people had a role in the monk and hermit Sharbel being proclaimed a Saint.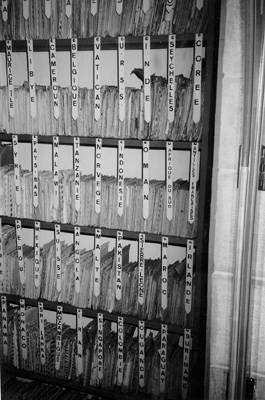 Letters reporting miracles performed by St. Sharbel.
Indonesia is forth, 2nd row from right.
Photo courtesy of Ms. Sri Kuhns (Lebanon, 1997)
On the way to Byblos I began to feel hungry and thirsty and so we stopped at a place which turned out to be a Keroke club. The 86 year old owner said that it was closed until evening but invited us in when he saw that I was a visitor. He told my driver that he would cook for us himself. Toufik thanked him and he escorted us inside to a table with another spectacular view of the Mediterranean. There was a bandstand against one wall. The serviceable wooden tables and chairs were reminiscent of those at the sidewalk Glass Café in the days when Beirut was known as either "The Paris of the Middle East" or "the Pearl of the Middle East."
The owner laid out the silverware, glasses and, of course, the bottle of Arak. He brought the brown pottery bowls for hommos, then the plates of pickled vegetables, olives, homegrown tomatoes, cucumbers, and bell peppers and Pita bread. He disappeared into his kitchen and before we knew it, he came out with two kinds of sizzling Shish Kebabs and Kefta or Koufta on long skewers. As I ate heartily, the owner chatted about his family, children and friends.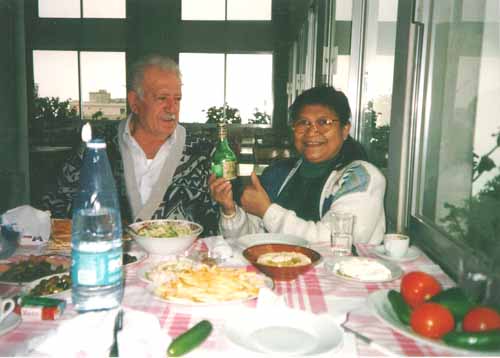 The restaurant owner and myself in Byblos.
Photo courtesy of Ms. Sri Kuhns (Lebanon, 1997)
The scenery was beautiful as we continued on to the old port of Byblos. After we parked the car, we walked through uncrowded streets to the Phoenician citadel. I realized that sneakers would have been more comfortable than the boots I had bought in Paris as we walked through cobblestone lanes and over hard stone floors.
I paid a small fee to enter the citadel and the official put the money in the desk drawer. I was the only tourist there and Toufik explained various features of the citadel, like the narrow windows which provided protection for the bow-men. I witnessed no efforts at preservation and no flyers and hand-outs describing or advertising it. I asked myself if this was government-run or was it a "one man" operation.
If Byblos and its citadel were in the United States, they would be preserved and protected; guide books, brochures, advertising and documentaries would be produced; placards and guide-signs would be easily visible; weaponry and military equipment would be displayed; and furniture of the period would be reproduced. In a word: It would be presented in grand fashion and treated like "the crown jewels." It would be given its rightful place not only in the history of Lebanon and the Canaanites or Phoenicians [as called by the Greeks] but also in the history of mankind. Christians would know that Saint Paul departed from here to go to Rome where he was martyred. Who wouldn't boast if the alphabet were invented in their city and the word "Bible" originated there. The Phoenicians sailed from here and established friendly relations with the people among whom they settled because they came as explorers, traders and teachers, and never as conquerors.
Because the citadel had been destroyed and repaired by various occupiers, various colors and types of stone are found throughout the repaired areas. If only the stones could talk!
While sitting on a low wall looking out toward the bay, I thought I would like to live here for a year while I finish my writings. Like those who have winter or summer places in Byblos, I would like to find a small apartment in which to use a lap top computer to do the writing which I have longed to do for years. The attraction for me is the antiquity of the place, with its simultaneous simplicity and grandeur, its openness to the sea and to infinity!
As my thoughts quieted down, there was a babble of voices and I listened. The voices speaking to me came from all the surroundings. The blades of grass, the needles of the pine trees, the stones from the depths and heights of the citadel, the moving tides which carried their whispers to me, the birds who spoke to me in the language of song. Only good feeling were felt and I realized that in my quest, something worthy had finally been given life in the mundane dimensions of an old port. But what a port!
The place did wonders for me. Very old places seem to have certain meanings; then they become very special if one will but blend them into time. The harbor of Byblos is shaped like an earlobe. From my seat on the low wall at the port, I could see mountains, trees and land meet the water. Very stark and unearthly. There were only fishing boats with their nets in the harbor that day. I was transported back to the time of Christ when He divided the loaves and fishes among the hungry. I was there in time when Paul was preaching the Good News. The Bible had become real to me: the fishermen, the boats, the nets, the hungry people. It was the reality of a sacred land inhabited by shepherds and fishermen. I feel that Byblos is the very place that I have been searching for all my life. To have been there is a miracle beyond belief.
Before I left Byblos, I went to its old souk or market. I bought a belly-dancing outfit for Addie, my third daughter who is taking belly-dancing lessons in America. Her younger sister Cita and myself will soon join her upon my return to America from Lebanon and Paris. The store keeper was kind and gave me a pear-shaped Turquoise pin to protect me from the "evil eye." It was very nice of him to give me a present. Toufik also shopped, he bought his first born a pair of leather shoes which he very carefully selected. I knew from our day together that he is a good father and a good provider.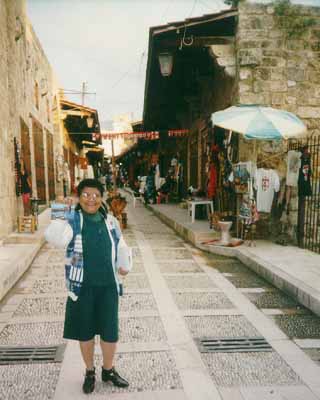 At Byblos' old market.
Photo courtesy of Ms. Sri Kuhns (Lebanon, 1997)
When we returned to Beirut in late afternoon, the Mediterranean was ablaze in red and orange as the sun was sinking into the water. Now I know why sunset in the East is so famous. It is breathtaking! You can almost reach out and grab the sun. When we reached Jal-el-Dib, Toufik invited me to dinner with his family but I was tired and declined. I was touched because in America people don't have time for each other and rarely invite people to their homes on the spur of the moment. I truly like these habits of the Lebanese.
Thérèse and Georges, my hosts, were waiting for me to have dinner with them. Georges had shingles and was feeling awful. He was in such pain that it broke my heart. As usual, the dinner cooked by Thérèse was delicious, healthy and colorful. Several friends came to welcome me, the guest of the Hourani family. They were very nice and we talked as we enjoyed dessert with coffee served in my favorite demitasse cups. I enjoyed myself so much. After they left, I stayed up with Thérèse to watch a Mexican soap opera called Nano, which was dubbed in Arabic. When I said goodnight, Thérèse said that she would accompany me to Sidon tomorrow because Joceline would look after Georges who is her uncle.
In my room, I could think only of Byblos. It had captivated me and I vowed to return some day. Before falling asleep, I prayed longer than usual.
Thérèse told me that on the trip to Sidon tomorrow, we would pass by the town of Damour and then we would go to the Shouf area, where many Christian villages had been totally destroyed. I was looking forward to that trip. I really had to see what it was all about. I wanted proof of what I had been told or what I had read or heard.
On my third morning in Lebanon, I was ready for the trip to the South. I wore a long sleeved jacket, long pants, and a shawl for my hair. Thérèse nodded her approval of my choice of clothes in which I looked "bundled up." In certain areas like Sidon, Baalbek, Tripoli and part of Beirut, a woman's arms, legs, and head must be covered to avoid being harassed or insulted.
In my country it would be like traveling to West Kudus, my hometown where a mosque from the 14th century still stands. It is also the hometown of my sister-in-law who, as a strict Moslem, did not get along with my mother who was quite modern. Can you believe they lived under the same roof?
This morning, another taxi driver known to the family and named Walid came to pick us up. Thérèse does not drive and so she is familiar with the taxi drivers of Jal-el-Dib and she can hire a good one easily.
Just as my mother used to do, Thérèse came prepared with enough food to feed a whole village. She is very meticulous about food and cleanness and so we brought bottled water. Her intention was to return home by mid afternoon to take care of Georges.
We went to a very modern, air conditioned bank to exchange money. It reminded me of those in modern day Indonesia. Lebanon's banking system is well-known throughout the world. Not even ten miles from the bank and I found I had eaten delicious snacks consisting of several rolls, cold cuts, cucumbers and fruit.
As we drove through downtown Beirut, I saw the destruction and what was left after twenty years of war. The reconstruction there comes at the cost of the environment, the city's antiquity and its being the hub where you rub shoulders with poets, painters, ideologists and everyday people. I saw trucks dumping debris in the Mediterranean to make an artificial recreation island, and a yacht club as I was told, for the wealthy from the Gulf. I was saddened by what I saw in Beirut but even more so when I reached Damour.
Walid, the driver, explained that the town of Damour was severely destroyed, very few houses were left standing. Even the church was burned. The unarmed and unprotected inhabitants of Damour had fled to the church to hide during the attack on their town by Palestinians, Syrians, and Lebanese Muslims. Christians were thrown into the fire. Thérèse told me that her sister-in- law's brother, Maroun Hashem, was one of the people who were burned to death when the attackers set the church on fire. He was nineteen years old and the only boy in the family. An overwhelming sadness enveloped me. I could hear the screams of children and women. Looking at where the church was, I was feeling the horror of holocaust.
Again, pity possessed me when Walid pointed to a spot on the hill overlooking Damour and said: "There, there in that spot was my home." I looked to where he had indicated and saw only weeds growing. He repeated "right over there", perturbed and frustrated at my difficulty in locating the exact spot He flung his arm out in the direction where nothing existed any more. With this last despairing gesture, he sank into silence.
The town was only slowly being rebuilt. So much had been lost in twenty years of warfare. The remaining walls were riddled with holes from every type of artillery and military ordnance supplied to the attackers by arms merchants in both the East and the West.
In an answer to my question, Walid said that his most horrifying memory was "running up into the hills to hide from the attackers." Once, when he hid there for seven days without food, he found an abandoned cow to milk. Its ownwers had either fled or were massacred. I shuddered as I looked at the rugged terrain and imagined myself struggling through those hills with shells bursting around me and bullets whizzing past.
Upon leaving Damour, there were sighs but no one said a word. In Sidon, we visited the ancient sea castle situated on the Phoenician island city which rivaled its sister city Tyre in commerce. As I walked across the stone bridge that connected Sidon on the mainland to the island city, my thoughts returned to Damour and its devastation and thought about the devastation; and I remembered Walid's eyes which had reflected deep sadness and loss. Even though I tried, I could not enjoy my visit to Sidon.
At my request, we left Sidon to visit the Shouf region. On the way I saw hundreds of destroyed homes and villages like Roujmeh, Shartoun, and Selfaya which had been bulldozed. In one unmarked village, a lonely-looking tree remained to indicate where a village and its people had once existed. We made a stop at Deir-el-Kamar, the site of the massacre of unarmed Christians by the Druze [whose religious is an offshoot of Islam] in 1840 and in 1860, and more massacres between 1975-1990. When we entered a church to pray, Thérèse wept throughout her prayers. A plaque on the wall outside memorialized the massacre of 1860 with an Arabic and Latin inscription which translates to read: "Here lie in Our Lord the martyrs of Deir-el-Kamar who died for their faith and their country in 1860." What a short but poignant sentence. I struggled for breath while out in the open.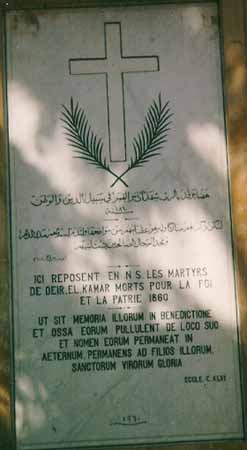 "Here lie in Our Lord the martyrs of Deir-el-Kamar who died for their faith and their country in 1860."
Photo courtesy of Ms. Sri Kuhns (Lebanon, 1997)
One site is engraved in my memory. It contains the remains of a pillar, standing as a lonely but ever faithful witness. I was choking with emotion when Walid said: "Here in the village of Majd-el-Me'ouch used to be the great Maronite church and convent of Saint Maron. This remnant of a pillar is the only thing left of either buildings." I could not believe my eyes. What a mournful place. I imagined the church on a normal Sunday morning, its bells ringing to announce Mass as I have heard the past few days in Lebanon; men, women and children wearing beautiful clothes going to the House of the Lord to celebrate His promise of salvation through the Eucharist. I pictured the monks walking as if on air-- calm, prayerful, humble. Now, there are only horrible memories and the silence of death.
I walked alone while inspecting the area. I was careful where I walked lest I step on a spot where a martyr's blood may have been spilled. I found three fresh flowers blooming next to each other in front of the small pillar. The fresh wild flowers and the irony of life shocked me-- among the ruins, new life grew. One brilliant red poppy, and two fresh daisies, one bright yellow and the other pure white. I thought to myself: A sign of life in the form of the Trinity! How meaningful! How spiritual! I picked the three blooms from the holy soil and pressed them carefully between the pages of my diary, from which I never part. I wanted something holy from that sight. I could not stop thinking while on that stretch of land about the happiness experienced there and the tears shed and dried. Such a sad place.
There was silence in the car on the way to Jal-el-Dib. That night I did not eat much, nor did I engage in conversation or watch TV. I needed to be silent. As I prayed before going to bed, I had too many questions for our Lord, Jesus, whose name is constantly invoked by Maronites through out the day-- Ya Yasu', O Jesus.
For our travel on Thursday morning, Thérèse had prepared sandwiches and other goodies for the road. In the living room, I found my driver for the day. It was Mikhail el-Hajal, and he was related to Toufik, my first driver. Today's schedule included visits to Baalbek, Anjar, and Guita's birth place and home town of Taalabaya since it is on the way. All are located in the fertile Bekaa Valley now tyrannized by the Syrian Army and at times by its ally Hizballah, better know as The Party of God.
From Jal-el-Dib, we proceeded on the main road from Beirut to Damascus. We were not troubled at the military check points manned by Syrian soldiers. My hostess and the driver would stop talking before we reached a check point and a feeling of apprehension reigned in the car. Thank God there were no problems. I thought to myself: "My poor children will not suffer, even if I never return-- I have life insurance! But who will help the children of the Lebanese if their mother or father were to be taken from them"?
Along the road, as we looked at the mountains partially covered with snow, the view was stunning. The cultivated Bekaa Valley was the most fertile land I had ever seen. Stretching for miles were vineyards, fruit orchards, fields of corn and wheat, planted in a beautiful and organized manner. I was told that beyond the mountains lay Damascus. In this lovely valley many homes and buildings had become dilapidated and construction was unregulated. We saw more armed Syrian soldiers and a few Lebanese soldier who appeared to be in their early twenties. Soon we reached Taalabaya. We visited Michel and Samira Hourani, Guita's uncle and his wife. They welcomed us with open arms and immediately served coffee and fruit. We chatted and played with two grandsons, who had blond hair and brown almond-shaped eyes.
Then we continued on to Baalbek. We passed the Christian City of Zahle which had suffered greatly at the hands of the Syrians, Palestinians, and the Lebanese Muslims. I was charmed by the red roofs on houses made of stone and the statute of the Goddess of Wine symbolizing Zahle's famous Arak and wines. We passed many small villages and towns supported by agriculture.
When we reached Baalbek known in ancient times as Heliopolis, we went first to the Temple of Jupiter. Legend explains the origin of its immense columns and stones. They appear to have been built by giants and genies. I looked at the remaining six pillars of the Temple of Jupiter. Each is twenty meters high. I do not know the date of the forecourt where weeds and shrubs are growing. The Temple of Bacchus built around 150 A.D. was on the left.
Jupiter was the name given to the Temple by the Romans. It's original name in Canaanite/Phoenician is "Hadad", God of Thunder, Rain and Storms. The place is majestic, awe-inspiring, and possessed of an overwhelming beauty. I thought of the ruins of the Parthenon in Athens which I had visited in 1973.
The intricate etching upon stone was more beautiful and delicate than embroidery and lace. Here, we met several teenagers who identified themselves as belonging to Hizballah, Party of God. I photographed them and they laughed cheerfully at my scant Arabic. I also saw a member of the UN Peace Keeping Forces from Poland. He was spending his day off visiting Baalbek and we took pictures together.
When we returned to Taalabaya to Michel and Samira's house, a feast had been prepared. The table was laden with platters of mouthwatering Lebanese food. Never in my life had I tasted such delicious stuffed squash, called courgette. I nearly devoured all of them with a hearty appetite, but asked Samira to save the rest for me to take to Beirut. Samira told me how to make them. Here is her recipe: First you wash and drain a cup of rice; add fresh diced tomatoes, onions, and crushed garlic, ground beef, spices, and salt. Mix and set aside. Wash each courgette and carefully scrape out the marrow with a Manqara which is a long aluminum Zucchini corer. Stuff the courgette with the mixture and stack them upright in a large sauce pan. Add tomato sauce, water, bay-leaves, cinnamon stick and pepper and simmer. Georges and Thérèse said that their grandson loves them as much as I do.
After a dessert of fruit and jam we left for Anjar. On the way, I saw fields planted with artichokes ready for picking. The ruins date to the Ummayads, the first Moslem Dynasty period, about 710 A.D. For a short period of time, Anjar flourished as an inland commercial city because of its location on the travel route between Beirut, Baalbek, Damascus, and Homs. The ruins are not as majestic and glorious as others. What I loved about the area were its vineyards. I had seen some vineyards along the Rhine in Germany. I have two grapevines in my back yard in Maryland, and to see real vineyards I would have to drive to Virginia or fly to New York or California. The vineyards in the Bekaa Valley and Anjar were exceptional. I can only imagine what they look like burgeoning with bumper crops of grapes under the Bakaa's sun.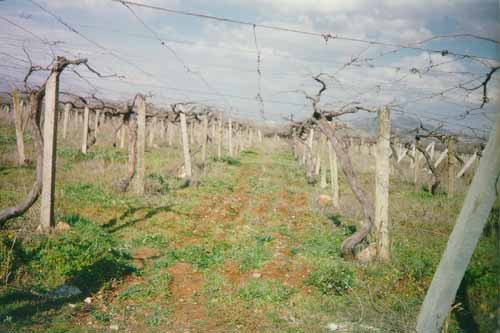 'Anjar's vineyards.
Photo courtesy of Ms. Sri Kuhns (Lebanon, 1997)
As we returned to Beirut, I felt like a Lebanese returning to my home and my town. I was still clutching a handful of red soil from Anjar-- a treasured souvenir.
Friday is upon us. The morning was quiet as Thérèse made our coffee and breakfast. We still had some free time before Marie was to take us to visit Mayfouq, her home town and the seat of the Maronite Patriarch for six centuries.
During Sobhiyeh, or morning visit, Guita asked her mother to read her coffee cup. Thérèse said: "When did you start believing in such things. You know that readings like this are not true and that God reveals their falsehood." Guita answered: "Mother, I only want to pass time and have a little bit of fun, that's all." I was waiting like a cat who spotted the mouse who in turn spotted the cheese. I just had to join in and I asked Thérèse to read my cup. She obliged and it was real fun. Thérèse 'predicted' there would be good news regarding money within five months. In fact, I was awaiting my part of an inheritance from the family's estate in Indonesia. How could Thérèse know about that? I did not tell her anything and she even added that someone with the initials M. H. would be instrumental in my obtaining a good job.
While we were still sitting there, a nurse, who is a neighbor, came as usual to give Georges his daily injection. He disliked being bed-ridden. I often saw him using his rosary in prayer when he was feeling better and not suffering an attack. He came in the living room for a change of atmosphere and to walk a bit.
While I was looking out the window at a rainbow, I turned and asked Georges: "What do you call a rainbow in Arabic? He answered: Kaws-al-Kozah in Arabic and arc-en-ciel in French. He then added: "Why don't you take a picture, I think it will show up clearly." So, I did take a picture.
During the morning, Marie Khalife picked us up in her car and we drove to Mayfouq. We passed villages which had been witnesses to the first days of Maronite history. Each village is dedicated to a Saint and has at least one church. Upon arriving in Mayfouq, we visited Marie's old cousin at her shop. She greeted us with open arms and asked about all the family. She took us to her son's restaurant for lunch and introduced me as a friend from America. Immediately, they served food which included chicken Kabob, Labneh (cream cheese made of strained yogurt with a dash of olive oil on top), and French fries. I almost forgot to mention the Lebanese traditional bread, marqouq. It is a thin bread baked over a hot convex piece of iron. While eating, a farmer, who was delivering bananas from his fields in Byblos, gave us some. To show my appreciation and happiness, I placed two of the bananas on top of my head, à la Carmen Miranda, and began to bow in appreciation. We started to laugh and joke so much that the owner's two daughters, who were making pizza, and the customers joined in. The Maronite villagers of Mayfouq showed the pre-eminence of generosity and friendship.
After our meal, we started our pilgrimage to the church of Our Lady of Ilige. The woman care taker graciously opened the door for us. Quietly and respectfully we entered the church, blessed ourselves with holy water, and prayed. Hanging on the wall, a 10th century icon of Our Lady of Ilige may still be seen. In this church, Maronite Patriarchs had once celebrated mass and lived in adjacent quarters within a community of monks and priests.
From the Patriarch's private chapel, a small window allowed him to view the icon of Our Lady of Ilige, hanging on the opposite wall in the main church below. The place was as simple as the homes surrounding it. I was surprised to learn that such a holy place was ransacked, burned, robbed and its clergy massacred many times in history. It was after the last attack and fire in 1449 that the Patriarchal Seat was moved to Qannobine Valley. The church and monastery have been recently restored.
The caretaker told us about a newly discovered hiding place in the church. The entrance, beginning at floor level, was very small. The electricity had been cut off that day so we held candles for Guita as she crawled into the hiding place. She said that it could only hold few people, the Patriarch and probably a couple of aids. Guita did not believe that one could survive for more than few hours there since there was no apparent air way for oxygen. Marie said that the whole area was the site of many massacres. The last was that of 1449 A.D. when the Muslim army headed to Mayfouq to capture the Patriarch Yohanna Al Jaji. They robbed the village and massacred its people and monks. The Patriarch survived because he had gone underground--maybe he was concealed in that newly discovered hiding place!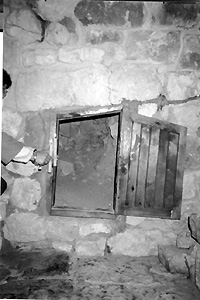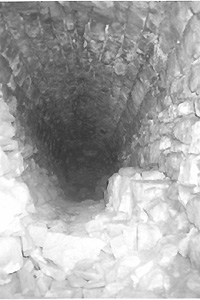 Left, the small entrance leading to (right) hiding place of the Maronite Partriarch.
Note that the door shown was added recently.
Photo courtesy of Ms. Sri Kuhns (Lebanon, 1997)
I was in awe from the moment I entered the monastery until I left. I thought to myself: "How great is the faith of these Maronites"! Before we departed the holy place, we obtained holy oil and holy water, and purchased some souvenirs from the recently opened shop.
When we dropped the caretaker off at her house, she insisted that we come in for food and drinks. We went in because Marie is a relative and wanted to see the mother who was not well. The architecture of the house is unique. The ceiling consists of tree trunks and additional ones act as columns to support the house. There was a huge main room. I believe it was used as a living room and bedroom by the family. In one corner, there was a diesel burning stove. Next to it was a sofa covered by a handmade tapestry. The floor was covered by multicolored hand made rug. Marie said this is probably one of the oldest houses in Lebanon.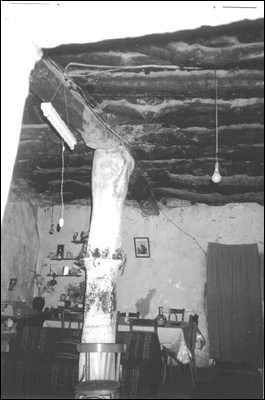 Teffaha's house with ceiling and columns made of tree trunks.
Photo courtesy of Ms. Sri Kuhns (Lebanon, 1997)
The mother was in bed covered with many blankets for it was very cold at this altitude. She wore white scarf on her head and she looked angelic. Guita and I were introduced to her. Her name is Teffaha, whose nickname in English would be 'Apple Blossom.' After her warm welcome, she asked me in Arabic where I came from and Guita translated. I answered politely: "Indonesia, do you know where it is?" She replied in Arabic: "It is somewhere near Australia, isn't it"? I was flabbergasted at her answer. Her daughter had entered the room and served us apples and oranges, and placed a pot of Zhourat to boil. I asked: "How old is your mother?" The daughter answered that she was ninety seven years old. Teffaha invited us to eat supper and spend the night. Before I could answer, she said to me: "I will pray for your children." I was dumbfounded. I took her hand and kissed it. She reciprocated by kissing my forehead. I will never forget her.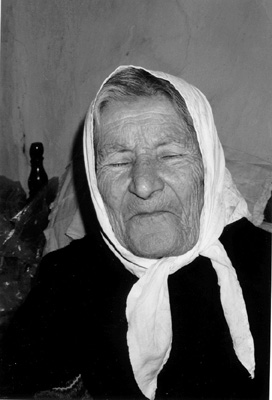 Teffaha.
Photo courtesy of Ms. Sri Kuhns (Lebanon, 1997)
The kitchen in the house is ancient. The modern American bathroom with hot water is a luxury and convenience for everyone. After eating, we said goodbye. They invited us back to break bread with them. We couldn't promise to do so but we thanked them repeatedly.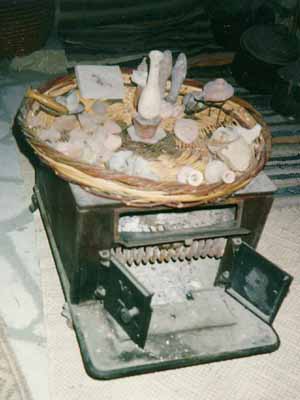 Artifacts in Marie's Cave.
Photo courtesy of Ms. Sri Kuhns (Lebanon, 1997)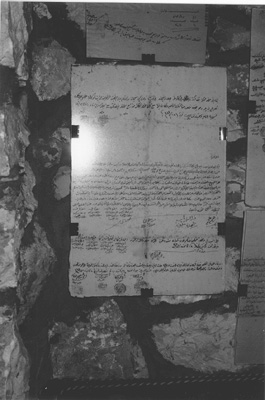 A deed from the XVIII century.
Photo courtesy of Ms. Sri Kuhns (Lebanon, 1997)
Marie invited us to her home which she had been building for more than six years. It is rather a villa nestled high and solitary on a mountain side. It had a spectacular view of Our Lady of Ilige Church and the Mayfouq Monastery. We ran into the house when we arrived because we were in the midst of drenching rainfall. We were all given fresh towels and slippers and taken on a tour of the house. After coffee, we had a grand tour of her Cave (basement), which she had made up to look like an old Lebanese home with antique furniture and artifacts. It was like a small museum. When people learned that Marie was collecting antiques throughout the mountains in order to preserve the former way of life, many of them brought her their family heirlooms, including a deed from the XVIII century, a set of pots about 500 years old, a Maghzel (spindle) for spinning silk thread and 200 year old cocoons. We took pictures inside the 'museum' and on the verandah beside a flowering almond tree overlooking the gorge of Mayfouq.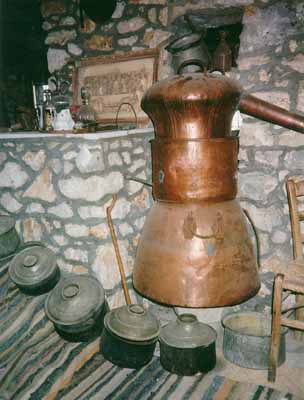 Arak still and the gift pots.
Photo courtesy of Ms. Sri Kuhns (Lebanon, 1997)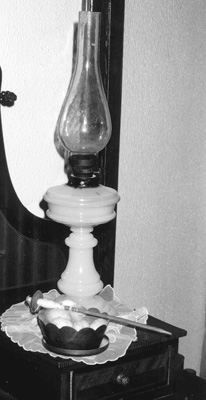 200 year old spindle with silk cocoons.
Photo courtesy of Ms. Sri Kuhns (Lebanon, 1997)
From Marie's house we visited the Superior of Mayfouq Monastery. It is now used as a high-school for young men who might have a vocation to become priest or monks. The Superior, Fr. Touma Mhanna, invited us and his other guests for coffee, hot chocolate, and macaroons.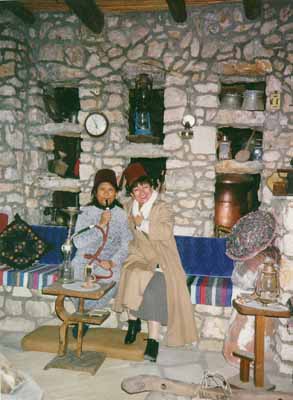 Marie and I posing in her Cave.
Photo courtesy of Ms. Sri Kuhns (Lebanon, 1997)
There was a young man among the group whom I thought, as a mother, would be a good husband for my daughter Cita. He was smiling and joking politely with the guests. I almost had a heart attack when I found out that he was a monk. I then noticed his black clothes. He was gracious and showed us the old part of the monastery whose rooms currently house a small museum, pantries, and recreational equipment for the students.
I will never forget that afternoon in the pouring rain, I felt like I was in the open and could see faraway, with nothing restricting my view. There were no unsightly billboards until we reached one of the cities. On the narrow winding roads, I was praying for dear life, I forgot that I was once a courageous mother!
On our way to Beirut, we stopped at a road side fossil dealer "Expo Hakel." It was closed, but the owner and his two grandsons opened the shop for us. The fossils were reasonably priced, but the rare ones were as expensive as $20,000 and more. These were principally fish fossils. I bought one, 100 million years old, for $20. The two boys told me that their fossils were on display in Jounieh and at an international conference. They said they obtained them legally on their own land. The older boy gave me a fossil in a case as a gift. He said he was not giving Marie and Guita a gift even though they whined. He said: "You are Lebanese, but she is the guest and she gets the gift." We all laughed. Guita and Marie bought several pieces before we headed back on this dark and rainy night.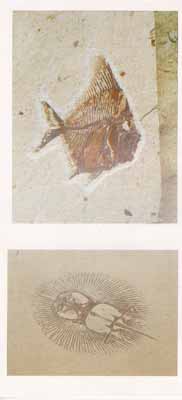 Fossils from Expo Hakel.
Photo courtesy of Ms. Sri Kuhns (Lebanon, 1997)
It was foggy and, in my fright, I locked the door on my new black coat. When we reached Jal-el-Dib Thérèse, God bless her heart, cleaned the mud off my coat because it would have stained permanently if not removed quickly.
Marie must have been exhausted from such a drive on that rainy night, but she was glad to do it for Guita and me. I began to like Marie in the same way I like Madonna, Guita's sister who lives in Paris.
In my room, I spread out all the souvenirs collected and looked at them in disbelief: Blessed incense, holy water and holy oil, a statue of Christ crowned with thorns, and 100 million year old fossils. I fell asleep with all of them still placed at the foot of my bed. It had been a very interesting week with many adventures. I had seen so many sites; some left me sad and others happy. I have never traveled in such an intensive way before. In my heart, I thanked Guita for having planned such a wonderful program.
Now, I am off to bed with a million and one thoughts and memories-- joyful, heart-rending, and ever-inspiring. I am so thrilled and can not wait for my many tomorrows here in Lebanon. Tomorrow, I will be visiting many new places and meeting many new people. I am so excited I can hardly contain myself.
To be continued ...
Last part in the upcoming issue.
*Sri Sadeli Kuhns is a writer and cultural observer living in Maryland, the United States of America.