Sitta 'Aqlah: A Woman of Faith, Strength,
and Dignity.
From Blawza to Wheeling, West Virginia
By Edward Brice al Shidyaq*
In this section of the Journal of Maronite Studies (JMS), a Maronite-American family presents its own history of migration to the United States of America. The Maronites in America have a rich history preserved through oral narratives. Valuable historical and cultural details such as reasons for emigrating, means of transport, adjustments in the new country, customs, music, food, etc. are worth recording. These stories are unedited and represent the views of their author(s).
This article is dedicated to 'Aqlah Bu-Sa'd Brice al Shidyaq, her family in Lebanon and her descendants in Canada and the United States of America.
I am writing a history of our Brice al Shidyaq branch of the family (Brice is also spelled as Bris and Brise). Because of the constraints of space and the limited scope of this article, I will touch briefly upon the earliest documented historical facts about the Shidyaq clan dating back to the seventh century. I will skip to the nineteenth century for a quick summary of my great great-grandfather's and my grandmother's journey to- and life in- America. This is written for the benefit of all the descendants who possess the least trace of our mountaineer Maronite Christian blood and all interested readers.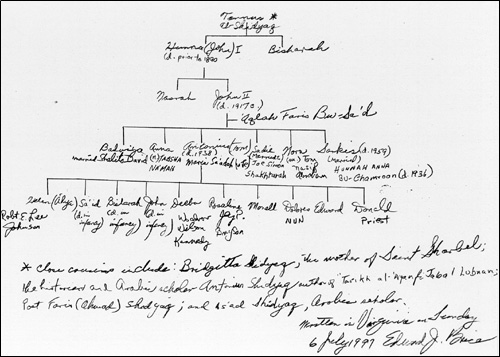 Brice al Shidyaq family tree.
'Aqlah's descendents number more than 150 spread over five generations.
Exhibit courtesy of Edward Brice al Shidyaq, (Virginia, 1997)
From Sadad to Hadath-el-Jibbet
In 642 A.D., during an era of religious persecution, political upheaval, and violence in Asia Minor, a number of families abandoned their homes in the town of Sadad (1) in ancient Syria as they fled to the safety and freedom of Lebanon's rugged mountains.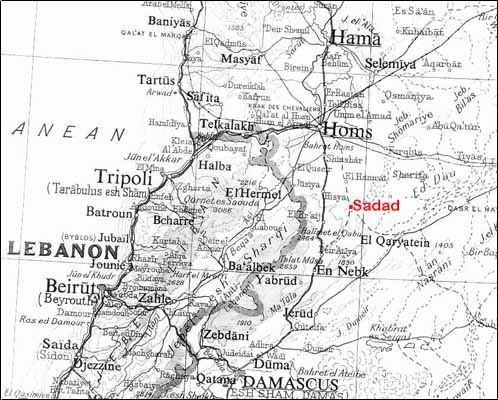 This migration was caused by the Islamic conquest which intensified in the seventh and the later centuries. In his book Lebanon in History, Philip Hitti writes the following about the environment of that time:

"As the tidal wave of Arab conquest engulfed inner Syria and the maritime plain, resulting in the gradual supplanting of the religion of Christ by that of Muhammad, Lebanon emerges as a Christian islet in a sea of Islam. To its northern section flocked Christian families from the neighboring regions, some to avoid such disadvantages as the payment of tribute and the acceptance of second-class citizenship; others to escape disabilities imposed by the pious Umayyad caliph 'Umar ibn-Abd-al-'Aziz (717-20). His were the first discriminatory enactment against dhimmis. In brief, they excluded Christians from public offices, forbade their wearing turbans and required them to don distinctive clothes with girdles of leather, to ride without saddles, erect no places of worship and pray in subdued tones." (2)
The Shidyaq family was among many families which fled ancient Syria to Lebanon. Later These families played historical roles in the life of the Maronites, Lebanon, and the Middle East. From Hawran, came the Khazins and the Malhamahs; from Sadad came al-Sam'ani, 'Awwad, Mas'ad, Thabit, and the Dibs; and from El-Qaryatein came the Tayyans and the Sarkises. (3)
The Shidyaqs settled in Hadath-el-Jibbet nearing the crest of the Qadischa Valley, a most spectacular gorge. The refugees or immigrants were welcomed by the hearty mountain folk. It was probably an easy acculturation for the newcomers since they were both Christians and Syriac speaking.
Our cousins and forebears intermarried with the local people whom oral history describes as handsome. The family has had blood ties with Christian villages on both sides of the Qadischa Valley, beginning at the outskirts of Tripoli to the mountain top within the shadow of Arz al-Rabb-- the Cedars of God.
Our family name 'Shidyaq' is a pre-seven century honorific. It is derived from Greek and means deacon. It indicates that an ancestor had become a deacon in the church. The Diaconate was an ecclesiastical, specifically evangelical, position. It is common to have a family name derived from an occupation. We are therefore privileged and proud to carry the Shidyac name.
My ancestor's Eastern Christian faith defined who they were and continues to do so. The Shidyaqs were faithful to their spiritual heritage and to the Maronite Patriarch. However, two brothers apostatized, one by converting to Protestantism and then to Islam late in life. The other, As'ad al Shidyaq, who was an Arabic teacher, was converted to Protestantism by missionaries affiliated with the American University of Beirut, originally established as the American Protestant College. As'ad was called to answer to Patriarch Youssef Hobaich (1823-1845) who was residing in Qannubin at the time. He went to see the Patriarch but would not recant. As'ad was then confined to a cell in the monastery and stayed there until he died (ca. 1830). (4)
The Syrian Evangelical Church, which claimed that it intended to convert Muslims, made "no dent whatsoever" (5) in the Muslim community, for those who converted were Christians, mostly from the Greek Orthodox community.
As'ad's brother, Tannus al Shidyaq (d. ca. 1861) was a judge under the Shihab Principality. He was the author of Akhbar al-A'yan fi Jabal Lubnan. His other brother Faris was the editor of the American Press publications in Malta. After Faris wrote an impressive poem in eulogy of the bey of Tunisia, the bey invited him to be a member of his court and treated him as his poet laureate. Faris embraced Islam and adopted the name Ahmad. (6) He was known ever since as Ahmad Faris al Shidayq.
From Lebanon to America
The name Brice originated with my great-grandfather Hunna I (John I) Brice al Shidyaq, son of Tannus al Shidyaq who came to the United States in 1880s. He was born in the village of Blawza in the Becharreh District in Lebanon, in the first half of the nineteenth century. Early in childhood Hunna acquired the nickname 'Brice', a diminutive of 'Abros' , which may be translated as "little blond boy". He gave us the name which we carry. It was in the 1930s that my aunt Anna ('umta Hunnah) first told me that Hunna I was one of the first of our Shidyaq lineage to come to America.
It is believed that John's father, my great-great grandfather Tannus, was widowed twice. Each wife bore him a son. The older child from the first wife was named Bsharah (Arabic for annunciation or good news). The child from the second wife was my great-grandfather John I. As young boys, both John and Bsharah ran away from home because of their step-mother-- Tannus' third wife.
John's mother, my great-great-grandmother, died very young when he was a little boy, possibly six or seven years old. She had gone to the family's field to open the sluice to water the crops when a man from the village, objecting to her using the water, beat her severely. She later died of her wounds. Young John remembered the violent and tragic death of his mother. When he was in his late teens, he whipped the murderer and dragged him to the exact place where his mother had been dragged to die: "hoen al matrah wayn shalaht imma, here is the spot where you threw my mother", were his words as he left the man without killing him. We all remember how my Aunt Anna used to shake her head in disbelief and say: "Ya harom, rahat lil-haqlah tatis'ihun al-mwayy, poor thing she only went to the fields to water them."
Both John and Bisharah married sisters. John married a widow of reputed beauty named Khazoon. Her late husband Braheem (Abraham) was from the nearby village of Qnaywir. Besharah migrated to Barre in Vermont. It was to visit him that John I, his brother, made a faiteful visit in the 1880s.
According to the story which my Aunt Anna (ca. 1885-1975) heard in her mountain village of Bayt Mundhir, John I was last seen in the company of two men. An American woman who lived in the Vermont countryside reported seeing three men walking along a rural road which passed her house before entering a wooded area. Later that day, the woman eye-witness said that she saw two of the three men return. According to Aunt Anna, those two men, the 'two foreigners' accompanying great-grandfather John I, were identified as Lebanese. Upon their return to Lebanon, they were accused of murdering my great-grandfather. John I had a large sum of money which he carried in a money belt around his waist. It is believed that robbery was the motive for his murder. No other information about his murder or any facts about his burial or the fate of his remains are known.
Sitta, my grandma 'Aqlah Bu-Sa'd Brice al Shidyaq was in her early thirties when she left Beit Mounder (Bayt Mundhir), Lebanon for America in 1894. She told her husband Hunna II (John II) that she would return to Bayt Mundhir after spending one year away visiting relatives already settled in Wheeling, West Virginia. She really wanted him to follow her and make a new life without her mother-in-law Khazoon. 'Aqlah left four daughters and two baby boys in the care of her husband and set sail to then called the 'New World'.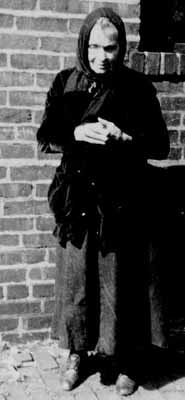 'Aqlah Bu-Sa'd Brice al Shidyaq.
Photo courtesy of Edward Brice al Shidyaq, (Wheeling, WV, ca. 1947)
Khazoon was a strong-willed Lebanese matriarch. Her domination and control of every aspect of life within the large household extended to her son John and his wife 'Aqlah. It was to escape the tyranny of her disarmingly beautiful mother-in-law, Allah Yirhama! (May God have mercy on her soul) that Sitta fled Lebanon. Now, four generations, are heirs to her fortune-- our American heritage of freedom. Her descendants still bring to their staunch loyal Americanism strong imprints of the Lebanese Maronite Christian faith.
The story is told that Sitta traveled unaccompanied by any close relative-- something which is not normally done. It is a mystery to me and my family, how my gentle, mountain village grandma of approximately thirty years of age managed the sea voyage of three to four weeks to Ellis Island, followed by a train trip from the giant and bustling metropolis of New York to Wheeling, West Virginia.
Although she did not know how to read and write, my grandma quickly learned enough English and smatterings of Italian (Tilyana), Polish (Slowish) Hungarian (Hunkaara) and the currency. Although the 1736 Synod of the Maronite Church made it mandatory to teach boys and girls, the girls were not allowed to walk unprotected beyond the village for schooling for fear of abduction by Arab nomads. Both boys and girls were schooled if there was a convent or school in the village. Otherwise the boys alone were compelled to walk to another village or to a monastery for their education.
Among the children that grandma left behind was Sarkis (Sergius) her younger infant boy, who had not yet been weaned . Many years later my mother told my brother Donald that "when peddling, Sittak, your grandmother, would stop on the road, find a private place and get rid of the milk still in her breasts while weeping and longing for her son and the rest of her children. She would then splash her face with water and continue peddling. Determined to make enough money to bring them all to live with her". Grandma would also nurse other children in our neighborhood when the mother had died in child birth, or if the mother could not produce milk or was anemic. This is a tradition of compassion and kindness that my grandmother and the women in the community brought with them Lebanon.
In America, Sitta was known as Mary, Imm Tom or Tom's mother and formally as Mary John Brice. Grandma was a peddler. She worked in West Virginia, Pennsylvania, and Ohio. Her 'bi'aj' (bundles, parcels), were two large footlocker size leathery cases with straps. These contained notions, spools of thread, needles, safety pins, metal thimbles, scissors, buttons, elastics, hand crocheted lace, shoestrings, textiles, underwear and outerwear for the whole family, and almost anything else requested by the customers. Sitta bought her merchandise from Wheeling Wholesalers John Naylor, L. S. Good, and Sa'id George who was my god-father and Donald's.
Mr. Good knew my grandmother as 'Mary'. When he would hear her voice in the store, he would come down from his office to take her order personally. In the 1920s, my sister Deeba (Margaret)used to accompany grandma when she went uptown tedbadda' or to stock up. Deeba recalls how grandma would call out for Sam Good on entering the L. S. Good showroom saying "Where is Sam? We peddled together". Mr. Good always looked forward to waiting on her and giving her a good price on yard goods.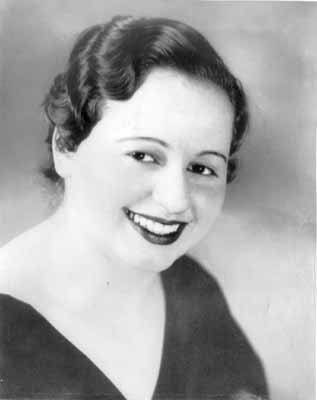 Deeba Brice Kennedy.
Photo courtesy of Edward Brice al Shidyaq, (Wheeling, WV, ca. 1934)
When peddling, Sitta carried two large cases filled with merchandise to the B & O or Pennsylvania train station, a few blocks from home. She would often stay overnight in the home of a customer who had, by then, become a trustworthy friend. She often stayed overnight with such friends when she traveled to her customers spread throughout the farm areas, villages and small towns of West Virginia, Ohio, Pennsylvania and along the Ohio River. She stopped peddling in West Virginia and Pennsylvania because these states had a $2.00 [daily ] peddlers license. Her memorable exclamations about the bounty and freedom of America include: "God bless Christopher Columbus for discovering America" and "bayti hown, my home is here". She often added: "God bless Ohio! It put bread on the table, it fed us".
Although grandfather John II would not accompany her then nor would he follow later-- he was afraid of the sea-- grandma never forgot the family she left behind. She regularly sent money to grandfather to purchase land in Bayt Mundhir. She also provided for their six children and other members of the family, such as Aunt Anna's baby Khazoon II who was left behind in Rishdibeen with the grandparents. In Bayt Mundhir, grandfather then purchased Al M'qla' (the stone quarry and gravel pit), Ayn al M'iwil (the M'iwil spring), As-Snawbara (the pine grove), As-Zaytunat (the olive grove), and a share in the Baydarah (threshing field near the church) and more. These properties are still called by those names. They are recorded as such in government files in Tripoli, Bcharreh, and Bayt Mundhir. By 1900 the first married child was brought to America and by 1912 all of grandma's children and their families were with her in Wheeling. The fact that her husband would not join her, broke her heart. And until she died she was faithful to her vows and his name.
She also bought real estate in Center Wheeling, including our three story apartment building and other residential properties. John Englund, an official of the Center Wheeling Bank located at 22nd and Market Streets and 'caddy-corner' from the market house, was instrumental in helping Sitta buy our apartment building. Mr. Englund admired my grandma because she was an honest and a hard working person. He knew that she had been saving to buy the apartment building and warned her that a male relative was planning to buy it 'from under her'. Though she did not have the full price in cash, she withdrew her savings and Mr. Englund approved a loan for the balance. Needless to say, Sitta never had any business dealings with that relative even though she continued to love him and all his family.

2128-30 Main Steet, Wheeling, WV.
The three story building baught by 'Aqlah Brice al Shidyaq.
Photo courtesy of Edward Brice al Shidyaq, (Wheeling, WV, 1997)
Except for that purchase, Sitta always gave cash for everything, including the merchandise for peddling, groceries, and donations to Our Lady of Lebanon Church and Saint Alphonsus, or as grandma use to call it, Mar Franciis, because it was staffed by the Franciscan Capuchins. Although, her sons' names were mentioned among the founders of our Maronite Church in Wheeling, my grandmother was one of the financiers along with the Saint Tobey Society which she helped found and later served as lifelong treasurer.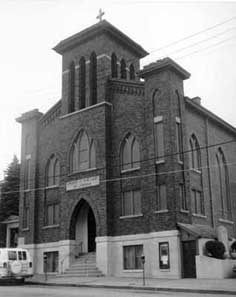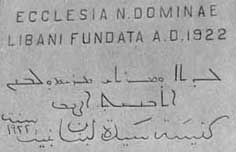 Our Lady of Lebanon church,
at 2216 Eoff Street, Wheeling, WV.
Right: A plaque commemorating the founding of the church
inscribed in Latin, Syriac, and Arabic.
Photo courtesy of Edward Brice al Shidyaq, (Wheeling, WV, 1997)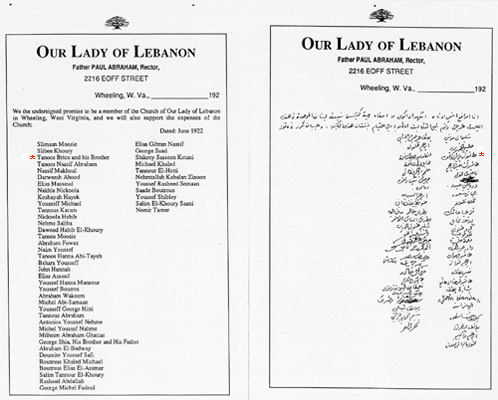 * The names Tanoos (Tom) and his brother (Sarkis) among those who pledged to support the church in Wheeling.
Exhibit courtesy of Fr. Ghattas Khoury, Pastor of Our Lady of Lebanon Church, (Wheeling, WV, 1922)
When my grandmother went peddling, her bags were so heavy that the train conductors could not move them from the aisles. She peddled till she was almost seventy and she would not stop until her sons insisted she stop. I remember that in 1938 my mother and my oldest sister Helen sent me hurrying after Sitta to bring her home. I caught up with her in the alley along Saint Alphonsus Church and said "Sitta baddun yakee tirja'ee 'al bayt, grandma they want you to return home". She looked at me, nodded, and we both returned home sadly.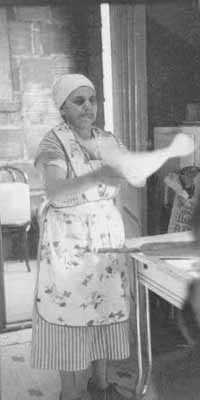 Marie Sa'ade Brice, my mother, making Lebanese Bread (markouk).
Photo courtesy of Edward Brice al Shidyaq, (Wheeling, WV, ca. 1956)
Nearly eighty, she had packed two large belted cases heavy with merchandise and was going to catch a train to start peddling again because my father, the bread winner of the family was dying of Pneumonia at Saint Joseph's Hospital in North Wheeling.. It was at the height of the 1930 depression and grandma knew we were in dire financial straits. Though we still owned the roof over our heads there was no cash. Our family business was robbed and its revenue declined sharply afterwards.

Helen Brice Johnson.
Photo courtesy of Edward Brice al Shidyaq, (Wheeling, WV, ca. 1930)
Grandma always carried a rosary with her. The one from Lebanon had worn out years ago and more were to wear out during her 55 years in America. I remember so well as she sewed and knotted together the broken links of the rosary with heavy black thread. While washing dishes in the kitchen, she would sometimes hang it from her wrist or clasped it in her teeth. She would wash all the dishes in sight, the table, stove top and anything else with as little water as possible while still carrying the rosary.
As I travel back in memory to the 1930s, I remember Sitta asking my father, her son Tom, to fix her rosary. My dad could fashion rosaries with various types of links and he would often demonstrate his skill and versatility by making more intricate styles of chain work. His main tool was a pair of needle-nose pliers. He had learned how to make rosaries in the village and at the nearby monastery of Saint Antonius Qozhayya in the Qadisha Valley.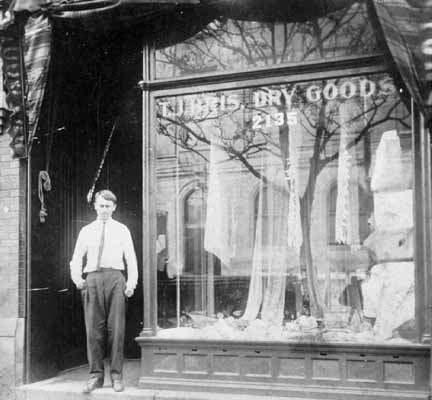 Antonius Hunna II Brice al Shidyaq, know as Tom Brice .
Photo courtesy of Edward Brice al Shidyaq, (Wheeling, WV, ca. 1916)
After my dad died, Sitta would ask me to fix her rosary whenever it broke. The remainders of her rosary consist of only the crucifix, the medal, and few of the five original decades. The remains of the rosary are a treasure to me as are three white handkerchiefs which my mother folded for me before she died.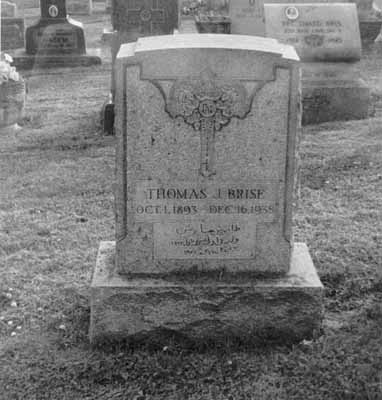 Tom Brice's grave.
Photo courtesy of Edward Brice al Shidyaq, (Wheeling, WV, 1997)
Sitta always wore a scapular and some relics and medals which she sowed into a little sack resembling a rosary pouch. I remember her telling us about a house that she had to pass in front of when peddling near Big Wheeling Creek. Her customers had told her: "Don't go past that house, Mary, it is haunted. Go around it." She said that she had no time to waste by taking a detour. She would reach into her ''ibb', bosom, then she would take out the scapular medals and toss them over her shoulder. She would then proceed with faith and bravery while calling upon God, Jesus and the Saints saying: "Ya Rabb! Ya Yasu'! Wa kull al Adiseen".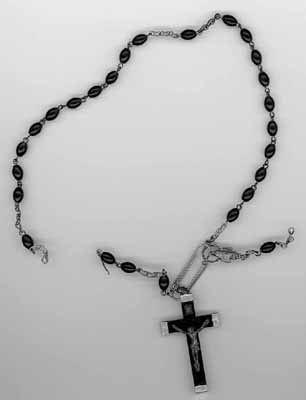 Remnants of Sitta's rosary.
Exhibit courtesy of Edward Brice al Shidyaq, (Wheeling, WV, 1979)
Sitta had probably related most of the important events of her early life to my mother. My aunts and my uncle Sirkis ('amma Sarkees) were also great sources of anecdotes about her. My mother told the story of Sitta's eye injury which occurred when she was a young woman. She had sought the help of a herbalist in her village in Lebanon after her eye had become inflamed. He attempted cauterization but the hot iron burned the eyelid and permanently damaged the tear duct and scarred the eye. In unbearable pain, she reacted by shoving the 'doctor' across the room. She then collapsed and sank into unconsciousness for many days.
While her family nursed her through this comatose state, Sitta had a dream which she recalled after her recovery. She dreamt that she was walking above and across a deep dark valley with torrents of muddy, steaming water gushing forth below. Her precarious footpath was merely a thread stretching from one mountainside to the other. She dared not lose her balance and fall. As she began to journey across the hell-like river, she raised her eyes and beheld the Blessed Mother who stretched out her hand to Sitta.
The vision of Mary then told her in a kind voice: "Look ahead and walk! I am right here, Wakda 'iddameek wa msha, ana hown".
Sitta said to her Protectress: I see my late neighbor nearly drowning in the muddy water. He is trying to stay afloat and swim among the rocks and the swift current. What is he doing down there?.
Our Lady answered: When he was alive, he would go at night and move the stone boulders which marked the borders between his property and that of his neighbors. He enlarged his land by stealing theirs. He will stay there until he has atoned for his sin."
When she had recuperated, she walked for many hours from Bayt Mundhir to the port city of Tripoli for medical treatment from Dr. Harris. He and his wife were from Germany and were childless. Sometimes, Sitta would take along her infant daughter, Nur or Nora, who was most beautiful as an infant and throughout her life. The Harrises knew that grandma had three other daughters and so they asked her to let them take Nur to raise. Sitta could not part with Nur and told them so. She never used the word 'adopt', perhaps none of the three could bear to use that word. Dr. and Mrs. Harris loved and admired Sitta. Her words and voice always conveyed her deep and loving feelings for them whenever she told us how much they loved the beautiful infant Nur, my aunt.

Three of my sisters. From left to right: Manell, Rosaline, and Delores Brice.
Photo courtesy of Edward Brice al Shidyaq, (Wheeling, WV, ca. 1949)
My sisters, my brother and I have wonderful memories of Sitta. I can see myself over sixty years ago in the early 1930s, about three years old, climbing into Sitta's bed to get warm. I also came to her to hear comic songs, heartwarming lullabies, fairy tales and inspiring legends, and to recite aloud our night prayers and finally fall asleep-- warm, cozy, and happy. When I was a child, this was a frequent routine-- a ritual beginning with entertainment and ending with prayers.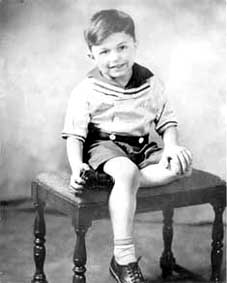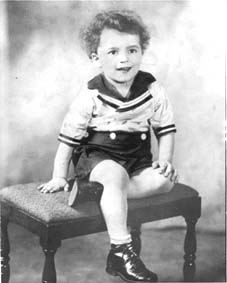 Edward (left) and Donald Brice al Shidyaq.
Photo courtesy of Edward Brice al Shidyaq, (Wheeling, WV, ca. 1933)
I remember some of Sitta's habits. She would heat a brick on the kitchen stove in winter, put it into a shoe box, wrap it in remnants of towels and sheets and then place it under the covers at the bottom of her twin bed. The scent of her face powder which she dusted around her injured and scarred right eye blended with the stronger smell of scorched cardboard from the burning hot brick in the box. Both scents were familiar and stamped in my memory even today.
Except for the kitchen, dining room and bathroom, our house was cold in the winter. The kitchen was the most popular room in the house, winter or summer. We had lived on the second and later the third floor in a seven room apartment in the three-story building which Sitta had bought. The kitchen was warmed by a combination gas and coal stove with two large ovens on top where a microwave or a second oven at eye level is often placed now. Half of the huge stove consisted of four gas burners for cooking and the other half was a coal or wood burning stove. I remember my teenage cousin Bud (Badi'a) coming from her parents' apartment below us to break kindling wood and start a wood fire. The bathroom had a hot water tank and a gas heater which kept the small room warm and comfortable. The bedrooms had black striated marble fireplaces with colorful ceramic tiles which covered the floor in front of the hearth. Coal, not wood, was burned in them. Later they were converted to burn gas. West Virginia coal had a peculiar smell before it was burnt, hardly any smell while burning, and the worst smell afterwards.
Sitta's bed was warm and inviting and she preferred to sleep without a coal fire. She was used to this from life in the mountain village of Tourza where she was born and grew up and later Bayt Mundhir where she lived her married years before coming to America. She was adorable, loving and joyously happy with all of us grandchildren. She went to bed early every night before nine O'clock. So, for hundred of nights before I was five or six years old, I sat up in her bed and fell asleep while often listening to her stories and comic nursery rhymes in Arabic. Sitta's Arabic and ours was tinged with our particular Syriac pronunciation of the Syro-Aramaic vowel ' Olaf ', and not the Arabic 'Alif '.
In bed next to Sitta, I learned forever how to pray in Arabic like her. Even now in prayer, I strike my breast with lightly clasped finger tips, not a closed fist, at the holiest parts of the mass just as she did and all of our people from Lebanon still do.
I remember that I was small and had to struggle to get into her bed. "Sitta, buddee naam hud mineek, grandma I want to sleep next to you". I would say as I began the climb into her bed. She always laughed when she felt me pulling on the covers. She would answer: "Ta'o, ya Sitta, int habeeb alba" or come, my grandson! O, love of my heart". Then the happiest way to end the day would now begin.
She weighed about 98 pounds but I was no burden to her. Then we would settle in until I fell asleep. While I was still active and awake, she would sing a perky, happy song:
"Adwor, Adwor min Bayruut (Eddie-Eddie from Beirut)
Adwor, Adwor badu tuut. (Eddie-Eddie want mulberry)"
There were many more couplets to this song. Another favorite lullaby which she, my mother, and 'Umta Hunna would sing was this:
"Nam Nam Ya bayba tatjee l'Adro tatghanneelak (Sleep, sleep my little babe so that the Virgin will come to sing to you)."
Then she would begin our night prayers and I would repeat each phrase after her. "Bismil-Ab (she would pause for me to repeat) wal-Ibn wa-Ruuh al-'Uddus Ilahun Wahid Ameen (In the name of the Father, the Son and the Holy Spirit, One God, Amen).
Next came the Lord's prayer: "Abana llazee fi ssamawat li yatakaddas ismak li ya'ti malakoutak li takuun mashi'atak... Our father who art in heaven hallowed be Thy name, Thy kingdom come, Thy will be done..."
Then she would began the Hail Mary: "Slam laki ya Maryam, ya milyaaneht ni'ma, ar-Rabb ma'ik, inta imobaraka fi nisa, wa imborka tamrat butnik Sayyidna l-Yaasuu' al-Masiih...Hail Mary, full of grace, the Lord is with You, blessed is the fruit of the womb, Jesus".
I still was not sleepy when I would repeat after Sitta: " God bless Bayya (my father), God bless Imma (my mother)". She would name each child in the family, each uncle and aunt, those who were sick, those who had died (Uncle Tabsha, Tom Na'mah), and numerous others until I fell asleep. Though I remember nuzzling up to her to get warm, singing with her, saying my prayers and getting sleepy, I rarely remember finishing all of the final prayers. I usually fell happily to sleep while she continued her prayers, asking God to bless many others whom we both loved.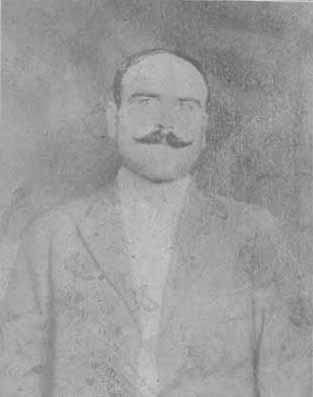 Tom Na'mah (Uncle Tabsha).
Photo courtesy of Edward Brice al Shidyaq, (Wheeling, WV, ca. 1928)
Sometimes I slept the whole night in Sitta's bed and at other times I would awaken in the morning in my own bed because an adult had carried me there. Everything was reassuring and just as it should be for me. I was the happiest boy in the world. Nothing sad had touched me yet.
Lebanese customs and lessons I learned as a child remain dear to me. One of the stories that I love is Uncle Tom's tale about the cedars of Lebanon which he told his daughter Mary when she was a child. Mary passed the story on to me. She said: Bayya, (my father) told me that when you look at the cedars, you will see their branches standing straight up, pointing to heaven in the shape of the hand of God." Even as a little boy, I was impressed by the beauty and the poetry of my cousin Mary's story. I thought that if I ever saw the cedars, I would see with my own eyes what the hand of God looked like. With such faith, it is no wonder that I accepted wholeheartedly the Christian belief in the redemptive Resurrection of Christ. I take no credit for the gift of faith for this was given to me by the Holy Spirit, and nourished by the faith of grandma, dad and mom.
My brother Donald (a priest now) reminded me that Sitta always prayed to a particular saint so that God would grant her three days to prepare to die.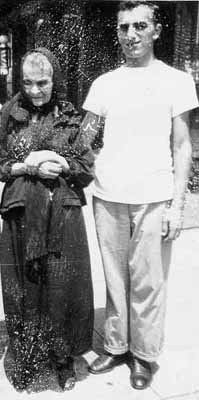 Sitta and my brother Donald.
Photo courtesy of Edward Brice al Shidyaq, (Wheeling, WV, ca. 1947)
Between the sink and the kitchen table Sitta had fainted on a Saturday morning in January 1950 and I lifted her from the floor and carried her to bed. Father Paul Abraham was out of town and we did not know how to contact him. Three days later on Tuesday, he returned in time to anoint her. She was one of his most trusted and loyal supporters within the Wheeling parish.
I had kissed Sitta before I went to classes at the College of Steubenville. I did not realize that she was dying. When I returned from college in the afternoon and walked into the front room, which was filled with grandma's own children, grandchildren, neighbors, and Lebanese friends and relatives, she had already died.

Sitta's grave.
Photo courtesy of Edward Brice al Shidyaq, (Wheeling, WV, 1997)
I remember myself standing in the doorway not being able to move. My sister Dee told me: "No, no, you ran into the room like you were crazy and screamed "Sitta, Sitta, where is she?" Deeba, my sister told me later that before she died, Sitta repeatedly asked: "Waynu Adwor ma je ba'd?, where is Edward hasn't he come home yet?"
I remember seeing my mother kissing Sitta's cheeks, hugging her, rocking her, and cradling her head against her bosom as she said in English mixed with Arabic: "You are my Imma (my mother), you are my baya (my father). You are my Imma, you are my baya" over and over again.
Imma's voice was failing and becoming weaker as she mourned and wept for her companion, her friend, her protector, and her soulmate her mother for the last 40 years. Their love was like that of Ruth and Naome of the Old Testament.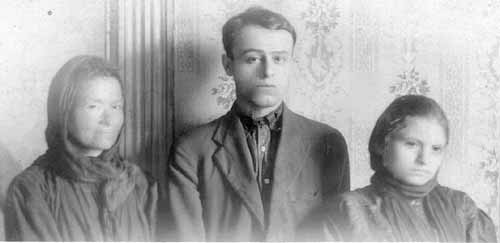 Left to right: Grandma, Dad, and Mom.
Photo courtesy of Edward Brice al Shidyaq, (Wheeling, WV, ca. 1914)
When she died, Sitta was surrounded by many who loved her-my mother, uncle Sarkis her son, her daughters Lina and Anna, her niece Mary Badwi, her grandchildren, and her friends from Saint Joseph Sodality and Saint Tobey Society: Sa'ida Anthony and her daughters Josephine and Nelly, Sharifa George and her daughter Helen, Madelina Shia, Munnie Shiplie; Doura Moses, Victoria John among others.
When Father Abraham came to anoint Sitta, he told her to hold on," Dallee, la trouha, ba'd fi waqt", "stay don't go yet, you have time". She answered "Mshahnee hallaq" or "Anoint me now". Father said "b'ad fi waqt," "there is time". She then said "'Atinee wajbata, khidt tlot ayama," "Give me my last rites, I have taken my three days". She called on Jesus, Mary and Joseph and said: 'Ana hodro, I am ready."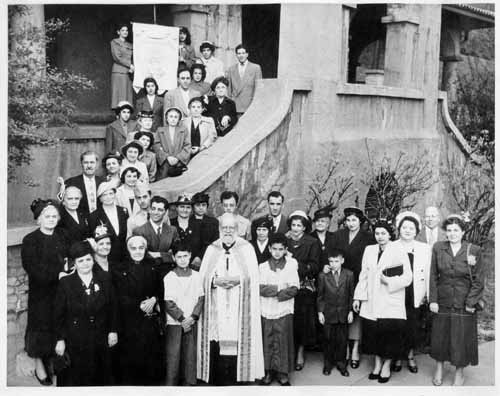 Father Paul Abraham and parishioners of Our Lady of Lebanon.
Photo commemorating their visit to St. Paula's relics at the Carmelite Nuns Monastery.
Photo courtesy of Edward Brice al Shidyaq, (Wheeling, WV, ca. 1950)
The morning of that Saturday when Sitta fainted, my sister Dolores (now a nun) told me that when she went to kiss Sitta before going to work, Sitta told her that she had dreamed that she was walking through a dark valley, reminiscent of her dream sixty years earlier. Like in her first dream, the Blessed Mother guided her way.

Dolores Brice.
Photo courtesy of Edward Brice al Shidyaq, (Wheeling, WV, ca. 1945)
That Tuesday afternoon when a ray of sunlight passed through the clouds and touched Sitta's face, Madelina Shia, a friend and a neighbor said with sadness and awe: "Haydi 'Addeesa", this woman is a saint.

*Edward Brice al Shidyaq is Deputy Chief Editor of the Journal Maronite Studies.
(1) Sadad is a town North of Damascus, Syria. Also spelled Zedad and Sudud. | Back to text |
(2) Hitti, Ph. Lebanon in History, (London, 1962), p. 255. | Back to text |
(3) Ibid., p. 255. | Back to text |
(4) Ibid., p. 455. For more information about As'ad al Shidyaq's case see Al Zikra Al Miawiyat al Thaniyat le Wiladat al Batriark Youssef Hobaich by Abbot Paul Naaman, (Kaslik, Lebanon, 1992). | Back to text |
(5) Ibid., p. 455. | Back to text |
(6) Ibid., p. 455. | Back to text |