Rafqa and the Cross In a Cassette
By Guita G. Hourani
Chairwoman of MARI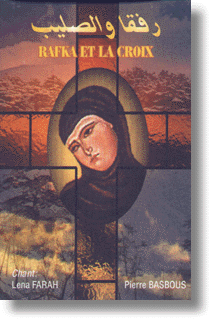 Rafka and the Cross Cassette by Lena Farah and Pierre Basbous
This newly released cassette of six hymns is dedicated to Blessed Rafqa and her passion for the Cross.
Side I
Rafqa and the Cross, lyrics by Pierre Basbous; The Way of the Promised Land, lyrics by Father Raphael Matta; The Saint of Lebanon, lyrics by Father Nabil Mouaness and Pierre Basbous.
Side II
Rafqa's Life History, lyrics by Father Jean Wehbe; The Way of Glory, lyrics by Father Yohanna Khawand, who is the resident hermit at the Monastery of Lady of Tamish (Artemis) in Lebanon; and Before Your Tomb, which is meditative.
The music was composed by Pierre Basbous and arranged by Mario Nakhouzi at Media Sound Studio, Beirut, Lebanon. The cassette was produced by Saint Joseph's Monastery in Grabta, Batroun District, Lebanon. Blessed Rafqa's tomb is located here.
Lena Farah, the soloist, who sounds like an angel, brings to mind the voice of beloved Fayrouz. The music is both enchanting and serene, enhanced by lyrics that are simple, prayerful and supplicating. The saintly Rafqa is described in the following lyrics:
RAFQA AND THE CROSS
You lived in poverty - a life of fasting and prayer.
Obedience to Christ became your way of life and truth.
You asked Our Creator - if it be
Thy will - To help carry Christ's heavy Cross.
Your wish was granted.
The light in your eyes went dark
To allow Christ's Light to radiate in place of your sight.
Rafqa, you walked the Way of the Cross,
You drank from the Chalice of Suffering
For beloved Lebanon to remain a sanctuary - inviolable!
Rafqa, ask God to let us live the Passion of Christ
So that His Will be done
And we enter into Heavenly Glory.
Rafqa! Intercede for us.
Amen.
The lyrics resemble those of the hymn, "The Saint of Lebanon", because of the plea for Divine intervention in the dangerous times being faced by Lebanon and its people.
THE SAINT OF LEBANON
Your people cry out to you, Rafqa.
O holy one, we beg your prayer.
Give us - like a relic from you -
Your strength, patience and faith.
Bestow love from the abundance of your heart
And light from the blindness of your eyes.
Rafqa! Pray for us.
We are your children - everywhere,
Whether in Lebanon or abroad
No matter the distance,
Your prayers are with us.
Your wounds are ointment and balm for mankind.
Sharbel, Rafqa, Hardini!
Annaya, Grabta, Kfifan!
You have blessed and enthroned Lebanon,
Land of Freedom.
Rafqa, pray for us!
Amen.
Blessed Rafqa's cause for canonization as a saint is being presented to the Sacred Congregation in Rome. There is hope that her canonization will take place during the 2000 Year Jubilee.