Compact Disc: L'Office de Saint Charbel Selon le Rite de l'Eglise Maronite
1998 Esperia, Italia
(Office of Saint Sharbel According to the Rite of the Maronite Church)
By Guita G. Hourani
Chairwoman of MARI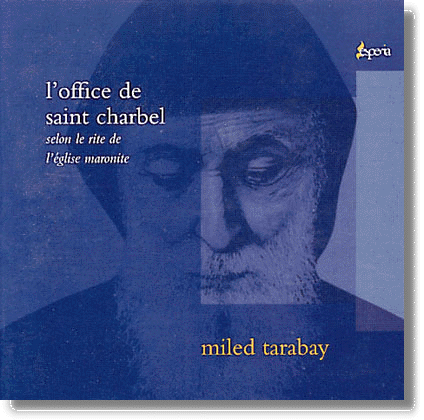 The cover page of the compact disk titled: L'Office de Saint Charbel Selon le Rite de l'Eglise Maronite.
Esperia, Italy and Father Milad Tarabay have recently released a Compact Disc entitled L'Office de Saint Charbel Selon le Rite de l'Eglise Maronite. This CD is a celebration of Saint Sharbel's Centennial (1898-1998).
This recording of the Maronite Office of Saint Sharbel was produced under the direction of Father Tarabay. The chanting is faithful to the Syriac-Maronite tradition.
Most of these Maronite chants date back to the early centuries of Christianity. The chants are monody, almost always strophic and syllabic. The accompanying metallic percussion instruments are traditionally reserved for use on specific solemn occasions and during joyful liturgical seasons such as Christmas and Easter.
The chants are liturgical, communal and austere like the monastic life itself. They are appealing because of their generally smooth and flowing character and their moderate rhythm or tempo.
Traditionally, the text of the Maronite chants is a Syriac poetry, but is now adapted to Arabic texts as in this album with lyrics written in honor of Saint Sharbel.
The chants, by their simplicity, reflect the spirituality and the way of life of Maronites in general and Saint Sharbel in particular.
The music is so clear, yet evocative, that listeners can close their eyes and envision monks and peasants in their daily lives chanting as they work and pray.
The cover, in three shades of blue with a picture of Saint Sharbel with his monastic hood covering his head, encloses the inspiring and beautiful Syriac-Maronite traditional sacred music, pure and authentic.
This rendition of the Office of Saint Sharbel consists of 19 hymns which last exactly 42 minutes and 42 seconds. In Chant 1, the words retell the marvels manifested at the death of Saint Sharbel. Chant 2 depicts Sharbel as a man consecrated to God in the hermit's life of prayer and labor. In Chant 3, Sharbel is celebrated as a son of a free, indestructible people. Chant 4 describes the true values which guided the saint. Chant 5 truly exalts the Church through its saints. Chant 6 is an Alleluia. Chant 7 is a plea for the saint's intercession with God. Chant 8 shows us God's kindness and compassion manifested to all humanity through Sharbel. Chant 9 allows us a glimpse of Sharbel at meditation and prayer all night for the salvation of the world. The melody of Chant 10 is used to show how Sharbel lived the Mystery of Redemption. Chant 11 recalls Sharbel's vocation to live as a monk. Chant 12 is another appeal for Sharbel's prayers. His virtues are enumerated in Chant 13. Chant 14 is a cry for his help from those who wish to emulate him and follow his way. Chant 15 celebrates Sharbel, his monastery, his land and his country. The album features four new compositions -- Chants 16, 17, 18 and 19 --, which were composed by Father Tarabay.
Some of those who grew up in the ancient, still living Maronite tradition may find nothing extraordinary in the chants because they have been part of their spiritual heritage and life. Others may realize the extraordinary -- the newly transcendent -- about these chants of the Eastern Church because of their own recent and late discovery of and exposure to them. All categories of people must be inspired and uplifted by this original Oriental prayer-chant originating from Saint Peter's time in the Christian monasticism of Antioch and the Orontes River --then carried to the Qadisha River and Valley in Lebanon for safekeeping and now to the New World.
Dedicated to the Saint of the Century, Sharbel, in his centennial year, and beautifully, solemnly performed, these prayer-chants inspire faith, hope and courage in our uncertain world as we listen or prayerfully meditate.