The Choice of Love: The immigration of the Assafs to the United States of America
By Peter J. Solomon*
In this section of the Journal of Maronite Studies (JMS), a Maronite-American family presents its own history of migration to the United States of America. The Maronites in America have a rich history preserved through oral narratives. Valuable historical and cultural details such as reasons for leaving, means of transport, adjustments in the new country, customs, music, food, etc. are worth recording. These stories are unedited and represent the views of their author(s).
This article is dedicated to Dr. Youssef (Joseph) Georges Assaf who passed away today, April 20, 1997. He was survived by his wife and five children in Lebanon, and his two sisters Wadia and Fahime in the United States.
In response to MARI's call to write the history of my Maronite family's migration, my mother reminded me of the excitement and diligence I showed for a fourth grade assignment and the knowledge I gained from doing it. It sparked interest in my family and its origin. I recall my excitement when my grandfather, Clyde, picked me up from school that day. On our way home, I told him that I had two weeks to gather as much information on my ancestors as I could. I couldn't wait to tell mother and to ask her all sorts of questions.
While my mother was cooking dinner and working in the kitchen, she happily related all kinds of stories about her grandparents. Then she thought it is best to confirm the accuracy of the stories by asking great Aunt Chafika (Sophie) for details. Aunt Chafika, proved to be the best source of information and a good story teller because she was the eldest and remembered all the tales about the journey from the old country to the new world.
Picture it: Aramoun in the Keserwan region of Lebanon on October 1913. When the Ottoman Empire, under which Lebanon suffered oppression and economic hardship, was breathing its last and the world was preparing for the first World War. Then and there, my maternal great grandparents were packing for the ocean voyage to the New World. They were sailing away from the land of financial adversity to the land of fortunes.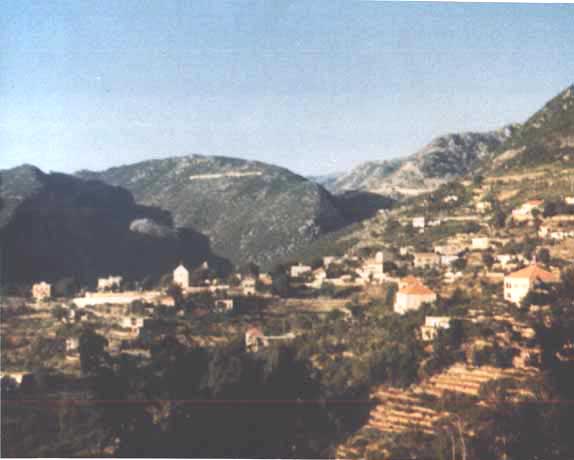 Aramoun, the birth place of the Assaf family.
Photo courtesy of The Solomon Family, (Lebanon, 1970)
Georges Assaf Assaf and his wife Saada Tanious Chelala were both from the village of Aramoun. George was about 38 years old and Saada was about 25. They already had five children, and the youngest was Wardé (Rose), my maternal grandmother.
After having saved enough money to purchase boarding passes, my great grandparents, Georges and Saada, had to make the hardest decision of their lives -- the choice of love. It was to leave their three sons, Youssef, Abbas, and Habib in the care of their paternal uncle Mansour and his wife Naife whose two sons were Gabriel and Assaf. Since they were expecting to make all the money they would needed in two years then return to Lebanon, they thought it would be wise and tolerable to leave their three sons behind to be educated and to take their two daughters along with them. Ten year old Chafika would be a good baby-sitter for her sister Wardé who was eighteen months old and eager to discover the world.
Along with the very little they carried were clothes, Saada's sewing machine, and Georges' cherished statue of St. Anne. They booked passage to America for four from the Port of Beirut on the SS Perugia via Naples, Italy. Amid tears, prayers, and goodbyes, a widowed relative of Georges begged him to take her only son with them to the New World. Because Georges did not have the heart to refuse, Iskandar Youssef Assaf, a boy about the age of 14, joined the family on its journey.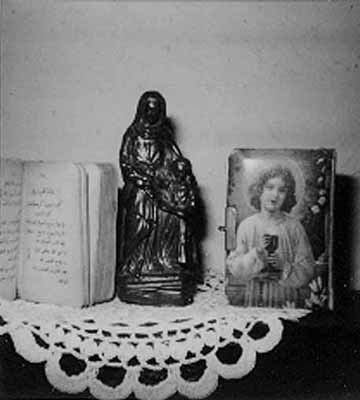 Statute of St. Anne and Saada's (left) and Chafika's (right) prayer books.
Photo courtesy of the Solomon family, (Canton, MA, 1997)
Like many others on the SS Perugia, they were all confined to quarters in the steerage class in the hold of the ship. These quarters were uncomfortable, the air was stale and dank and there was no sunlight. Although they were allowed to come up for brief walks on the deck, the voyage was very difficult and harsh. The women were all sea sick and the men were barely holding on.
After a grueling sixteen days, the ship stopped in Naples for fresh food and water. Upon docking, Georges asked Iskandar to go ashore to the market and buy some supplies while he tended to the family then weakened by nausea and dysentery. The ship was preparing to sail but there was no sign of Iskandar. Georges was very anxious and tried to explain the situation to the ship's officers. The language barrier made this task practically impossible and so the ship left Naples without the boy. This was an early disappointment and one of many sad occasions for Georges and his family.
After about a month at sea, they arrived at Ellis Island in New York on November 6, 1913. There Chafika was forced into quarantine because it was suspected that she had conjunctivitis. Georges and his wife Saada worried and waited patiently for her release. They decided if Chafika was refused entry, then all of them would return to Lebanon at the expense of the steamship company. Two days later, Chafika was released and the family continued on to Boston. Checking the passenger list of the SS Perugia at Ellis Island, a few years ago, I was able to find their names, even though they were misspelled.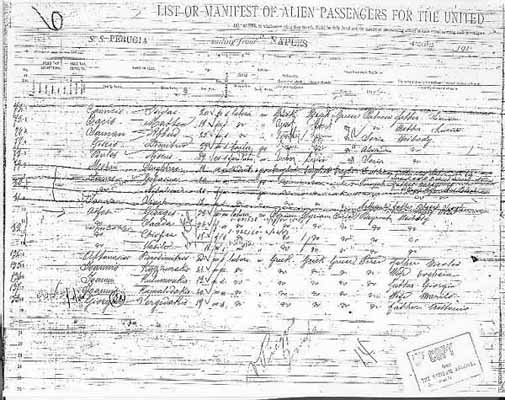 SS Perugia's passenger list for November 6, 1913.
Note that the last name was spelled Asfas,
and Wardé was given the wrong name and gender.
Exhibit courtesy of The Solomon Family, (National Archive, Washington D.C., 1992)
Finally, the Assaf family reached Boston by train and were received and welcomed by Saada's sister, Rose Chelala, and her husband Ulian who were anxiously awaiting them. Georges and the family found a one-room, cold-water flat in a tenement on Harrison Avenue in Boston's South End. That part of town was home to the Lebanese and Syrian communities. Georges and his family were among people who spoke the same language and faced the same obstacles.
Although, Georges was a master stone cutter and a mason who had apprenticed with a master in Lebanon since the age of 8, in America he could not penetrate that market for it was then controlled by the Italians. He, therefore, took a job in the Simplex Wire factory. Saada immediately began sewing undergarments, nightclothes, dresses, curtains, and whatever her neighbors needed. Chafika was dressed to look older in order to work in the garment industry where she cut threads off of the finished apparel. Wardé was happily growing at her mother's side.
As the Assafs began to settle down and save money, their first order of business was to send money to support the three boys. Father Hannah Assaf was in charge of using the money to support and educate Youssef, Abbas, and Habib. They sent bank drafts with relatives and friends traveling to Lebanon, and even sent funds through Presbyterian missionaries who were being sent to the American University of Beirut. Georges and Saada used every means available to send money to their three boys.
The Assaf's living conditions in Boston began to improve, they made friends and became an integral part of the community. My great grandfather would meet in the evenings with other Lebanese men to play cards, drink coffee, and talk about returning to Lebanon as soon as they made their fortunes with which to build a fine house in the village. Saada, my great grandmother, like so many women of her time worked hard in the factory, and then came home to wash clothes, clean, cook, tend to her growing family.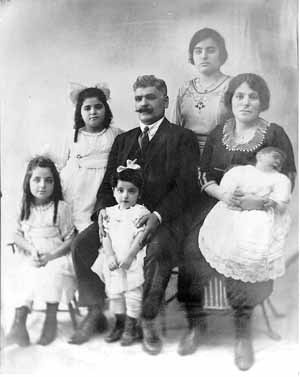 Left to right front row: Fahime (Frances), Wadia (Delia).
Second row: Wardé (Rose), Georges (seated), Saada (seated), John (infant).
In the rear: Chafika.
Photo courtesy of The Solomon Family (Boston, ca. 1921)
When World War I broke out and all communication was severed between the United States and Lebanon, Georges went into deep depression. He thoughts about his three young sons and their fate while aggression and famine were suffered in Mount Lebanon. His consolation was Saint Anne under whose protection he had placed his children. At baptism, he renamed each daughter Anne. Each night he prayed, lit a candle, and burned incense at the little shrine of Saint Anne on the corner shelf in the kitchen. For consolation, he would often intone his favorite hymn to Our Lady: Antee al Shafee'oo al Akramoo (You Are the Gracious Patron).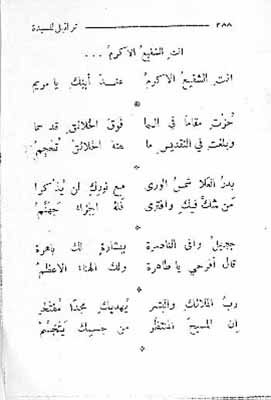 Georges' favorite hymn to Our Lady, You Are the Gracious Patron -- Antee al Shafee'oo al Akramoo (in Arabic).
Exhibit courtesy of The Solomon Family (Boston, 1997)
After four heart-breaking years, a letter bordered in black arrived from Lebanon. On the steps of the house Georges sat crying, and waited for one of his children to read it to him. The content of the letter revealed the death of many family members and friends. However, his children in Lebanon were all spared.
In the following years, many changes took place. Fahime (Frances), Wadih (Edward), Wadia (Delia), John, and Mary were born. Wardé began school and learned English. She became the family's interpreter and the link between the old country and the new. Saada packed her hand-made goods in a large suitcase and peddled door to door. She found success among the Italian immigrants in East Boston and Revere (city located outside of Boston). She learned to speak English and Italian. She would set out early in the morning to deliver goods and be paid. In the evening, as she made her way down the street where they lived, her children would joyfully run to meet her and help carry her heavy bag. She would delight them while laughing as she emptied her pockets of all the goodies and small change.
There were many joyous family and religious celebrations. The Feast of the Epiphany on January 6th was a special one. Georges would prepare Awwamat (Lebanese donuts) for Chafika's birthday. This delicious treat was an old tradition from Lebanon. On the eve of the Epiphany the special starter dough would be prepared, wrapped securely in a clean linen or cotton cloth, and hung high on a tree near the house to be blessed. Legend says that, as the Wise Men journeyed to see the Infant King, Jesus, they would impart special blessings that night. The next morning part of the dough would be used to make the donuts for the feast day, the rest would be used as starter to make bread throughout the year. We still carry on that tradition, since my mother Rosanne is lucky enough to share that date as her birthday.
Another special day, especially for the children, was Palm Sunday-- the Sh'aninee. It was the day when the children would all be dressed in new or special clothes and would go to church for the traditional procession with the palms. The priest would always say "Leave the children alone, today is their day!". They would carry decorated candles saved from their christening. We continued with this tradition on Palm Sunday as if time has not changed. Mother and godmothers would place fresh flowers and ribbons on the candles to match our outfits. We proudly followed the priest and circled the church three times while the choir chanted a litany. After church, we would then rush home for the great feast. The feast would include all the favorite delicacies of our family: Kibbee Nayeh (similar to Steak Tartar), Waraq Arish, (Grape Leaves), Chicken and Rice-- everyone's delight-- and Sheesh Barek (Lebanese Tortellini) which was my great grandparent's favorite. Though more than three quarter of a century have passed since my ancestors set foot on American soil, we still have the same menu today and carry on the tradition, although the younger ones now carry the candles in our place.
As years went by, it was more apparent that the dream of returning to Lebanon was fading. Family obligations were increasing. Wardé, Fahime, and Wadia were in school. Chafika worked in the factory during the day and took care of the house at night. Somehow she managed to go to night school. She belonged to the Church Sodality and Altar Society. Wadih had passed away at the age of two in the great influenza epidemic. John had been born healthy but shortly after birth suffered convulsions and was paralyzed. The boys left in Lebanon were the family's hope and concern. Georges and Saada could neither afford to bring the three boys left behind in Lebanon to the United States, nor take the rest of the family to Lebanon. They were able to send money for the support and education of the boys. Youssef and Abbas were sent to France to study at the Sorbonne and the University of Strasbourg. Youssef obtained a Doctorate in Law and Abbas (Peter) a Doctorate in Canon Law. When he was 21, Habib, the youngest of the three, was reunited in America with the family that he had never known. He later married, had two daughters, and moved with his family to Detroit, Michigan, where he started a successful custom drapery business.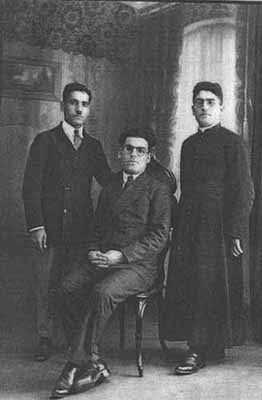 Habib (left), Abbas-Peter (right), and Youssef.
Photo courtesy of The Solomon Family (France, 1933)
In 1934, Georges died of a broken heart at the age of fifty-nine in Boston. He never saw his two oldest sons and his beloved village of Aramoun, and never built the home of his dreams. His wife Saada carried on, supported the family, and taught the children faith and the virtue of hard work. Her greatest joy was when she was reunited with her oldest son Youssef in 1936. A family picture was taken to commemorate the occasion.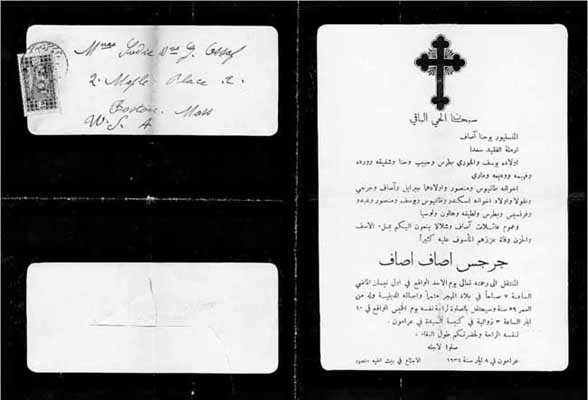 Georges' death and requiem announcement published in Lebanon and mailed to his widow in Boston.
Photo courtesy of The Solomon Family (Lebanon, 1934)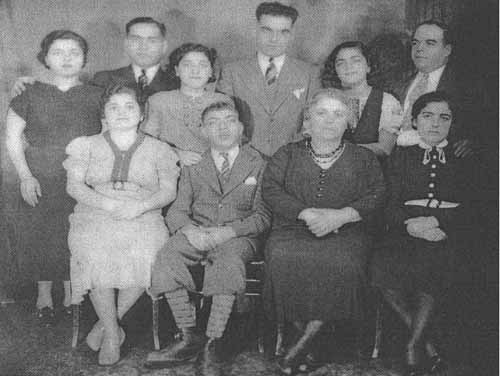 Front row seated left to right: Wardé (Rose), John, Saada (mother), Chafika (Sophie).
Back row standing left to right: Fahime (Frances), Habib (George), Wadia (Delia),
Youssef (Joseph), Mary, Paul Nigam (Sophie's husband).
Photo courtesy of The Solomon Family (Boston, 1936)
After receiving his Doctorate in Law from the University of Strasbourg, Youssef (Joseph) came to America. He spent ten months in Boston and witnessed the dedication of the new Maronite Church on Shawmut Avenue in Boston's South End. He became friends with the late pastor Chorbishop Stephen El-Douaihy with whom he spent many evenings in intellectual and theological conversations. Youssef returned to Lebanon with his two sisters Chafika and Wardé who carried out their mother's wish to open and furnish a home for their brother. Surprisingly, after twenty-four years of residing in the United States, Chafika's traveling papers state that her nationality is undetermined.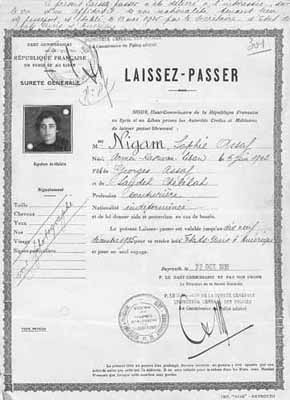 Chafika's Lebanese traveling papers to Lebanon
indicate that her nationality is undertermined.
Exhibit courtesy of The Solomon Family (Lebanon, 1935)
After studying law, Peter (Abbas) entered the priesthood. He was ordained in 1933 in Angers, France, on June 29th, the feast day of Saints Peter and Paul, and took the name of Peter. He received a Doctorate in Canon Law and a Master's degree in Oriental Languages from the Institute of Sciences at the Sorbonne. A renowned scholar, he was accorded two citations from the governments of France and Lebanon, and was an honorary member of the International Branch of the Academy of Sciences. He also served as a judge of the Maronite marriage tribunal. Unfortunately he was never reunited with his family, but he always corresponded with them. Father Peter (Abbas) passed away in 1956 at the age of 49.
Saada passed away in 1947 at the age of 59. She left behind nine surviving children and two grandchildren. Chafika was married to Paul Nigam in 1925 and was widowed in 1957. She assumed the role of 'mother' of the family after Saada's death. She was not blessed with children of her own. Youssef was married in 1947 to Laurice Joseph Allam of Kfour, Keserwan and they had five children. Habib married Agia Sawaya of Kfarhouna in 1934, and they had two daughters. Wardé, my grandmother, became an American citizen in 1933 and was married in 1947 to Clyde L. Williams, a career Army man from Colorado. They had one daughter, my mother, Rosanne. She married John Solomon and is the mother of four children David, Peter (myself), Stephen, and Rosemarie. Fahime was married to Charles M. Rork of Montana and Vermont, and had five children. Wadia, a career civilian employee of the United States Government, traveled all over the world on assignments and has delighted her nieces and nephews with letters, postcards, and souvenirs. John, although confined to home for most of his life, maintained a sharp wit and a good sense of humor. His life was a lesson in patience and courage. Mary, always the 'baby' whom everyone doted on, was married to Lt. Col. Marhl L. Welch. They met on one of her overseas assignments. She also was a career civilian employee of the United States Government and visited many fascinating places overseas, including Lebanon in the 1950's.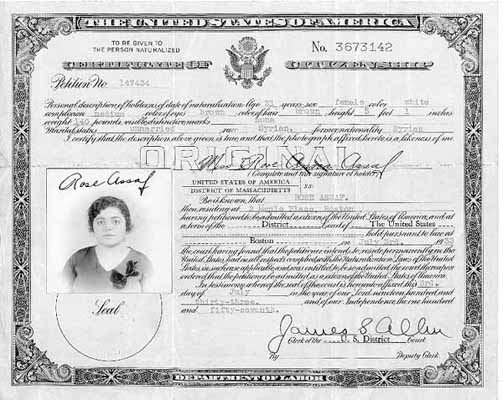 Wardé's (Rose) certificate of citizenship.
Exhibit courtesy of The Solomon Family (Boston, 1933)
Georges and his family did not forget their cousin's son, Alexander, who was separated from them in Naples. Upon arrival in Boston, they began inquiring about him. They enlisted the help of the community, and even placed advertisements in the al-Hoda Newspaper in New York, asking if anyone had any information about the young boy. The search would continue twenty-one years from that day in October 1913. It was a year after Georges' death (i.e.,1934) when Wardé found an article in an Argentinian-Lebanese magazine showing a picture of Alejandro José Assaf, proprietor of the Hotel Florida in Santiago del Estero, Argentina. Wardé wrote him a letter and soon received an answer which confirmed that he was the lost cousin. Alexander had mistakenly boarded a ship bound for Argentina.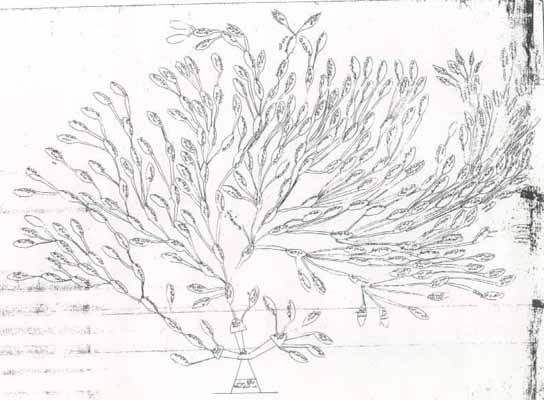 The Assaf's family tree was prepared by Father Peter (Abbas), son of Georges and Saada Assaf.
Exhibit courtesy of The Solomon Family (Lebanon, ca. 1940)
In researching my ancestry, I read many books on Maronite history. I was pleasantly surprised and greatly honored to have read that Patriarch Istephan Duwayhi in his Annals wrote the following about my family "as a typical consecrated family" (1) :
"In 1665, the priest Joseph, son of the priest Assaf, from the village of Aramoun, built the church of Saint Abda Harharaia; he wore the monastic cowl, and so did his brothers Andrew, Anthony, and John. His sister, Rafqa, then joined them, as did their parents, who, with the permission of the local bishop, renounced the world, and wishing to be poor made a gift to the monastery of all their money and goods. Together they decided to be under obedience to the priest Joseph until the end of their lives, and became striking example to all of the monastic life in all its holiness and regularity." (2)

Mrs. Rosanne Assaf Williams Solomon stands in front of a young cedar tree and
the Lebanese flag at the Cedars of God.
Photo courtesy of The Solomon Family (Lebanon, 1993)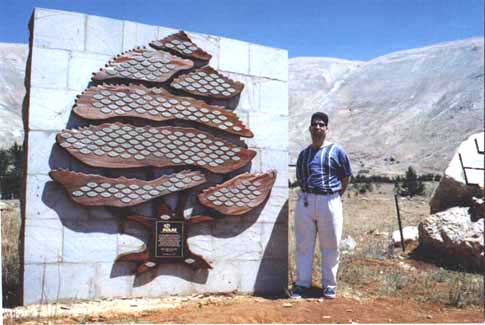 Peter J. Solomon stands next to the National Apostolate of Maronites plaque
commemorating the reforestation of the Cedars of God.
Photo courtesy of The Solomon Family (Lebanon, 1993)
I and the other descendants of the Assaf family have been blessed with a rich spiritual heritage. The legacy of my ancestors and my great grandparents Georges and Saada lives on in their children, grandchildren, and great grandchildren. They would be proud to know that my mother, my sister, and I participated with the National Apostolate of Maronites (NAM) in the reforestation of the Cedars of God (Arz al-Rabb) in Lebanon in 1993. This is the least we can do in memory of them and their love for Lebanon. We are forever indebted to them. They taught us dedication to family life, love for our heritage, the value of hard work, and most importantly, commitment to our Maronite church and faith.
* Peter Solomon is 23 years old, a graduate of Curry College in Milton, Massachusetts, with a degree in Criminal Justice/Sociology. He is also a Certified Paralegal.
(1) Labaki, Georges. The Maronites in the United States. (Lebanon, 1993), p. 39. | Back to text |
(2) Ibid, p. 39. | Back to text |