MARI Hosts 13 Americans from the State of Texas in Lebanon
By Guita G. Hourani
Chairwoman of MARI
A group of 13 Americans visited Lebanon in June 1998, led by Reverend Father Charles Miller, Dean of Humanities at Saint Mary's University in San Antonio, Texas. Their visit to Lebanon included an invitation by MARI's office in Lebanon for a lecture on the situation of the Christian communities in the Middle East and Lebanon. The event took place at the monastery of Our Lady of Victory in Ghosta, one of the Monasteries of the Lebanese Maronite Order.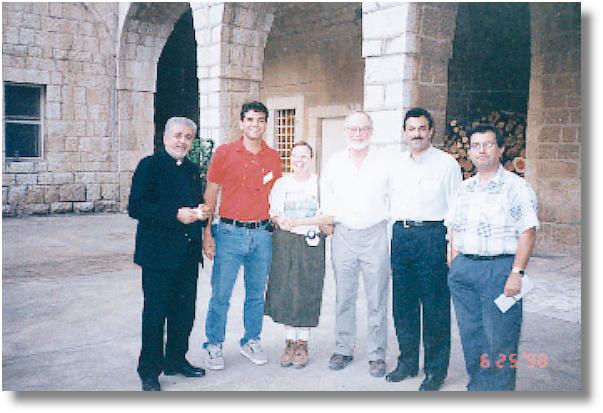 Father Charles Miller with
Sister M. K., Pierre Helou, and Fr. S. Btaich to his right and
Dr. F. el Khazen and Dr. Y. el Hage to his left.
Photo courtesy of MARI (Lebanon, 1998)
The thirteen members of the group as well as dignitaries and intellectuals from Lebanon attended the affair. Ms. Guita Hourani, Chairwoman of MARI, welcomed the guests. Then Dr. Farid el Khazen, political science professor at the American University of Beirut, addressed the invitees. He gave an overall description of the situation of the Christians in the Middle East, especially in Sudan and Egypt. He also spoke about the situation in Lebanon and the peace process.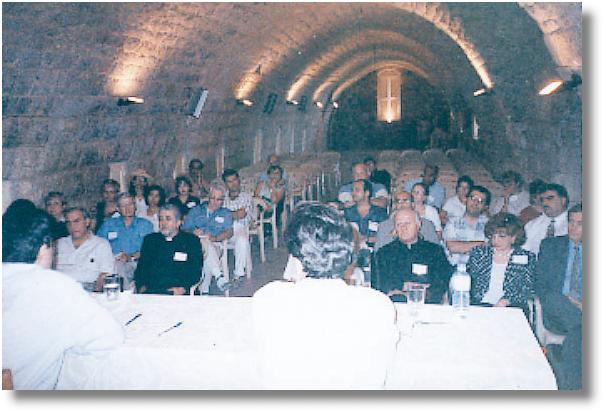 The guests attending the lecture at Our Lady of Victory in Ghosta
Photo courtesy of MARI (Lebanon, 1998)
Dr. el Khazen's main points were that Lebanon is a very unique country in the Middle East and one that is characterized by pluralism. He concluded that Lebanon needs an effective and transparent civil society in order to achieve true democracy, freedom and peace.
Questions and answers and some discussions followed the lecture. A cocktail party followed and conversation about the situation in the Middle East continued.
Following are some of the comments that were registered in the Golden Book:
"... I can only say thank you for educating me, for instilling in me a sincere love for your country and the beautiful diversity of its people. In a few short days, through the warmth and hospitality, which have been extended to me, I thank God for this new gift which has been bestowed on me. Please, if there is ever anything I can do to further the education of the rest of the world, especially in my home country of America, about the Christian love we share with you in Lebanon, contact me... You will remain in my heart and in my prayers. Love"
Elizabeth Fitzgerald, Houston, Texas
"Thanks very much, good discussion, may it lead to life for all."
Paul Fitzpatrick, S.M., M.Div.,
Doctoral student in biblical studies, Boston, Massachusetts
"We are most grateful for this experience-- you help educate us in regard to the Middle East, Sincerely."
Sister May K. Milne, O.S.U., M.A.,
Program Director for St. Mary's University study tours;
Director of a retreat house in Frontenac, Minnesota
"I pray for the MARI Association to grow in the hearts and souls of the Christian Lebanese and Americans to become effective and concerned in building a solid and vibrant Christian society in the Middle East in testimony of the Christian message and spirit."
Rabih Frem on behalf of the Frem family and Indevco Co.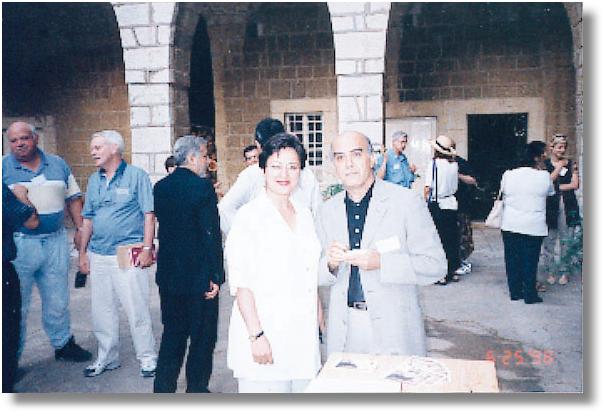 Ms. Hourani with Mr. Rabih Frem of the Indevco Co.
Photo courtesy of MARI (Lebanon, 1998)
"The experience which you have so graciously given to us will be remembered and carried in our hearts always. This trip has been even more amazing and heartwarming than I believed possible. Lebanon is beautiful beyond all I have ever seen. With sincere love and thanks."
Julia Rose Brooks,
Student at Saint Mary's University, San Antonio, Texas
"May God keep the Monastery of Our Lady of Victory in Nesbeyh a meeting place for all those who love the Christian heritage from Lebanon and the world. We have enjoyed meeting this American Christian group. We are happy for the establishment of the Maronite Research Institute in the United States to renew the hope in the Christian and Maronite presence in the motherland --Lebanon...."
(Translated from Arabic by MARI's staff)
Youssef K. El Hage,
Professor