Grand and New Set of Five Volumes Monastic Lights: The Tercentenary of the Lebanese Maronite Order 1695-1995
By Guita G. Hourani
Chairwoman of MARI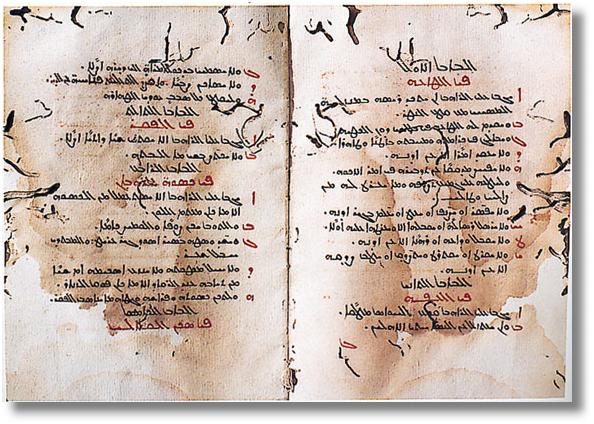 Sample of the original manuscript of the Lebanese Maronite Order Monastic Constitution,
as confirmed by Patriarch Stephan Duwaihi in 1700 AD.
Exhibit Courtesy of the Lebanese Maronite Order, (Lebanon, 1998)
The Lebanese Maronite Order is releasing a set of five books illustrating in photographs the history of its three hundred years of existence as a consolidated and unified monastic community.
The five-book set, MonasticLights, marks the third centenary of the Order. It covers the early era of monastic life in Lebanon stretching back to 1695. It covers the life, places of worship and convents of Maronite mystics, anchorites and monks who were gathered in independent monasteries where they prayed, performed penance and tilled the land. It was not until 1695 that these monasteries were called to unite and become one order under one rule.
Volume I describes the Path of the Order. Volume II illustrates the Monasteries of the Order from 1706-1806 and from 1814-1983. Volume III shows the religious houses, the missions in Lebanon and abroad. It presents archival material, portraits of bishops and patriarchs and pictures of the Order's monasteries and agricultural holdings. Volume IV deals exclusively with the Lebanese Maronite Nuns and their convents.
This publication, MonasticLights, is unprecedented in the history of the Order. It is comprehensive and has illustrated the most interesting aspects of daily life in the Order. There are pictures of the four founders and the original manuscript of the Monastic Constitution dating from 1700 A.D.
Among the most touching aspects of the monastic experience are the depictions of priestly ordinations, the profession of monastic vows, the spiritual retreats and meetings of the general chapter of the order, the funeral of a monk and the canonization of a saint in Rome.
It is noteworthy that in the past one hundred year, the Order has given the Universal Church three people deemed worthy of veneration: Saint Sharbel, Blessed Rafqa, and Blessed Nematullah. The latter was beatified in Rome in May of 1998.
This superb publication - fully illustrated with photographs, charts and archival material in color -- provides an excellent introduction to every aspect of the life of the Lebanese Maronite Order. The photographs are expressive and beautiful. They speak of prayer, life-long commitment, labor and community life. They show the architecture and the landscape and reveal the monastic mission to educate and to serve. The work is presented in English, French, and Arabic.
This four-volume book consists of 1,920 and contains 1,970 photographs in color, black and white, or sepia. The Edition d'Art Photographique of the Holy Spirit University, which belongs to the Lebanese Maronite Order, is the publisher. It is a valuable collection and one which will take its viewer into places otherwise off-limits to the public. It is a collectible item and one which will make a great gift to one's university, concerned alumni, friends, government officials, dignitaries and family.
To reserve and obtain a copy of Monastic Lights, please contact:
Father Louis Samaha
Edition d'Art Photographique
Holy Spirit University Kaslik, Lebanon
P.O. Box 446 Jounieh, Lebanon
Tel: 961-9-640-664
961-9-640-665
Fax: 961-9-642333
http://perso.infonie.fr/mouka/lumieres.html
E-mail: lsamaha@inco.com.lb