The Blessed Nimatullah Kassab Al-Hardini
By Olga Elias, Five Star Photography, 223 pages
Beirut, 1998.
By Guita G. Hourani
Chairwoman of MARI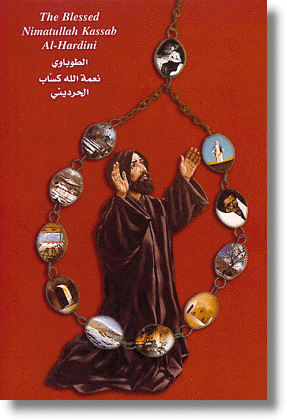 The cover page of the book: The Blessed Nimatullah Kassab Al-Hardini.
On May 10th 1998, His Holiness Pope John Paul II beatified Blessed Nimatullah Kassab Al-Hardini a Lebanese Maronite monk, at Saint Peter's Basilica in Rome. This historic event inspired this book which we are reviewing.
Ms. Olga Elias, a young Lebanese-Australian photographer who established her own photographic company -- Five Star Photography-- has recreated in pictures the life of the candidate for sainthood, guided by a sketched biography written by Father Youssef Azzi of the Lebanese Maronite Order of monks.
Blessed Al-Hardini was born in 1808 in Hardeen in the north of Lebanon. His father was Girgis Kassab and his mother Maryam Raad. He made a solemn profession of monastic vows on November 14, 1830. After completing his theological studies, he was ordained a priest at the Monastery of Saints Keprianos and Yustina (Cyprian and Justine) in Kfeefan, on December 25, 1833. He was a teacher of Theology and Saint Sharbel was his pupil. Blessed Al-Hardini died on December 14, 1858.
The magnificent photography captures the life of the Blessed Al-Hardini. It begins before his birth, following his family's journey from Klayaat to Hardeen; and continues after his birth, from the cradle of his childhood to his lasting home on earth, passing through every place he had been and every event including his Beatification.
The photos take you on a journey through the silent villages and places in winter and spring, during day and night, to beautiful landscape and churches that helped in the transformation of the Blessed.
A photo as unique as the Blessed crowns the book; it is the only photo available of Al-Hardini's skull taken by a special permission granted by the Superior General of the Order to Ms. Elias. Several other special photos include unveiling of the Blessed's official painting in Rome and the paternal house of Al-Hardini.
The book has over 223 pages and more than 400 high quality photographs. This makes it a collectable item for it captures memorable moments in history.