The Maronite Patriarchate
History and Mission
By Father Michel Awit
Arab Printing Press, Lebanon, 1996, 115 pages
By Guita G. Hourani
Chairwoman of MARI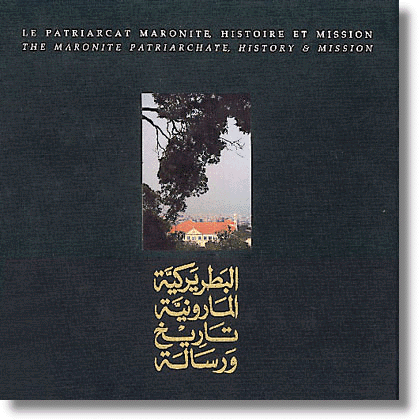 The cover page of The Maronite Patriarchate: History and Mission.
Nestled in the mountains and the valleys of Lebanon, the Maronite Patriarchate has been -- and remains to this day -- the most important edifice of the country ever since its transfer from the Orontes River in Ancient Syria to Mount Lebanon in the eighth century.
The book illustrates in elegant color photography the many structures on the Maronite Patriarchate from that date until the present. No other place in the history of Lebanon or the Middle East has ever reached the eminence of the Maronite Patriarchate.
The Book begins with several symbolic photos including the current residence of the Patriarchate in Bkerke, a Cross made of a rock, the Cedar of Lebanon, the Coat of Arms of the Patriarchate and a portrait of the present Patriarch, Mar Nesrallah Peter Sferi who is the seventy-sixth Maronite Patriarch.
The book takes the reader to the most significant places in the history of the Maronite Patriarchate, beginning with the See in Antioch, to Saint Maron's Monastery on the Orontes River in Ancient Syria and continuing on to Kfarhay, Yanouh, Mayphouk, Lehfed, Habeel, Kfifan, al-Kafr, and Hardeen in the Byblos area of Mount-Lebanon. The Patriarchal residence moved to Qannoubine because of intensified persecution and remained the see from 1440 to 1823 when it moved to Dimane and lastly to Bkerke.
The hard-cover book is in three languages, Arabic, French and English. It contains over 300 photographs. The text is by Father Michel Awit and the photography by Bassam Lahoud.